Merchants use merchandising to promote and sell their products through pricing, offers, organization, and other techniques. Its goal is to increase sales by leading shoppers to the right products.
Traditional vs. online merchandising strategies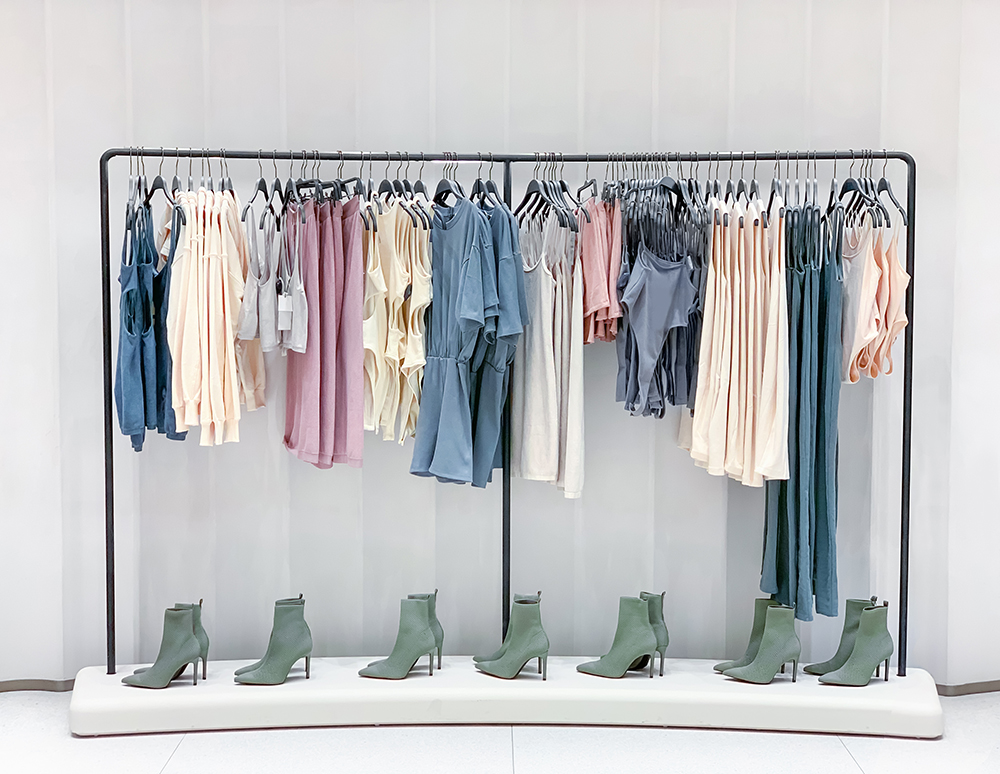 The concept of merchandising in retail settings is based on presenting products at the right time and place, in the right quantities, and at the proper pricing.
The online selling space is vastly different compared to brick-and-mortar stores. Traditional retail stores need to have all their products on display at once. With different customers walking into the store, the layout may not be as enticing for everyone to see everything.
On the other hand, Direct-to-Consumer (DTC) merchants do not need to show the same products to everyone who visits their store. Whether a customer enters or moves through the DTC website, e-commerce merchandising ensures that they see the most relevant products in the best order and with a compelling presentation.
Although there are many differences between traditional and online merchandising, there are also many similarities.
Window display vs. website homepage
Brick-and-mortar stores use window displays to attract potential consumers. It's a great place to showcase new products, bestsellers, and sale items. A window display may be small, but it can invoke curiosity and generate more foot traffic.
The online equivalent of a window display is the homepage. Merchants can use the homepage to inspire customers using dynamic banners that promote specific products. Through personalization, brands can market products according to specific customer preferences and shopping behaviors. This online merchandising strategy goes beyond static window displays. It delivers a more targeted point of entry for potential customers.
Store layout vs. website layout
In-store merchandising involves finding the best possible store layout. Retailers determine which areas of the store get the most foot traffic. They then optimize the design and layout accordingly by placing promos, new products, and bestsellers in those areas.
Online stores can use a similar concept using website design. Merchants can organize parts of their website in hopes of inspiring clicks and engagement. Websites can only use ready-made e-commerce themes to simplify the website building process and establish the brand's aesthetic.
With 72.9% of all online retail sales in 2021 expected to be generated from mobile devices, optimizing websites for mobile users is another merchandising strategy to consider.
Signage vs. navigation
Retail and grocery stores are usually organized by categories, creating a layout for customers to navigate easily. For example, supermarkets have overhead signage to show which products are in each aisle. The signage is beneficial for shoppers who are in discovery mode or are looking for specific items.
Browsing a website is an entirely different experience, but online retailers still need to consider how visitors discover products. The website's layout, navigation, pop-ups, categorization, and search function must all come together to maintain a customer's attention and ensure they click through the store.
Physical products vs. product photography and video
The physical aspect of shopping is one of the most significant advantages that brick-and-mortar stores have over e-commerce. Consumers can touch, pick up, and try on products before making a purchase.
Online retailers can overcome the lack of physical interaction through informative and compelling product detail pages. In addition to product descriptions, these pages should also feature high-quality photographs and videos. Showcasing products from various angles provide customers a closer look at items as if they were shopping at a traditional retail store.
Using AR for virtual try-on features further adds to the offline-like shopping experience.
In-store events vs. shopping events and user-generated content
Customer events are another merchandising tactic for brick-and-mortar stores. Although it's not a traditional strategy, it does help attract large groups of patrons, which can pique the interests of those passing by.
With promises of big discounts and promotions, shopping events are a great way to attract visitors to a DTC store. Real shoppers posting their shopping hauls and reviews also makes for great user-generated content (UGC) that can influence potential customers to check out a brand.
Bundling vs. product recommendations
Traditional retailers use bundling to promote products that can work together as a set. For example, stores present complete outfits on mannequins or displaying complementary products next to each other. When shoppers see how certain pieces look together, it helps push them to buy more than one item.
Displaying items as part of a collection or presenting style guides online is similar to putting complete outfits on a mannequin. Merchants can also encourage customers to buy more by cross-selling related or complementary products.
Merchants can go further with this strategy by personalizing recommendations. They can leverage what they know about browsing behavior and purchase histories and provide product recommendations relevant to the shopper by analyzing big data.
Checkout line merchandising vs. checkout optimization
Checkout areas are prime spaces for increasing a customer's average order value. The cashier area is great for selling low-cost, high-margin items that appeal to the buying mindset.
This upselling strategy can be seen in the online checkout process. High markup items are often promoted as suggested extras to influence impulse buys.
Checkout areas and checkout pages are great spaces to promote customer retention programs like earning loyalty points for more purchases.
Cafe24 provides a suite of merchandising tools
Merchandising is no longer confined to brick-and-mortar stores. As consumer behaviors shift online, e-commerce stores continue to find ways to apply merchandising tactics and provide customers with immersive online shopping experiences.
With the ever-changing e-commerce landscape, Cafe24 strives to provide merchants and brands with the necessary solutions for continued success. Those solutions include a comprehensive suite of merchandising tools to enhance the customer shopping experience.
Cafe24 provides free store-building solutions for merchants to start their businesses. With the AI-powered Edibot series, merchants can refine their storefronts with optimized layouts, navigation, product detail pages, banners and pop-ups, and UGC.
The Shopping Curation service enhances a DTC website's search system with filters like style, color, material, and price to help consumers find products faster and easier.
Cafe24 also offers Accelerated Mobile Pages (AMP) and Smart Web App to make websites more mobile-friendly.
In addition, the Cafe24 Store features apps and tools to help with personalization. One such solution is Specialized and Enhanced Realtime Admin (SERA). This big data analysis tool gives merchants insights on consumer behavior that they can use to personalize the shopping experience.
As e-commerce gets more competitive, brands that can be as engaging and personalized as traditional retail stores will continue to find success. By using a combination of merchandising strategies to enhance the shopping experience, merchants can drive more traffic to their websites, push for conversions, and inspire brand loyalty.