Big data analysis tool SERA supports Korean merchants going global
Press release
Big data analysis provides insight into consumer tendencies by market
Merchants able to adopt localization strategies and accelerate global business growth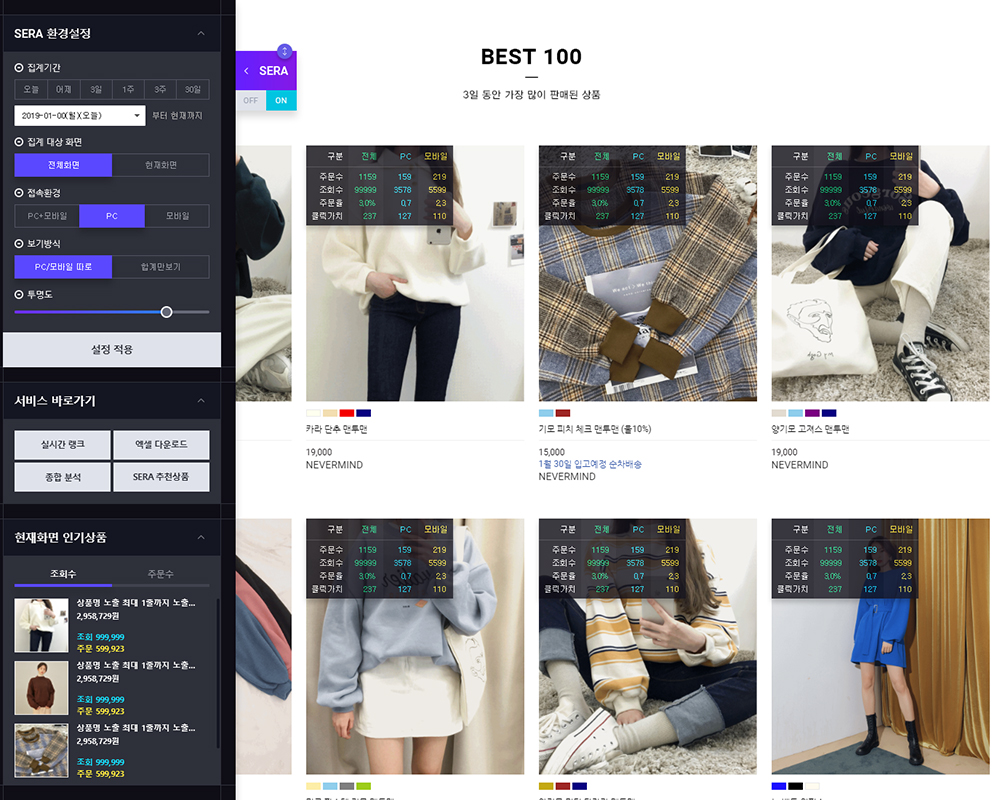 Korean merchants on global e-commerce platform Cafe24 can now utilize Cafe24's big data analysis service, SERA (Specialized and Enhanced Realtime Admin), for their global online stores. They can now access real-time analysis of the most-searched and most-purchased products among overseas consumers.
SERA is a service that uses big data to analyze the behavioral patterns of online store visitors in real-time. It is similar to the stock market trading board that displays trade situations as it happens. Most-searched products are marked in red while most-purchased items are marked in blue. This color-code display allows merchants to monitor immediate overseas shopper response to specific products and adjust product placement, prices, and more accordingly.
The addition of SERA to the Korean merchants' tool kit will help them further accelerate their global business growth. SERA enables merchants to understand the preferences of global consumers easily. It also allows merchants to build localized and customized strategies based on systematic big data analysis of products, inventory, and ads.
SERA is available for download on the Cafe24 Store for all Cafe24 merchants. Unlike most big data analysis tools, SERA doesn't require HTML codes or complicated settings. Merchants can easily install the app for immediate use.
Jaesuk Lee, CEO of Cafe24, said, "We decided to extend the availability of SERA to global stores so that merchants can build their competitive edge overseas." He added, "Cafe24 will continue to research and develop the latest technologies to support our merchants' growth."
Meanwhile, Cafe24 is consistently launching services built on advanced technologies like big data and artificial intelligence (AI) for merchants. With its big data analysis tool, SERA, Cafe24 also offers an AI-based online store content editing tool called Edibot that automatically sorts through product photos to produce a product detail page instantly.
About Cafe24

Cafe24 is a global success platform that provides a one-stop business environment for e-commerce merchants so that they can achieve continued growth by focusing on their creativity. Cafe24 has established an e-commerce ecosystem with 1.7 million Direct-to-Consumer (DTC) merchants and various global partners in areas like payment, shipping, and marketing. Cafe24 is poised for growth as more DTC brands and e-commerce participants continue to join the burgeoning industry.