The significance of Cafe24 and Facebook's partnership
Why did global e-commerce platform Cafe24 and social media giant Facebook become partners? Here is the story behind the collaboration.

Social media is emerging as the new star player in the global e-commerce market. Facebook is leading the shift as it embarks upon its e-commerce journey. In May 2020, Facebook CEO Mark Zuckerberg introduced Shops to make it easy for anyone to start an online business. Cafe24, an e-commerce platform expanding its ecosystem, was announced as the only Shops partner in East Asia. The partnership between global social media giant Facebook and e-commerce platform Cafe24 is gaining much attention in the e-commerce sphere.
Facebook Shops is a form of a one-stop online storefront. Solo entrepreneurs and large businesses alike can join Facebook or Instagram to create their Shops in just a few clicks. In other words, the stage has been set for online businesses to leverage the 3.1 billion-user social network. With the help of Facebook's robust machine learning algorithm, merchants can easily advertise their products to the users who are most likely to be interested.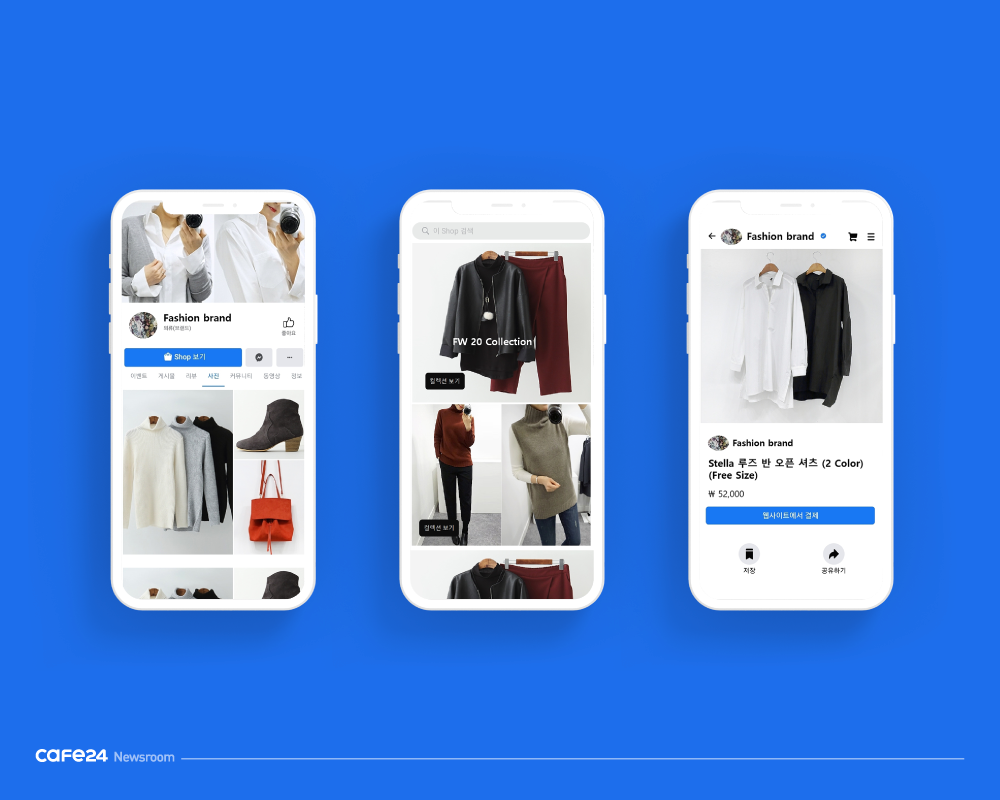 Why Cafe24 and Facebook joined hands
Under the banner of achieving hyperconnectivity, Cafe24 has cemented its position as a global e-commerce platform. It provides one-stop solutions for Direct-to-Consumer (DTC) businesses, including everything from store building and operations to marketing and logistics. To fulfill its mission of "helping all creative minds to do global business," hyperconnectivity was an inevitable business strategy. Hyperconnection establishes partnerships with various companies to effectively lower the barrier to online entrepreneurship. Cafe24 takes full advantage of its forte as an open platform that can freely connect with services worldwide, forming a value chain with global companies like Google and Amazon. This chain spans the whole e-commerce ecosystem to include all areas essential for online business success like store solutions, marketing, and logistics.
Against this backdrop, Cafe24 teamed up with Facebook to enhance its hyperconnected infrastructure. This partnership will lower online entrepreneurship barriers and make it easier for merchants to scale their business internationally. The more effortless it gets to jumpstart an online business, the more merchants will onboard the Cafe24 platform. As more merchants thrive, their success will drive Cafe24's growth as well.
Facebook continues to uphold its mission of providing a more enriching shopping experience through Shops. Facebook and Instagram users will spend more time on the apps if there is plenty of engaging shopping content. Consequently, this partnership will generate more business opportunities for Facebook. Both parties will create added value as Facebook gains advertising revenue and Cafe24 gains global sales channels for merchants on its platform.
Shops present a new shopping experience
Shops allow DTC merchants to create product showrooms on Facebook and Instagram. With just a few clicks, they can set up online storefronts that match each social platform's user interface. What makes Shops different is that it makes shopping on social media more pervasive. Before Shops, merchants were already promoting products on social channels. But the methods weren't very effective in boosting customer satisfaction in terms of enhancing the overall shopping experience through engaging content and encouraging purchases. A case in point is Facebook Page Shop that linked Facebook page content to product pages. It primarily served as a supplementary marketing tool for online and offline stores.
Shops enrich the social media shopping experience. Users can now search for products on Facebook and Instagram to compare different color and size options. They can add items to their shopping carts or save them to revisit later. Product detail pages for Shops are as detailed as those found on online stores, allowing customers to check color, size, and other options at a glance. This is a significant improvement from the previous social media shopping environment where users had to visit a separate website to see product details.
Such an environment provides a foundation for a seamless shopping experience. It minimizes the hassle of jumping between apps and websites, and provides access to various products worldwide. In short, users can enjoy seamless online shopping on social media as much as on a DTC store.
A powerful tool for online merchants
Shops can be a potent sales and marketing channel for online businesses for three reasons.
First, Shops thrive on content-centered commerce. E-commerce has entered the so-called "content era" and Shops can be the most effective channel. The Collection feature on Shops organizes products by specific themes like the season, launch date, sales promotion, style, and more to maximize marketing effectiveness. Merchants can create content that effectively promotes their products or brand identity – just like a magazine or a lookbook.
Second, Shops enable products to find their customers first. Facebook and Instagram, with 3.1 billion users around the world, use a powerful machine learning algorithm to target potential customers with extreme accuracy. This will likely drive a paradigm shift in online shopping. The typical online shopper's journey starts with the consumer searching for products they want to buy. But this pattern is changing as social media users are serendipitously discovering products they would like. Known as Discovery Commerce, products are conveniently placed on users' browsing paths to be found, rather than users actively searching for the items they want. Ultimately, Discovery Commerce can save shoppers a great deal of time and money previously spent searching for things to buy. Leveraging the new shopping trend with Shops will help merchants achieve business success with greater speed and ease.
Third, Shops facilitate two-way communication. Interactive communication between brands and customers is becoming ever more important. Merchants can now use Facebook Messenger and Instagram Direct Messages to communicate with customers in real-time to understand their needs. Facebook Messenger is already leading the way in Conversational Commerce and will create greater synergy with the newly-launched Facebook Shops.
Real-time data integration makes it easier to operate all channels
The key achievement of Cafe24 and Facebook's collaboration is real-time data integration. Merchants can enable a setting to synchronize their DTC stores with Shops. When they upload a new product on their Cafe24 store, the same update automatically goes live on their Shop. Similarly, any change or deletion of product information on the store applies to the Shop in real-time.
Merchants using Shops without the data-integration service have to manually add information about their products, such as name, price, and image, to Facebook Catalog. The Catalog holds all the information about products sold across Facebook Shops, Facebook Ads, and Instagram Shopping. After entering a product's information on Catalog, a corresponding code needs to be tagged on Facebook to display the information on the Shop. So merchants have to update product information on their DTC store and Facebook Catalog one by one.
Cafe24's service avoids these redundancies by automatically sending product updates on the store to Facebook Catalog. It also provides merchants with more detailed data by applying the technology used in its Facebook Business Extension (FBE) 2.0 service. This service offers a suite of business tools necessary for conducting marketing campaigns on Facebook. Unlike FBE 1.0, which only syncs basic product information like name, description, price, brand, and category, FBE 2.0 also covers data related to purchasing patterns. For instance, updates for a fashion item on target age group, gender, color, size, material, pattern, style, and more are linked with Catalog. Such integrations will make running an online business more convenient and help merchants set more successful marketing strategies based on accurate data.
What's more, Cafe24 is the first in Korea to support this process with real-time data processing. Data integration services typically sync updates in regular intervals. But Cafe24 took into consideration the nature of DTC store operations that require prompt responses. So it launched a real-time data processing service to help merchants complete tasks seamlessly. This service tracks product uploads, changes, deletions, and other updates to DTC stores in real-time and sends feedback to the Facebook Catalog. During this process, the incoming data is automatically processed to be compatible with Facebook's interface and immediately applied to Facebook.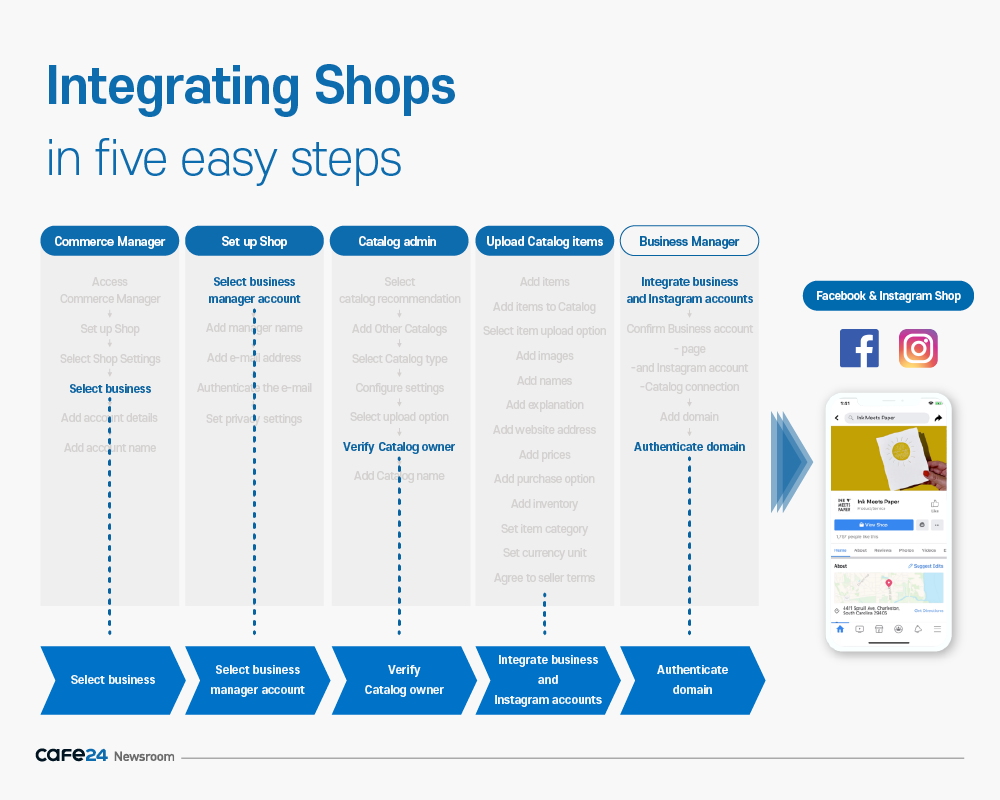 Cafe24 applied this technology to its Facebook Channel service, which centralizes all Facebook-related services in one location. Merchants can log into Channel to access all Facebook services, allowing for easy one-stop management. All Cafe24 merchants can activate Facebook Channel on their DTC store admin page.
Cafe24 drew from such a long-standing infrastructure to introduce Shops more quickly. The company's Global Marketing Platform team that led the Shops integration project says the key to fast service rollout was the solid infrastructure.
"Thanks to Cafe24's robust technological infrastructure, we didn't need to develop additional technologies for the Shops integration. We also leveraged our Recipe automation service to achieve real-time connections. Our well-established internal Application Programming Interface (API) also enabled rapid development."
Typically, companies wanting to integrate with global platforms like Facebook must develop an additional API to connect their private internal systems. But Cafe24 could skip this step because it provides public access to its open API. The company's automation service Recipe also allowed for automatic product integration between online stores and Shops.
The integration fostered an optimal environment for online businesses, small or big, ranging from solo entrepreneurs and SMBs to large-scale online businesses. Cafe24's digital technology and infrastructure made creating such an environment swift and successful. To date, it is the only company in Korea to process data between DTC stores and Facebook Catalog in real-time.
Cafe24 scales up the cross-border e-commerce market with Shops
There is much anticipation for Shops to expand the cross-border e-commerce market. By enabling a simple setting, merchants can showcase products to users in the many regions where Facebook operates, including North America, Japan, and Southeast Asia. It also makes country-specific target marketing much more straightforward. The ability to set up Shops in different countries gives online brands an advantage in reaching global markets in a fast and sustainable manner. There is much optimism over the potential economic value of Facebook Shops. A Deutsche Bank analyst projects that Instagram Shops will generate more than 10 billion dollars in revenue. An RBC Capital analyst also predicts Facebook Shops will bring in 4.9 to 8 billion dollars in incremental revenue for Facebook by 2025.
At Cafe24's Facebook Shops real-time integration service launch on Dec 8 last year, officials said that Shops will act as a bridge between online merchants and global markets.
"Facebook Shops has certainly made global markets more accessible. For example, a DTC brand can target the Japanese market by simply displaying their products to Japanese-speaking Facebook users. Since 2012, Cafe24 has provided business process outsourcing (BPO) services for global store operations. We provide full support in translation, marketing, international shipping, and customer services. The synergy between our global services and Facebook Shops will indeed drive the expansion of the cross-border e-commerce market."
– Lee Jaesuk, CEO of Cafe24
Cafe24 provides multilingual storefronts localized for nine different regions. Merchants who connect their stores to Shops can provide their international customers with product checkout pages optimized in their language. Using Cafe24's localization services in global shipping, customer service, product information, and promotions, online merchants can continue to enjoy international success more quickly and conveniently.
Moving forward, Cafe24 will continue to establish partnerships with various global tech companies. The company's strong value chain will support online merchants' success, creating strong momentum for expanding the global e-commerce ecosystem.