Cafe24 to integrate Facebook Shops in real-time
Press release
New products uploaded to online stores go live for Facebook's 3.1B users
Businesses from SMBs to large companies can launch Shops with a few clicks
More Korean DTC stores expected to go global through Shops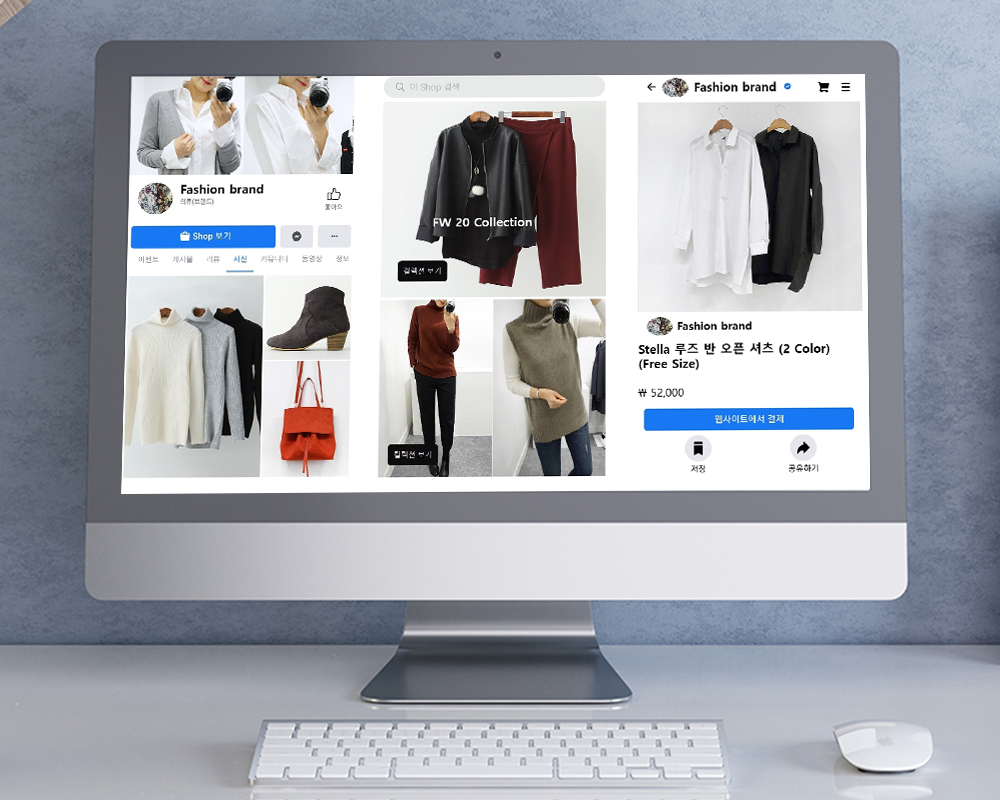 Cafe24's e-commerce merchants can now receive 3.1 billion Facebook users as potential customers. Businesses of all sizes, ranging from entrepreneurs to large companies, can now accelerate their global market success through Cafe24 and Facebook's partnership.
Global e-commerce platform Cafe24 announced the launching of its Facebook Shops real-time integration service on Dec 8.
Shops allows merchants operating their online Direct-to-Consumer (DTC) stores to showcase their products on Facebook and Instagram. In just a matter of clicks, merchants can set up their Shop on both social media platforms. Businesses of all sizes using Cafe24 can now use Shops.
Merchants can present their products and store content to Facebook and Instagram users around the world, increasing their potential for store traffic and sales.
Previously in May, Facebook announced eight global partners for Shops. Cafe24 was the only e-commerce platform partner in East Asia.
Facebook and Instagram's new shop window experience to drive customers
The most significant benefit that Shops provide merchants is easy and centralized business management for their DTC store, Facebook, and Instagram channels. Through a real-time system data integration created by Facebook and Cafe24, merchants can access their store admin page to manage the products shown in their Shops.
Merchants can enable a setting that synchronizes updates to their online store and Shops. When new products are updated to the store, the same items (along with pictures and descriptions) will be instantly published on their Facebook and Instagram Shops. In the same way, changes like product description text edits and product deletion will be automatically applied to Shops.
Placing orders and making payments can be done through the DTC store. Each item has a 'Pay on Website' button that takes the user to the store site to complete their purchase. This process will be beneficial for merchants to gain more loyal customers and drive more sales.
On Shops, brands can present content as a lookbook rather than a product list. Shops' Collection feature can be used to group products according to any theme the merchant wants, such as season, launch date, discount deals, styles, and more to drive marketing effects.
Increased product exposure in global markets to trigger e-commerce export boom
Shops may give rise to more e-commerce exports by Korean brands. Through a simple set of settings, merchants can easily make their products available to Facebook users in the United States, Japan, Southeast Asia, and any other country where Facebook has a presence. In other words, target marketing in specific countries is now much easier.
Merchants can also provide their international customers with speedy customer support using Facebook's communication channels like Messenger and Instagram Direct Message. Also, sharing product information and shopping content with friends is now on a global scale.
Meanwhile, Shops will bring positive effects to the Korean fashion, beauty, and content – or 'K-style' – market. Shops will enable Korean merchants to expand overseas more easily, increasing the possibility of K-style content to spread in various countries.
Cafe24 and Facebook will be launching their joint Shops service in Korea and Japan. The service is integrated with the Cafe24 Japan platform, which launched in October 2018. Japanese brands using Cafe24 for their online business can now use Shops.
Shops and DTC stores to provide a seamless shopping experience
Facebook and Instagram users can access a richer online shopping experience through Shops. With the touch of a button, users can access Collections of countless brands and save items to revisit later.
Product pages carry detailed information on color, size, and other options – much like a store's product details page. Shopping on social media has been greatly improved from simply showing product photos and accessing another website to see item details. Such product displays have been enhanced through Shops, improving the overall shopping experience for users.
Searching for specific products has become easier. Users can utilize filters to search for items by date, price, discounts, and availability.
Such enhancements allow for the seamless shopping experience that Cafe24 and Facebook have been emphasizing. Shops reduces the hassle of moving between apps and web pages. Through Shops, users have access to products from around the world at their fingertips.
Cafe24 and Facebook's global partnership synergy continues
Facebook uses algorithms based on big data and machine learning to provide users with personalized product recommendations. Technological advancements to increase users' product choices will continue.
Cafe24, home to 1.8 million DTC stores, will also be focusing its technological investments. The company aims to maximize opportunities for success for more merchants in the e-commerce ecosystem.
Jaesuk Lee, CEO of Cafe24, said, "Connecting people and businesses through technology is important for both Cafe24 and Facebook." He said, "We will work more closely and vigorously with Facebook to support merchants' success in global markets."
About Global E-commerce Platform Cafe24
Cafe24 is a global e-commerce platform that provides an online store-builder, marketing, logistics, and more services in one-stop so that anyone with creativity can do online business in the global market.
While Amazon and eBay focus on the consumers, Cafe24 concentrates on the sellers (merchants and businesses). Cafe24 upholds a consolidated yet specialized service that provides everything from building and running an online store to branding.
The more participants gather on Cafe24's e-commerce platform, the more powerful the synergistic effects. Cafe24 maintains a strong network with global companies in various industries like global online marketplaces (Facebook, Google, Amazon, Rakuten, Alibaba, etc.), logistics companies (EMS, Sagawa, etc.), and payment service providers (PayPal, SoftBank Payment Service, etc.). Consequently, merchants expanding their reach into the global market through Cafe24's platform can provide their customers with a localized online shopping environment.
Cafe24 leads the industry market share in Korea, powering 1.8 million merchants. In cooperation with various global partners, Cafe24 is leading the way to build an e-commerce ecosystem. In the burgeoning e-commerce market, Cafe24 spearheads mutual growth to go beyond domestic borders into the global market.