Cafe24 integrates Japan's cross-border marketplace Buyma to expand Korean brands' exports
Press release
Japan's leading global fashion shopping site Buyma, with 9.1 million registered users
Over 16 thousand brands from 160 countries available, including America and Europe
Logistics integration with Sagawa and Yamato expected to help DTC stores expand to Japan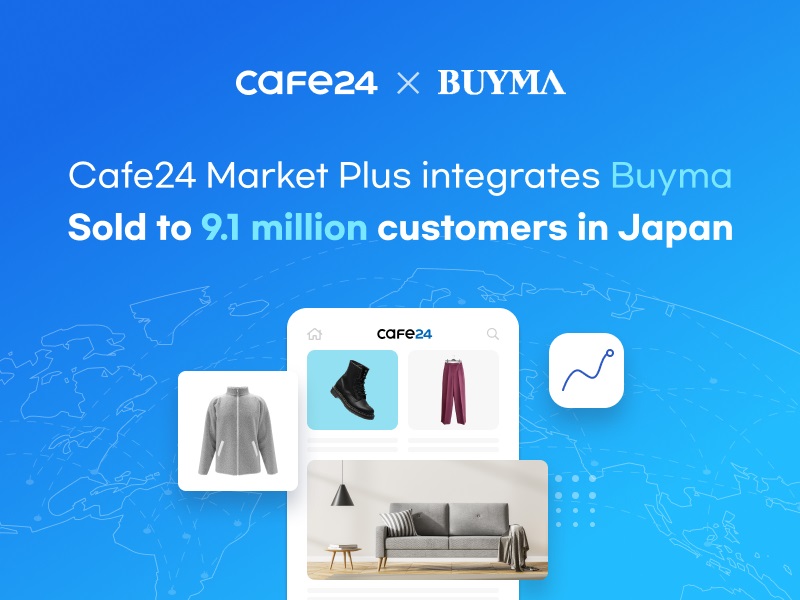 Cafe24 has expanded online channels for Korean businesses to penetrate Japanese markets.
Global e-commerce platform Cafe24 announced on December 13 that it has integrated Japan's Buyma into its Market Plus.
Cafe24's Market Plus is an integration service that enables online merchants to sync and simultaneously sell products already on their own DTC (Direct-to-Consumer) stores on various external marketplaces. This expands channels and allows for product registration, order management, and shipping, all from the Cafe24 admin for increased operational efficiency. The service integrates over 70 domestic and international marketplaces. It now expands sales channels for merchants that want to expand to Japanese markets by integrating Buyma.
Headquartered in Tokyo, Japan, Buyma has grown into a leading cross-border marketplace that sells global products from North America, Europe, and Asia to Japan since its launch in 2004. As of Q3 in 2021, Buyma has over 9.1 million registered users and over 16 thousand brands from 160 countries.
Buyma has an upper hand in carrying a variety of fashion items that have not yet entered Japan's offline markets or are difficult to purchase locally. As a result, it is also considered a significant content channel that Japan's youth refer to in order to find mainstream global fashion trends.
Buyma has mainly seen growth through fashion but has recently also seen growth in living, beauty, baby products, and pet supplies. In Buyma's living category this year, furniture and interior design supplies sales have increased by over six times compared to that of 2020. Korean brands with a competitive edge in fashion and other product categories are expected to have an advantage in introducing products to Japanese consumers.
Cafe24 and Buyma's integration is expected to be a catalyst for Korean businesses' successful expansion into Japanese markets. Korean brands' online penetration has become easier amid the continued popularity of the Korean Wave in Japan.
Cafe24 plans to actively support Korean merchants so they can sell products to Japanese markets more smoothly. This will be enabled through Buyma and Cafe24 merchants' DTC store integration and cooperation with Japan's leading logistics companies, Sagawa Express and Yamato Transport.
Buyma also expects to showcase a wide range of Korean brands and products gaining popularity in Japan through collaboration with Cafe24.
Meanwhile, the number of Cafe24's global marketplace integration continues to increase. Cafe24 is currently cooperating with US' Wish that has 100 global sales channels, Japan's largest marketplace Rakuten, and Southeast Asia's Shopee that reached a gross merchandise value of 35.4 billion dollars in 2020.
"The global e-commerce industry is paying attention to Korean products' outstanding competitiveness," said Lee Jaesuk, CEO of Cafe24. "For the success of more Korean merchants, we will continue to stay hyper-connected to various businesses."
About Market Plus (Previously Multimarket Management)
Market Plus is a tool that helps Direct-to-Consumer (DTC) brands sync their online stores with online marketplaces, social commerce sites, and more external channels. Merchants can connect 70 online channels, including SEA's Lazada and Shopee, Japan's Rakuten, Korea's Coupang, Musinsa, SSG, 11street, CJMall, Gmarket, and Auction in one-click. Merchants can efficiently add new products, manage orders and shipping information from the Cafe24 admin. This service enables merchants to sell their products on multiple online channels with less complexity and maximize sales.
About Cafe24
Cafe24 is a global success platform that provides a one-stop business environment for e-commerce merchants so that they can achieve continued growth by focusing on their creativity.
Cafe24 has established an e-commerce ecosystem with Direct-to-Consumer (DTC) merchants and various global partners in areas like payment, shipping, and marketing. Cafe24 is poised for growth as more DTC brands and e-commerce participants continue to join the burgeoning industry.