Social commerce refers to the sale of products through social media networks.
A closer look at social commerce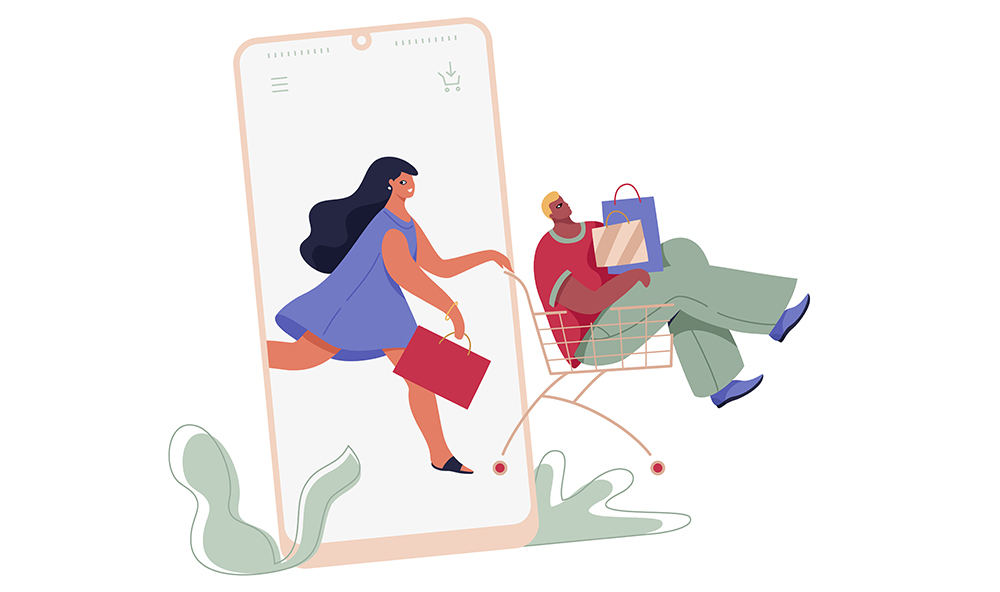 Social commerce is where e-commerce and social media merge. It delivers a convenient shopping experience through interactions on social media platforms like Facebook, Instagram, and Pinterest. Through social commerce, online shopping becomes part of consumers' daily social media activities.
Brands take on social commerce through social media pages or business accounts where they upload images and details of products from their Direct-to-Consumer (DTC) storefronts. Merchants use these pages for marketing brand content and engaging with their target audiences. Meanwhile, users discover and follow brands that they find through social media ads and personalized recommendations. If a product piques their interest, they can click on Shop tabs or Buy Now buttons to visit the brand's store and transact from there.
DTC entrepreneurs stand to gain from social commerce because it is a valuable sales and marketing channel augmenting their digital storefronts. Merchants can tap into the online communities of these platforms, build a solid brand reputation, and attract new customers.
As social media users turn into DTC shoppers, merchants better understand their audience. While brands have limited access to customer information on social media platforms, DTC stores provide full autonomy over data collection. Thus, bringing online stores into the equation with social commerce gives entrepreneurs access to previously unavailable customer data. Thoroughly understanding their customers opens doors for brands to drive more brand discovery and build more effective marketing strategies. DTC merchants can further gain an edge by cultivating customer loyalty to scale up their business.
Shoppers discover products, brands through social media
Consumers have embraced the convenience of social commerce and begun to see social media as one of the many shopping channels. According to GfK, consumers have increasingly used social media for purchases. About 18% and 16% of consumers in the United States have clicked on buy buttons and shoppable posts or stories, respectively. Separate research from Sprout Social shows that 90% of consumers buy from a brand they follow on social media.
Social networks are trying to get in on the trend by integrating shopping-oriented features. Facebook has rolled out several e-commerce features, namely Facebook Shops, Facebook Marketplace, and Facebook Live Shopping. Instagram has also beefed up its social commerce functions with shoppable posts and new features. Prominent additions to the Facebook-owned platform include the rework of the Shop tab and the rollout of Instagram Checkout.
Other social networks are building various social commerce functions, too. Pinterest has developed new ways to shop from their Pins, boards, search queries, and browsable recommendations. TikTok is doubling down on shoppable live streams. YouTube is rolling out shopping-oriented tools for its video creators and testing shoppable TV ads.
These new features make it easier for businesses to promote their products and improve their bottom line. Sprout Social data reveal that customer engagement continues long after a user has followed a brand on social media, with 91% visiting the brand's website or app and 85% recommending the brand to a friend or family member. This continual interaction amplifies brands' presence and simplifies converting followers and ad visitors into paying customers.
Social commerce boosts entrepreneurs' global biz
This trend has made social media an indispensable channel for entrepreneurs, especially those aiming for international expansion. In 2020, the global social commerce market was worth 475 billion dollars and is on track for accelerated growth. Projections expect a compound annual growth rate of 28.4%, which means its market size could hit 3.37 trillion dollars by 2028.
Social platforms operate beyond borders, which gives entrepreneurs access to a global audience that can grow their brand. According to Hootsuite and We Are Social statistics, that's a market of 4.2 billion people worldwide. Brands can engage with these shoppers through posts and comments, nurturing valuable relationships in the process. Through these exchanges, merchants can draw new audiences to their DTC stores and expand their customer base.
More importantly, individuals create communities with other like-minded users on social media. This social aspect fuels the platform's power to influence customers' purchases and opinions. Paired with social media platforms' algorithms and targeting tools, merchants can reach consumers who are likely to pay for their products and services. They can also increase their presence across international social circles.
Cafe24 helps merchants win in social commerce
Cafe24 offers exceptional support for DTC entrepreneurs who want to maximize gains through social commerce, allowing them to capitalize on this rapidly rising trend. The e-commerce platform has inked a partnership with Facebook to integrate Facebook Shops into DTC storefronts within the Cafe24 ecosystem. Through the partnership, entrepreneurs can showcase their products on Facebook and Instagram with ease. They can set up shop on either or both platforms while maintaining centralized control over the channels through their DTC store.
Cafe24 has existing partnerships with other major social networks, too. YouTube is one of its long-time marketing partners, while it also maintains close ties with TikTok and Pinterest.
Additionally, several apps focusing on social commerce are available in the Cafe24 Store. One such app is Edibot Social, which facilitates easy social media post scheduling and automated customer inquiry responses. These services help polish the overall shopping experience, building customer loyalty and increasing the bottom line. With Cafe24, merchants have reliable ecosystem partners to build a significant presence in social commerce and beyond.