Cafe24 launches services for managing social media and promotions
Press release
Edibot Social and Edibot Promotion make online store operations effortless
Essential tasks for business growth to gain much more efficiency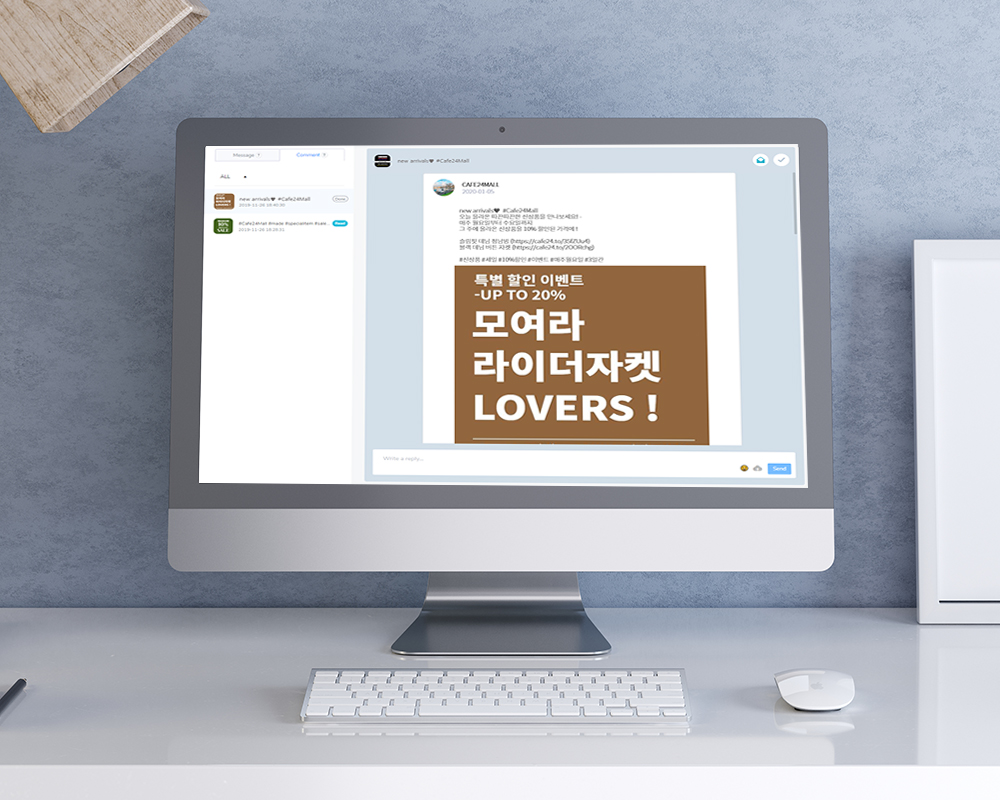 Online businesses are gaining access to new services that make managing social media and promotional events more pain-free.
Global e-commerce platform Cafe24 announced the simultaneous launching of its social media management service Edibot Social and promotional event management service Edibot Promotion on Feb 20.
Edibot Social integrates all of an online business's social media channels like Facebook. The service links to the business's DTC store, making it seamless to post about store items and item details on social media. For channels that have messenger features, merchants can automate customer inquiry responses and even manage individual customer's shopping history. Merchants can also access diverse templates optimized for each channel and can schedule posts around the clock, any day of the year.
Edibot Promotion makes managing promotional events effortless. It also provides statistical analyses of event performances. It recommends the best web banner templates according to the season and items in a merchant's store that are most suitable for each event. Merchants can generate text messages and social media posts using Edibot Promotion to further advertise their events. The service comes with an event status board that tracks real-time data on visitor traffic, order numbers, and total transaction amount. Following the end of the event, merchants receive a detailed data analysis report that determines the effectiveness of the promotion.
Both Edibot Social and Edibot Promotion make tasks that are essential for online business more efficient. The services are available to all Cafe24 merchants for free via the Cafe24 Store.
Jaesuk Lee, CEO of Cafe24, said, "The AI-based Edibot service series give merchants the flexibility to run their businesses with maximum efficiency regardless of their level of technical knowledge." He added, "Cafe24 will continue to roll out services that give merchants a competitive edge in creating digital content for their businesses."
About Cafe24
Cafe24 is a global success platform that provides a one-stop business environment for e-commerce merchants so that they can achieve continued growth by focusing on their creativity. Cafe24 has established an e-commerce ecosystem with 1.7 million Direct-to-Consumer (DTC) merchants and various global partners in areas like payment, shipping, and marketing. Cafe24 is poised for growth as more DTC brands and e-commerce participants continue to join the burgeoning industry.
About Edibot
Cafe24's Edibot presents a series of AI-based content creation and editing tools specifically designed for online businesses. Edibot launched in 2018 as a service that utilizes AI to instantly create product detail pages for online stores. Since then, Cafe24 has rolled out more tools to make running an online store easier. Edibot Themes makes online store template editing easy with the drag-and-drop method. Edibot Banner helps create and edit web ad banners. Edibot Fit automatically inserts relevant size charts in a suitable language under the product details section. Edibot Review creates digital content based on customer reviews.