What is product photography?
Product photography is a picture-taking method that uses specific techniques to present items attractively and accurately.
Images: windows to an e-commerce store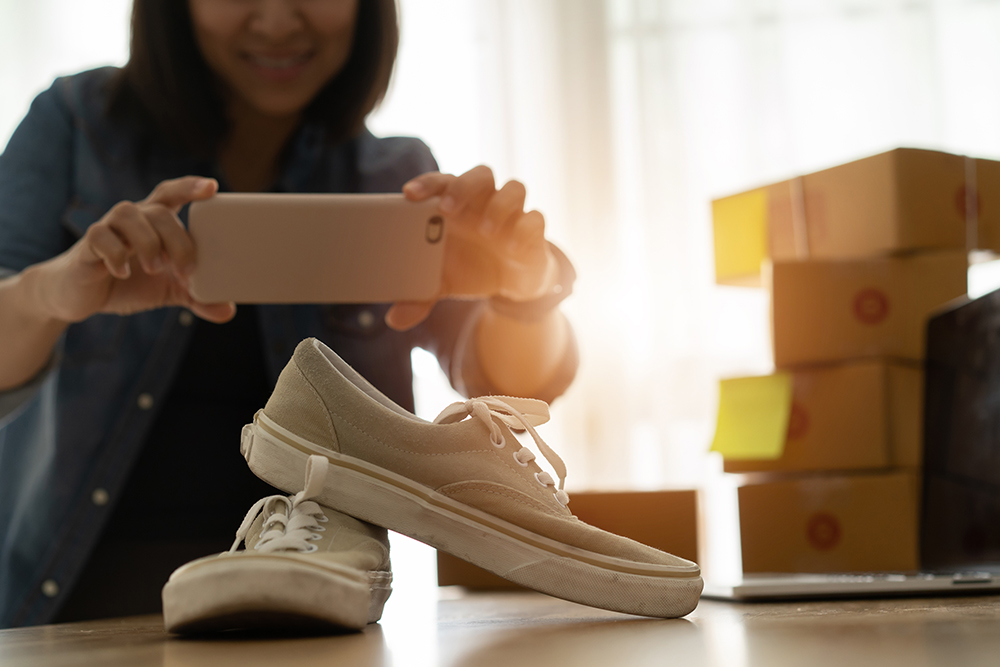 Imagine a mall filled with stores on every floor. Customers usually don't go inside every shop to look for items to buy. Instead, they scan the display windows and walk in when a product in the window catches their interest.
In e-commerce, images become items in the display window of an online shop. The photos on a digital storefront provide a quick view of the products on the site. They can entice buyers to browse further, look up item specifics, and make a purchase. According to a survey made by Field Agent, 83% of respondents said that item images and photos are "very" and "extremely" influential in their digital purchase decisions.
Product photography then becomes an essential part of a merchant's digital strategy. Images reflect an item's perceived value and quality, shaping the customer's first impression of the brand and its offerings. A bad photo can turn shoppers away, no matter how great the actual product is. Meanwhile, high-quality pictures can compel them to engage more with the brand, translating to better sales conversion and customer retention for online stores. Etsy says 90% of its shoppers consider the quality of photos as the most crucial factor in deciding to buy something online.
Moreover, providing accurate photos of products can diminish return rates. Statista says that the second top reason for online purchase returns is that the goods received are not the same as described online. Because customers cannot see and touch what they are buying online, images play a vital role in providing more detailed information. If they know what they're getting, consumers are less likely to be disappointed when the item arrives.
Attract more customers with quality product photos
Brands use product photos on all their online marketing and sales channels. Customers can see them on the store's homepage, marketplace offerings, social media posts, and more. Thus, they must showcase items attractively while keeping their brand image aligned throughout all channels.
Learning the basics of product photography can help brands create polished and professional images that can lead to an online business's success. Taking high-quality photos may seem to require professional-grade equipment and high-end software. But merchants can have access to a wide range of easy-to-use and less costly tools. Smartphone cameras are now on par with digital cameras in terms of quality and functions. Photo editing mobile apps are also more user-friendly and get the job done.
But no matter what tools they use, businesses must create a set of guidelines to follow for their product photography. These rules ensure a consistent look across all images, regardless of whether they are taken in different times and places. There are two types of product photography that merchants can employ:
Product-only images place the product front and center against a white background. It shows all sides of the item and key details. The focus is on the product only, allowing the customers to analyze the piece and gather necessary information. Plus, this type of image offers a consistent look for the whole site because they usually use the same background color for all offerings across the line.
In-context images showcase the product in the intended settings or use. Often, the photos include other items that complement the main product. This story-telling format can engage viewers and make the goods relatable to customers. It also spotlights other items on the site, which is an excellent strategy to get customers to make additional purchases.
Product-only images are often used in product detail pages. They put the item in the best light from various angles. Meanwhile, in-context photos are primarily utilized in social media, blogs, emails, and other marketing channels to connect with consumers. However, fashion and beauty brands like Stylenanda and Sister Ann use lifestyle images within their product pages to help consumers with styling. Another example is jewelry merchant Two D ello, which employs both product-only and in-context images in its Instagram posts.
There are no clear-cut rules on which photography style to use. However, merchants need to ensure that the format they'll use will best highlight their wares and their key features. The photos should provide enough details about the items and set proper expectations for the buyers. Additionally, employing a consistent look throughout a brand's website and marketing channels makes it more attractive to shoppers.
Level up your product photography with Cafe24
Many first-time entrepreneurs may find product photography a daunting task, especially if they don't have prior knowledge about it. Meanwhile, for small and medium businesses (SMBs), investing in equipment, software, and skills requires extra effort and cost that they could instead allot to other operational concerns.
Cafe24 supports Direct-to-Consumer (DTC) merchants on its platform with solutions that further improve a brand's product photography style. The Cafe24 Store features apps that help store owners easily capture and edit product photos to upload on their digital storefronts. For example, Kiwi Snap captures and mass-produces high-quality images using automated curation and editing. Meanwhile, Enumcut automatically removes the background from pictures and replaces it with a clean white backdrop. The all-in-one tool Store Camera provides image guides that help users take product photos at the best angle, remove backgrounds, and choose from various filters. It also offers photo analysis to determine which images will attract more customers.
Merchants looking for space to conduct their product shoots can likewise go to a nearby Cafe24 Business Center. Located in 76 accessible sites in South Korea, these shared offices have indoor and outdoor studios for photoshoots. Entrepreneurs can use different props and concepts free of charge. Consulting services are also available in the centers to help entrepreneurs build their best photo-branding strategy.