Cafe24's shared offices connect entrepreneurs to the online platform
Cafe24's shared offices are dedicated to supporting entrepreneurs to launch and boom up their businesses on the Cafe24 platform. Cafe24 trusts that its joint growth with fledgling merchants can push the entire e-commerce ecosystem forward.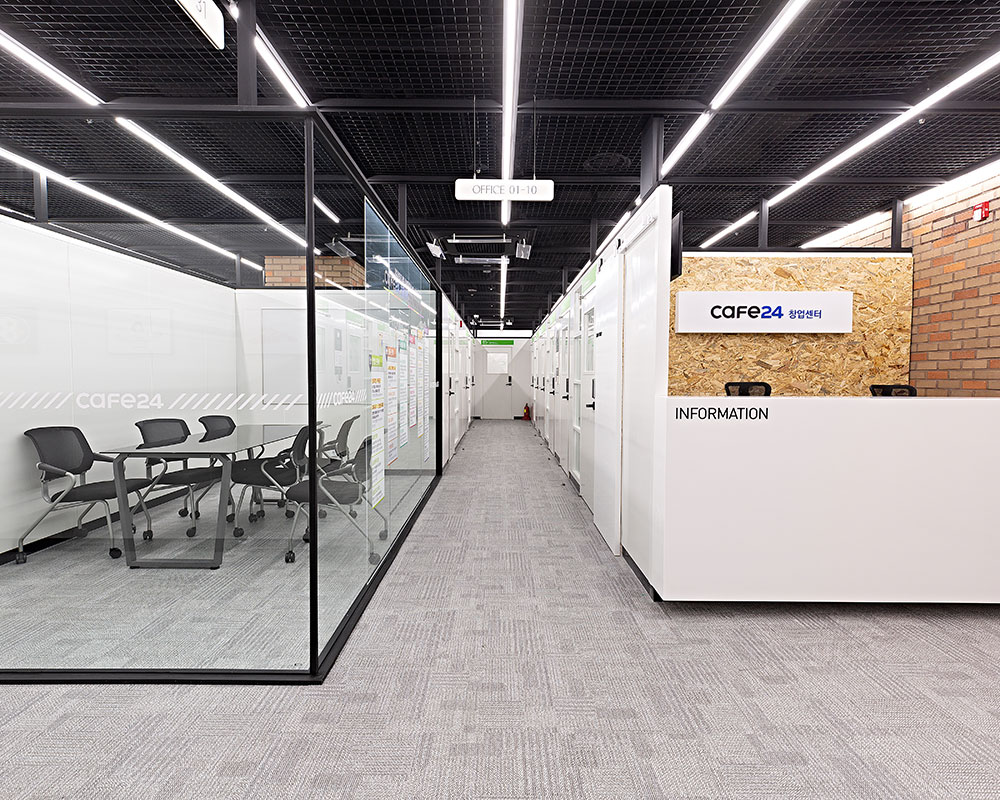 Offline platforms where Cafe24 can meet entrepreneurs
Cafe24 is a one-stop, e-commerce platform where entrepreneurs come to launch Direct-to-Consumer (DTC) businesses. It grows alongside DTC brands as they flourish and increase in Gross Merchandise Volume (GMV). In other words, beginning merchants and Cafe24's tight-knit relationship creates a positive synergy that boosts the e-commerce market as a whole.
For this reason, Cafe24 offers extensive services to support entrepreneurs so that they can be successful in e-commerce. The Cafe24 Shared Office is one of these support services.
The Cafe24 Shared Office provides a one-stop window for entrepreneurs starting an online business. It consists of several smaller private offices for up to four people and bigger shared offices that cater to entrepreneurs with varying needs. It differs from existing shared offices in that it is optimized for e-commerce businesses. From public rooms for photoshoots or meetings, parcel pickup services, educational programs to business consulting, the Cafe24 Shared Office offers everything necessary to start a DTC brand.
The shared office naturally acts as a connecting bridge that introduces entrepreneurs to Cafe24's e-commerce platform. Once entrepreneurs set down roots on the platform, they tend to continue to cultivate their business within the Cafe24 ecosystem even after they leave in search of bigger office space.
Cafe24 continues to open more shared offices to support entrepreneurs
Cafe24's shared offices are rapidly spreading across South Korea as entrepreneurs find it the most optimum destination to jump into DTC business. The greatest benefit is that they can enjoy all the services they need to start at a reasonable cost. The first shared office opened in 2001 and the number has since increased to 52 locations, as of February this year. The total number of entrepreneurs that have come through these shared spaces to date is about 16,200.
In a step to further increase accessibility for novice merchants, Cafe24 joined in partnership with Seoul Metro last year to launch locations within high-traffic subway stations. These locations are open to all Cafe24 merchants and provide the same services available at other sites, with the exception of office spaces.
"Cafe24's shared offices are strategic offline points that introduce more entrepreneurs to our e-commerce platform," said Jaesuk Lee, CEO of Cafe24. "We will continue to open more locations so entrepreneurs and Cafe24 can build a mutually prosperous e-commerce ecosystem."
Entrepreneurs that started their journey at Cafe24's shared offices
Womenswear brand Vivaruby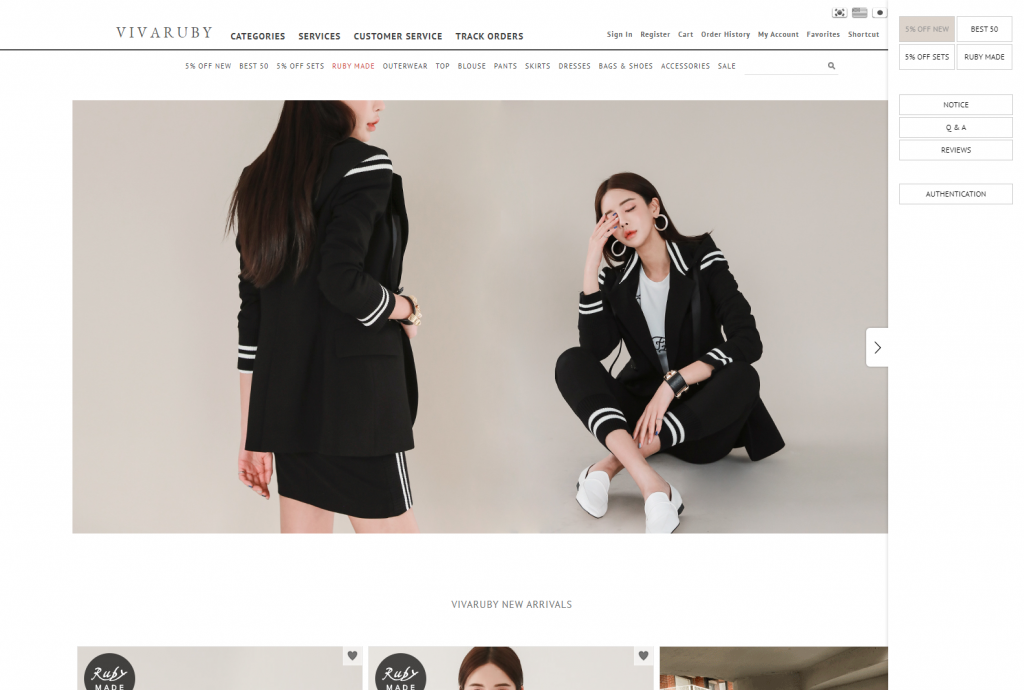 Jihye Lim, CEO of Vivaruby, jumpstarted her business at the Cafe24 shared office in 2013. She had been running an offline shop and wanted to shift gears to online commerce. Although Lim had minimal funds to work with, she was able to access everything to get her online store going from the shared office. Her fledgling business took off, and she moved out in just a year.
Vivaruby made 1 million dollars in online revenue in its first year. Lim was able to channel the know-how she had accumulated from doing offline business into Vivaruby's signature style and online customer communication strategies. The brand successfully appealed to women in their 20s to 30s who liked to express themselves through fashion.
Since then, Lim's business has continued to successfully scale-up on Cafe24's platform. Vivrauby now reaches global consumers through its multilingual stores in English, Japanese, and Chinese. 
Electronic tools market DeWalt Mania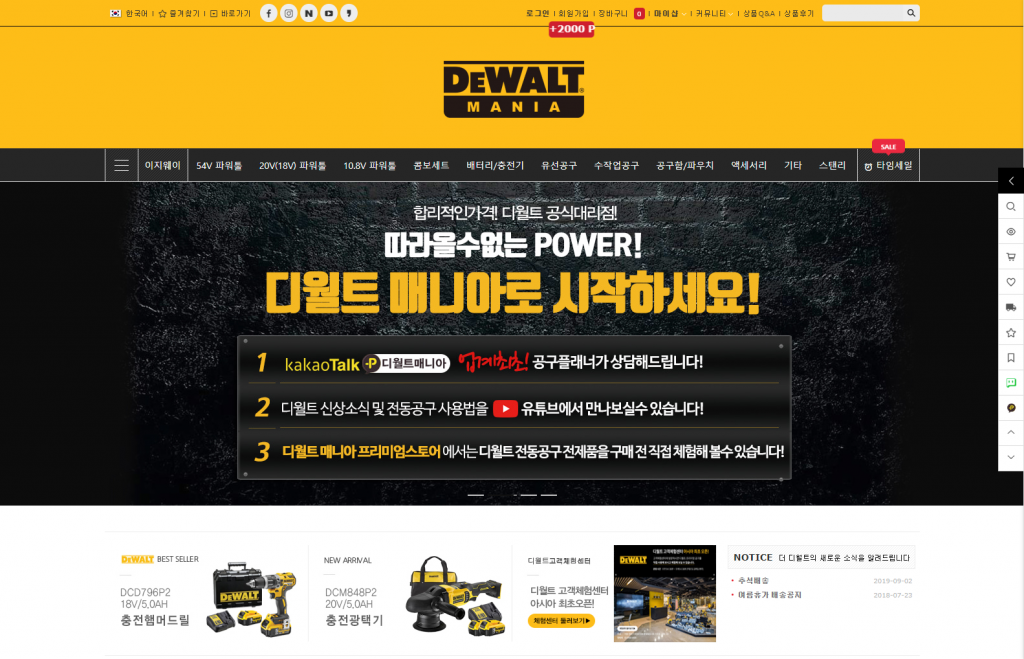 Jiwoong Lee, CEO of DeWalt Mania, came to the Cafe24 Shared Office in 2017 to take his father's 20-year-old electronic tools business online. Soon after, DeWalt Mania launched and expanded its product line to include all types of hardware like drills, hammers, saws, and more. Lee was able to quickly transition his business online with assistance from consulting services available at the shared office. According to Lee, the guidance he received on building his online store, developing product details pages, and drawing marketing strategies proved very helpful.
Today, the brand continues to grow and is succeeding in customer engagement across various online channels. Most noticeably, DeWalt Mania actively interacts with its customers through social media channels like Instagram and YouTube. Lee regularly posts product launches and how-to videos to introduce good items to his customers.