What is the subscription economy?
The subscription economy refers to the new consumer landscape created by businesses that provide products and services via subscription. In the subscription model, consumers make a one-time registration for monthly or bi-weekly payments in return for a regular delivery of a product package or access to a service.
Subscription model explained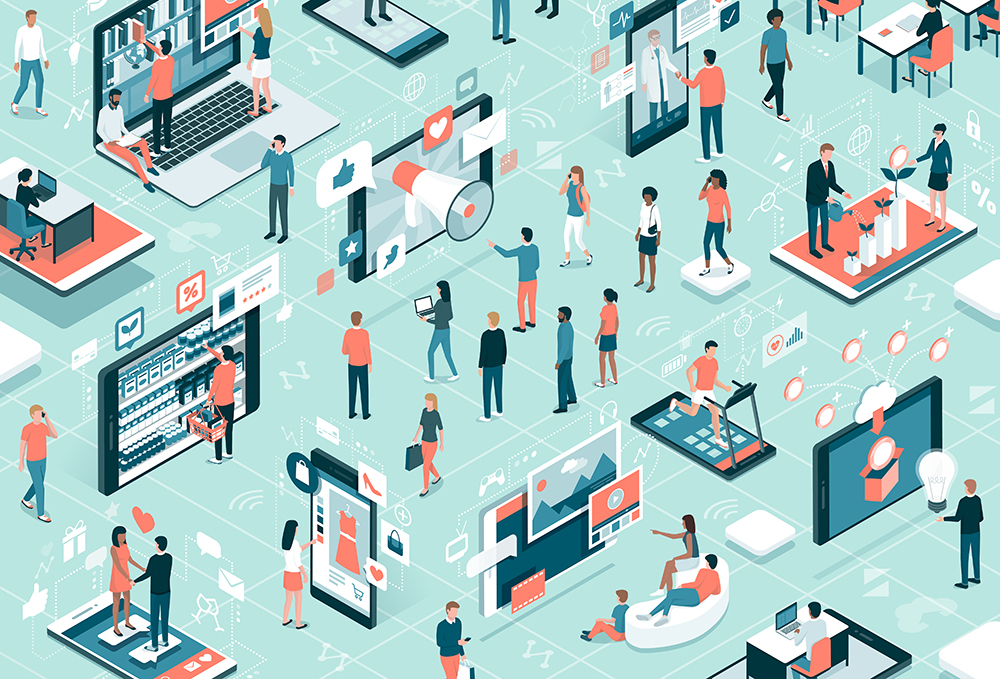 The subscription model dates back centuries when newspapers were first popularized via printing press. Subscription-based services for newspapers, magazines, and cable television remained popular throughout the 20th century. In recent years, the subscription economy has expanded to encompass fashion, entertainment, food, and more industries that are adopting the model to provide services and products. The rise of technology and Software-as-a-Service (SaaS) platforms enables more companies to easily employ subscription tools. As a result, more businesses are moving from a revenue model based on one-time purchases to a subscription model based on recurring payments.
Customers can use a credit card or bank account to sign up for a subscription that activates and renews within a specific period. Whether it's monthly, quarterly, or yearly, subscribers can expect a regular delivery of goods and services over a set period.
There are three common types of subscription services:
Replenishment: The replenishment model delivers recurring packages of consumable products. The Dollar Shave Club sends regular deliveries of grooming products to its customers. Deliveries are made every month or every four months, according to when customers usually need refills.
Curation: Curated subscriptions provide a collection of products based on a customer's preferences. Businesses with this service usually sell apparel, beauty, or food items. Stitch Fix identifies each subscriber's style preferences to send them a personalized selection of clothing and fashion-related items every month.
Access: This subscription service requires customers to purchase a membership to access the company's products at discounted prices. Consumers are privy to hefty discounts and exclusive offers that make the membership perks worth the fee. Thrive Market sells good-quality organic food products at lower-than-market prices specially for its members.
The benefits of subscription e-commerce
Subscription services can optimize operations for businesses that provide their goods routinely to loyal customers. Here are some advantages businesses can enjoy:
Stronger customer relations: Brand-consumer trust is the key to making subscription models work. A customer with a positive first experience is more likely to trust the business to provide high-value products and services every time. Regular deliveries of subscription products mean more opportunities for merchants to engage with their customers and build a relationship, giving them room to upsell and cross-sell.
Detailed personalization: Regular orders help merchants collect more data about their customers' preferences and buying behavior. As a business learns more about their customers, they can personalize their offers more accurately, tailoring their services to fit each distinct customer's style.
Better forecasting: The subscription models make it easier for merchants to forecast volume and demand, allowing them to order stock accurately. Knowing accurate forecasts also helps them draw successful product development strategies.
Higher retention: Consumers sign up for subscription services expecting that they will continuously receive value from the retailer. Subscriptions models are distinct in that they operate based on a large pool of loyal customers.
Better cash flow: In addition to predictable monthly recurring revenue (MRR), retailers can enjoy higher margins. Customer acquisition and retention activities can often increase a business' spending. Having long-term subscribers enables merchants to shift investments into other areas essential for business growth.
In summary, subscription e-commerce allows businesses to offer shoppers a convenient, personalized, and low-cost way to buy what they want regularly. In addition, merchants can manage operations more systematically and scale their business with their loyal customers.
Continuous growth in the subscription economy
Mckinsey identified 16 subscription-based companies among the Internet Retailer's list of the top 500 US e-commerce companies by sales. Together they earned 7.5 billion dollars in revenue in 2018, up by almost 2 billion dollars from the previous year. According to the analysis, the subscription economy has grown at a compound annual growth rate (CAGR) of nearly 60%. The market share is bigger when including brands like Nike, Urban Outfitters, and Banana Republic, which recently added subscription services to their business model.
The subscription economy is on track to keep growing. In the UK alone, the Royal Mail forecasts growth of 72% for subscription boxes by 2022, with a market share of 1.3 billion dollars.
Despite the challenges COVID-19 brought to various industries, the subscription economy isn't slowing down. Many sectors are thriving. According to Zuora's Subscription Impact Report: COVID-19 Edition, 22.5% of companies see an accelerated subscriber acquisition growth rate, while 53.3% have not experienced a significant change.
With people staying at home more, subscription businesses seem to offer an easy shopping solution. While fashion, food, grooming, and other consumables will always have an audience, the subscription economy continues to diversify to meet consumers' changing needs.
Cafe24's DTC model allows for a successful subscription business
Merchants can get a share of the subscription economy with Cafe24. The global e-commerce platform is home to 1.8 million Direct-to-Consumer (DTC) brands that center their business activities on their online store. The biggest advantage that the DTC business model has over marketplaces is that merchants have independent control of its various operations. This includes everything from marketing, product sales, payment, delivery to after-purchase support.
Cafe24 provides a system of tools that merchants can use to understand their customers' specific preferences and shopping styles. With access to tools that collect, evaluate, and analyze shopping data effectively, merchants can develop insights to improve their business growth strategies. In essence, understanding the customer well is the key ingredient for the subscription model to succeed.
Cafe24 also equips merchants with the most crucial capability for running a subscription business – payment. The company's recurring payment service processes repeating payments and shipping orders to deliver products or services at regular intervals. More businesses like coffee roastery Brownbag Coffee and skincare brand Juliea Loopy are joining the platform to utilize such convenient subscription-targeted tools.