Cafe24 integrates Wish, expanding sales channels in over 100 countries
Press release
With 90m monthly active users, Wish opens doors to the US and Europe
Global fulfillment & big data-based services help merchants drive more sales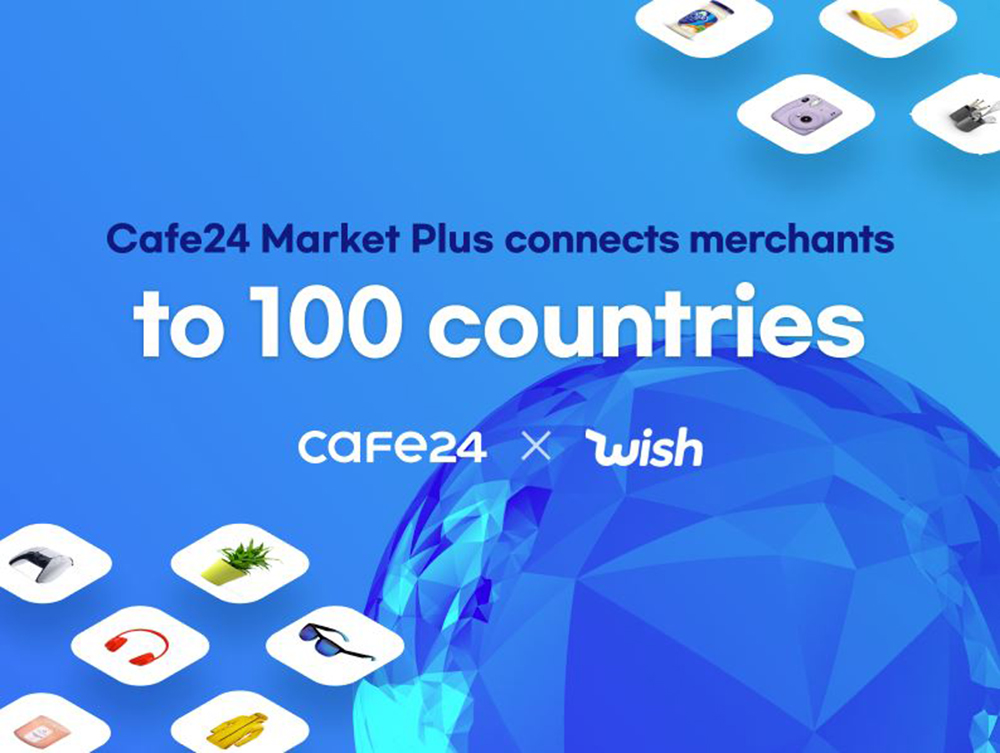 Cafe24 is connecting with US online marketplace giant Wish to help its merchants' global expansion.
Global e-commerce platform Cafe24 announced on September 13 that it will be adding Wish to its sales channel integration service, Market Plus.
Cafe24 merchants can now add products listed in their Direct-to-Consumer (DTC) stores to Wish via Market Plus. With a single connection, merchants can sell their wares to consumers in more than 100 countries where Wish has a presence, including North America, Europe, Asia, South America, Africa, and Oceania.
Established in 2010, Wish brings a fun and entertaining shopping experience to millions of consumers around the world. The San Francisco-based company services an average of 90 million monthly-active-users, as of the second quarter this year. Over half a million merchants are selling their products through Wish.
The integration will provide a boost for Cafe24 merchants planning to expand into the US and Europe, where Wish is particularly strong. Wish also offers logistics solutions through its FBW (Fulfillment by Wish) service to enable merchants to ship packages quickly and efficiently.
Wish is optimized for quick sales through its accurate product recommendation system. Its big data algorithm strategically recommends products that are personalized to each user in the main feed. Over 70% of purchases are generated in this space rather than through product searches. Cafe24 merchants selling on Wish can expect to benefit from the market's recommendation system for more sales.
Cafe24 will continue to work closely with Wish to help its merchants succeed globally. As Wish continues to advance its service regions and countries, greater synergy can be expected.
Wish also plans to leverage its partnership with Cafe24 to widely introduce popular K-products globally.
"With the K-wave still strong, various global countries can be the stage for merchant's growth," said Lee Jaesuk, CEO of Cafe24. "We will continue to stay hyper-connected with distinguished companies around the world that offer robust services."
About Cafe24
Cafe24 is a global success platform that provides a one-stop business environment for e-commerce merchants so that they can achieve continued growth by focusing on their creativity.
Cafe24 has established an e-commerce ecosystem with Direct-to-Consumer (DTC) merchants and various global partners in areas like payment, shipping, and marketing. Cafe24 is poised for growth as more DTC brands and e-commerce participants continue to join the burgeoning industry.
About Market Plus
Market Plus is a tool that helps Direct-to-Consumer (DTC) brands sync their online stores with online marketplaces, social commerce sites, and more external channels. Merchants can connect 60 online channels, including SEA's Lazada and Shopee, Japan's Rakuten, Korea's Coupang, Musinsa, SSG, 11street, CJMall, Gmarket, and Auction in one-click. Merchants can efficiently add new products, manage orders and shipping information from the Cafe24 admin. This service enables merchants to sell their products on multiple online channels with less complexity and maximize sales.