Cafe24 hosts 3rd Developers Seminar on easy e-commerce app development with open API
Press release
Promising domestic IT firms, Israeli firm CTO share their e-commerce app development experiences
Participants emphasize convenient app development through Cafe24's open API
Success stories of securing 1,400 paying customers, 91% subscription retention rate with Cafe24
CTO of Cafe24 says, "Global market customers are Cafe24 partner developers' customers"
Promising domestic IT companies that successfully attracted foreign investment or are working with global enterprises and developers from Israel, the 'new global IT hub,' shared their know-how behind developing e-commerce apps.
Global e-commerce platform Cafe24 hosted its '3rd Cafe24 Development Seminar' online to expand the ecosystem for e-commerce developers on December 16, at 2 p.m. KST. During the seminar, professionals and the CEO of a popular app on Cafe24 Store participated as keynote speakers. They introduced their services and shared helpful information and know-how behind developing e-commerce apps.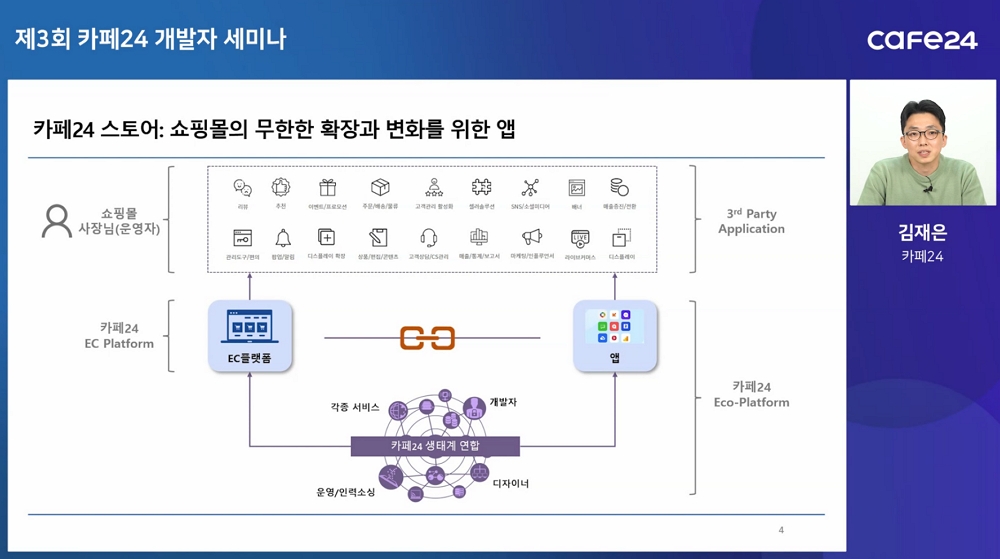 Global digital media agency MindAd Media serves as a bridge for promising startups from Israel. MindAd Media's VP of Sales and Business Development Gillit Segev advised that localization is key when launching an app on Cafe24 Store.
"You must localize the app to fit in new global markets," said Segev. "What does localizing mean? Here are a few examples. You need to really know your audience and their preferences. App design should be clear and appeal to all different cultures. Pricing and payments – should be aligned with market benchmarks. Customer support – better be in local language."
Presenters agreed that Cafe24's open API (Application Programming Interface) helped significantly when developing apps with various online store functions. API is a tool that allows developers without the knowledge of each other's product and service mechanisms to communicate more easily. It simplifies the app development process to help reduce developers' app development costs and time.
Headquartered in Tel Aviv, Israel, Dialogue is a developer that services an AI-based marketing personalization platform app on Cafe24 Store. Dialogue's service analyzes consumers' preferences based on online store data and AI technology. The service then offers various contents to increase both consumer time spent on an online store and conversion rate.
It provides a function that recommends products based on consumers' search history. Another example includes a function that exposes videos that explain product usage methods and short photo and video content similar to social media stories.
Or Lavee, VP R&D of Dialogue, gave useful advice when integrating its app with Cafe24's platform.
"Define what you need, what are the basic requirements and based on that go over the APIs, learn them, test them, understand object relationships," Lavee said. "And consult with the Cafe24 team regarding edge cases or specific requirements. Start with a [peripheral] logic that will decrease the frustration and help you achieve your goals faster. For example, for us, it was the logic to automatically refresh the access token."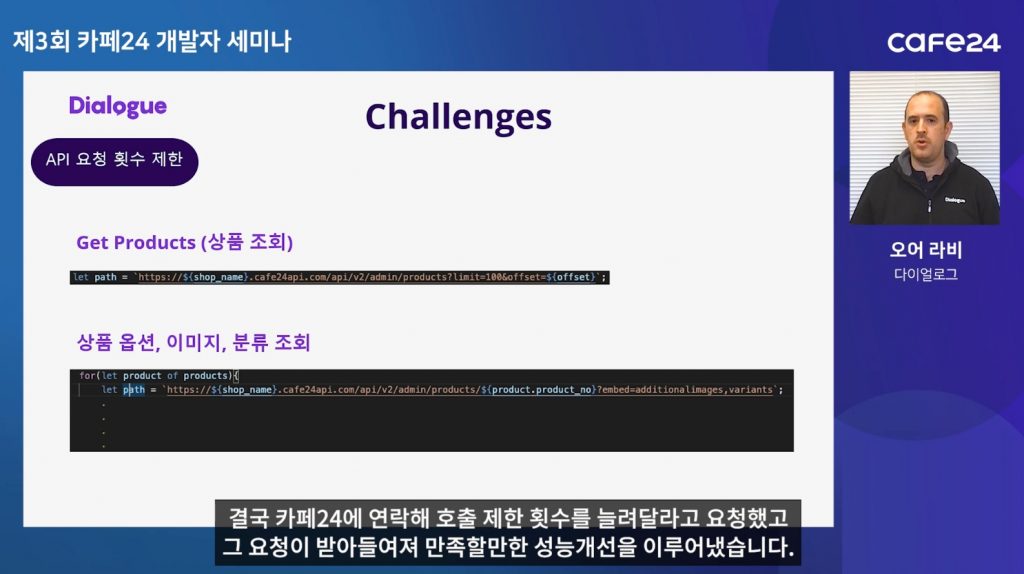 Facebook's official partner Uneedcomms offers various task automation services on Cafe24 Store through its affiliate platform Keepgrow. It allows customers to register in just a second through KaKao to prevent consumers from leaving the store. Keepgrow also offers an Instagram Posting Booster where product-related posts are automatically published. According to a report, over 1,400 customers pay to use Keepgrow's app, with 91 percent paid subscription retention rate.
Jung Yonjun, COO at Uneedcomms and Keepgrow, shared his experience with Cafe24's open API to develop KaKao First-Purchase Marketing Booster. KaKao First Purchase Marketing Booster allows merchants to send Kakao Talk ad messages to customers who signed up to their stores but didn't make their purchases. The messages are sent after their customers sign up after the first, third, sixth, and ninth day.
"To implement Kakao's first-purchase marketing, we needed online stores' customer and product information. Through Cafe24 API, we were able to integrate and encode sensitive information," said Jung. "We created a service to upload product information on Instagram. To do this, we constructed a service that selects and brings product image information according to display order and highest resolution among registered product detail images through open API."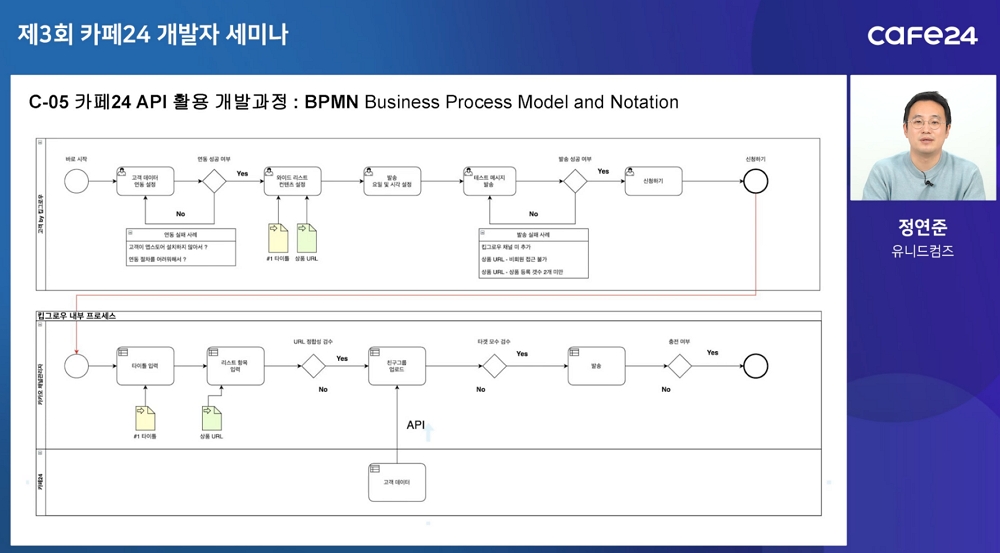 Odd Concepts with 35 domestic and international patents, uses AI to analyze data by pixels to recommend what customers want and what suits them. This service is called PXL AI. During Odd Concepts' app development process, they actively used Cafe24's ecosystem for developers.
"There were such diverse APIs that it did not even take us 10 minutes to check API lists and decide on whether to proceed with the project," said Kim Jungtae, CEO of Odd Concepts. "After development, the Cafe24 platform-based test online store was operated in three different types to test various functions in a real-world environment. Once we launched our app, we made improvements from the request and feedback we received from users from different environments."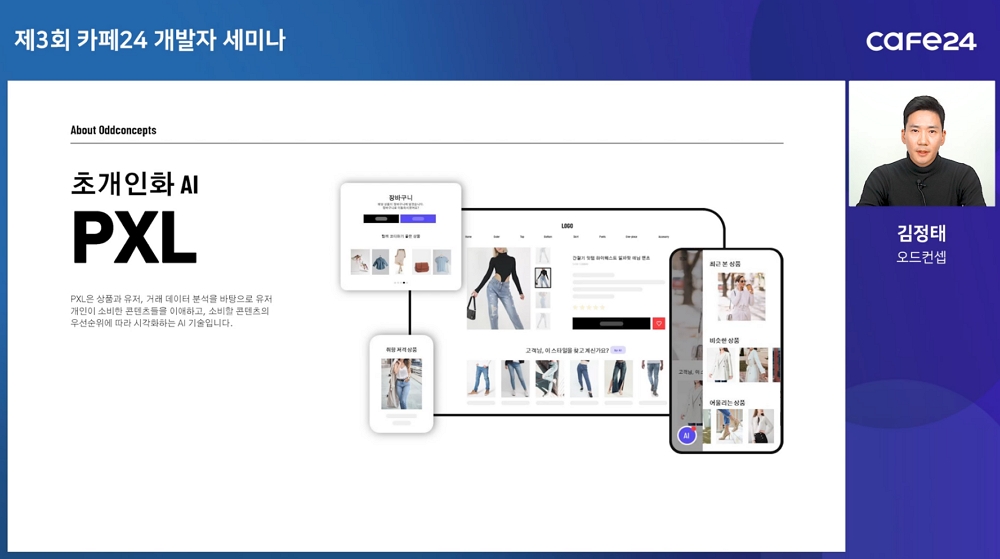 Lolozem Inc. is a company that offers virtual try-on services Lololooks and Lolozem AR. With its AR technology, customers are able to virtually try on fashion items such as earrings and sunglasses. The company's AR technology was recognized and successfully attracted US investment.
Kim Kookjin, VP and Co-founder at Lolozem Inc., introduced the main API used in app development.
"Thanks to API, we were able to easily create our functions such as virtual product integration with real products, color and option management, adding virtually tried-on items to carts," said Kim. "It only takes less than 30 minutes to integrate the app to online stores and actually go live."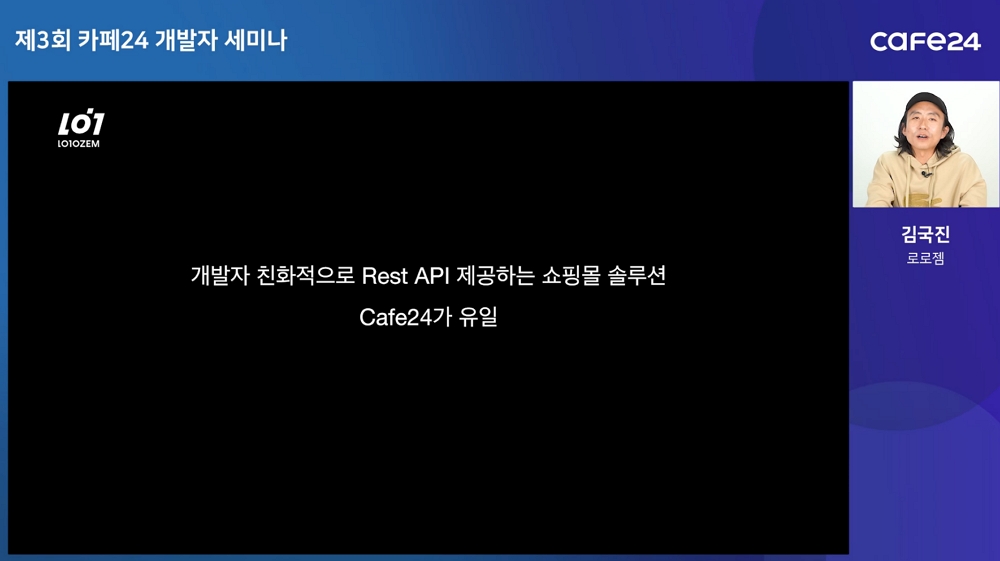 "Now that expanding online store functions has become very important, we expect this to be a great opportunity for developers with creativity and skills," said Noh Dong-woo, CTO of Cafe24. "In addition to Japan and Southeast Asia, Cafe24 is expanding its markets to the US, Europe, India, and more global markets. Global markets' customers are essentially Cafe24 partner developers' customers."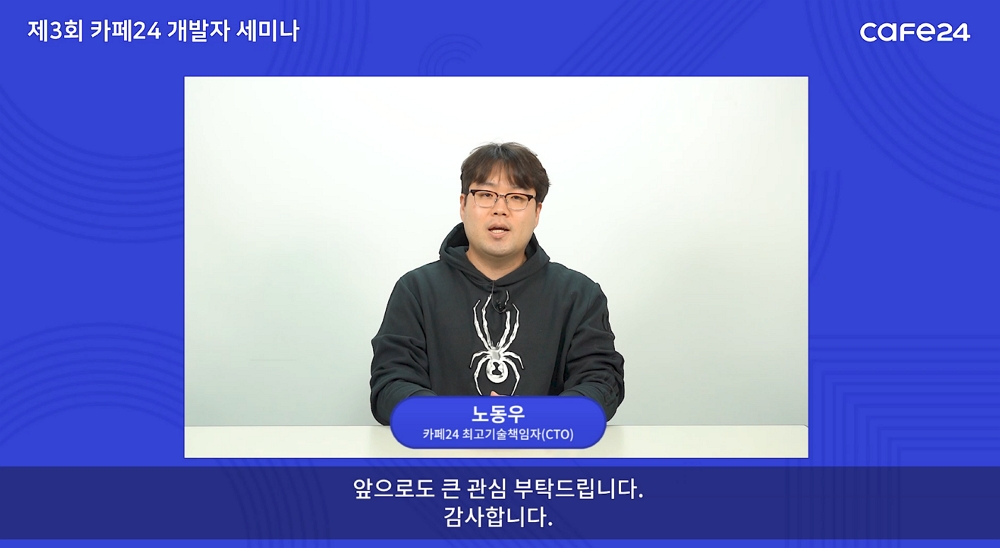 Meanwhile, Kim Jae-eun, Head of Cafe24 E-commerce team, introduced Cafe24 Store during the seminar. Cafe24 Store is a platform where anyone can develop apps, and apps for online businesses can be sold and purchased. To expand the ecosystem for developers, Cafe24 began providing an open API in 2019 and launched Cafe24 Store. Over the past three years, more than 450,000 cumulative app downloads occurred, and about 6,500 developers have participated in the Cafe24 Store.
About Cafe24
Cafe24 is a global success platform that provides a one-stop business environment for e-commerce merchants so that they can achieve continued growth by focusing on their creativity.
Cafe24 has established an e-commerce ecosystem with Direct-to-Consumer (DTC) merchants and various global partners in areas like payment, shipping, and marketing. Cafe24 is poised for growth as more DTC brands and e-commerce participants continue to join the burgeoning industry.