Cafe24 and Facebook's synergistic effects
Cafe24 and Facebook's collaboration is gaining much recognition in the e-commerce market. The potential value of the connection between Cafe24's 1.78 million Direct-to-Consumer (DTC) stores and Facebook's 2.7 billion global users is expected to go beyond imagination.
The joining of leading platforms in e-commerce and social media in strategic partnership is drawing much attention from the market.
According to Statistics Korea, the country's online shopping Gross Merchandise Volume (GMV) reached the 11 billion dollar mark in July. This was up by 15.8%, or 1.5 billion dollars from the same period last year. July's record-breaking GMV was the highest during the past five consecutive months when GMV continued to post above 10 billion dollars amid COVID-19.
Also, data released by the Bank of Korea shows that in the first half of 2020, an average of 17.8 million digital payment transactions, or almost 580 million dollars, were processed for online shopping on a daily basis. This meant that compared to the second half of 2019, transaction volume increased by 32%, while transaction value went up by 15.3%.
Countless survey results indicate that shoppers are flocking online in the wake of the so-called contactless era ushered in by COVID-19. Hence Cafe24 and Facebook's collaboration in e-commerce is garnering a lot of attention.
Cafe24 and Facebook have established business connections for years. Together, they have provided marketing technologies, including big data tools, to help e-commerce businesses create and distribute content easily. Significantly, they opened a path for merchants to communicate with customers around the world.
Thanks to their efforts, many merchants are on a roll as they utilize personalized and targeted advertising and optimized content. Facebook and Instagram users encompass people of different ages, genders, occupations, and propensities. Therefore, targeting specific segments in the vast e-commerce market is an essential task for merchants.
As the two companies continue to strengthen their ties through big data-based ads and Shops, more entrepreneurs will enjoy simple and easy entry into the e-commerce market, generate more shopping content, and offer an enjoyable experience for consumers worldwide.
Big data from DTC stores used in Facebook and Instagram advertising
DTC stores built on Cafe24's platform provide data on traffic sources, customer propensity, purchase time, and other various purchase patterns. These data sets met with Facebook and Instagram will create many synergies for effective advertising and marketing campaigns.
Facebook's Application Programming Interface (API), which is easily installable on Cafe24's DTC stores, automatically learns customer purchase information with a cutting edge analysis algorithm. Statistical data also allows for tracing shopping patterns systematically. Let's say a male customer in his 20's, who previously made more than five purchases, sees an ad for a product. The system collects data on whether this type of customer tends to respond to the ad by clicking the "Add to Cart" or "Go Back" button.

This enables ad targeting, which directs optimized ads to those most likely to buy the brand's products out of the 2.7 billion Facebook and Instagram users. In this way, Cafe24's big data and Facebook's learning algorithm operate in harmony.
This strategy has doubled the advertising click-through rates for many businesses. In some cases, click rates rose even higher and went as far as driving up purchases.
The first step in targeted marketing is to identify the target customer group by looking at store data. Instead of trying to make detailed analyses, merchants can start from the rough customer profile they already have in mind. For example, "men between the ages 25 and 35" is enough to begin.
The next step requires a more detailed approach. Merchants must narrow down the group even further to users that reacted to specific content. Reactions include watching a product video or liking an Instagram post. These users are more likely to make purchases than those visiting the site just to browse. Directing relatable ads to a narrowed-down target audience is considered personalized marketing.
Mobile-friendly content drives clicks
After deciding on how to run ads, making personalized content comes next. Mobile is growing in importance in both e-commerce and social media. This means that the more mobile-friendly, or optimized for the Facebook or Instagram apps, the better the chances it has in reaching the audience. Even content with basic information can be effective in marketing as long as it is mobile-friendly.
Let's say that a video ad is in the making. If the video is minutes long, the chances are that customers might not finish watching it. Clips need to be shorter than 15 seconds and should carry a powerful message to captivate the audience. Captions are a must, considering that some customers have their phone's media volume on mute. Thus, optimized videos refer to clips with short and relatable messages that can be understood via captions even when the sound is off.
These videos call potential customers to action via the "Swipe Up" button. This button immediately funnels them through an optimized journey to the brand's online store. Another important tip is making the videos in portrait mode so that customers don't have to rotate the screen for landscape content.
These videos deliver a brand's story to the general public. Rather than one-off ads, they are considered as gripping content that people want to watch again. If such delivery is successful, Call-to-Action (CTA) click rates will rise significantly.
Shops, an opportunity for DTC stores to go global
Facebook Shops, receiving much attention in the global e-commerce market, is a service that merchants need to keep close tabs. Shops is a digital storefront accessible on Facebook and Instagram, where DTC stores play a pivotal role. Shops is expected to take the collaboration between DTC stores and Facebook to the next level. In May 2020, Facebook announced its Shops partnership with eight companies worldwide, among which Cafe24 stands as the only Korean company.
A brand's Shop and its DTC store are seamlessly connected. Any changes made on the store goes live across Facebook and Instagram Shops. Customers visiting Shops can also be directed to the brand's DTC store.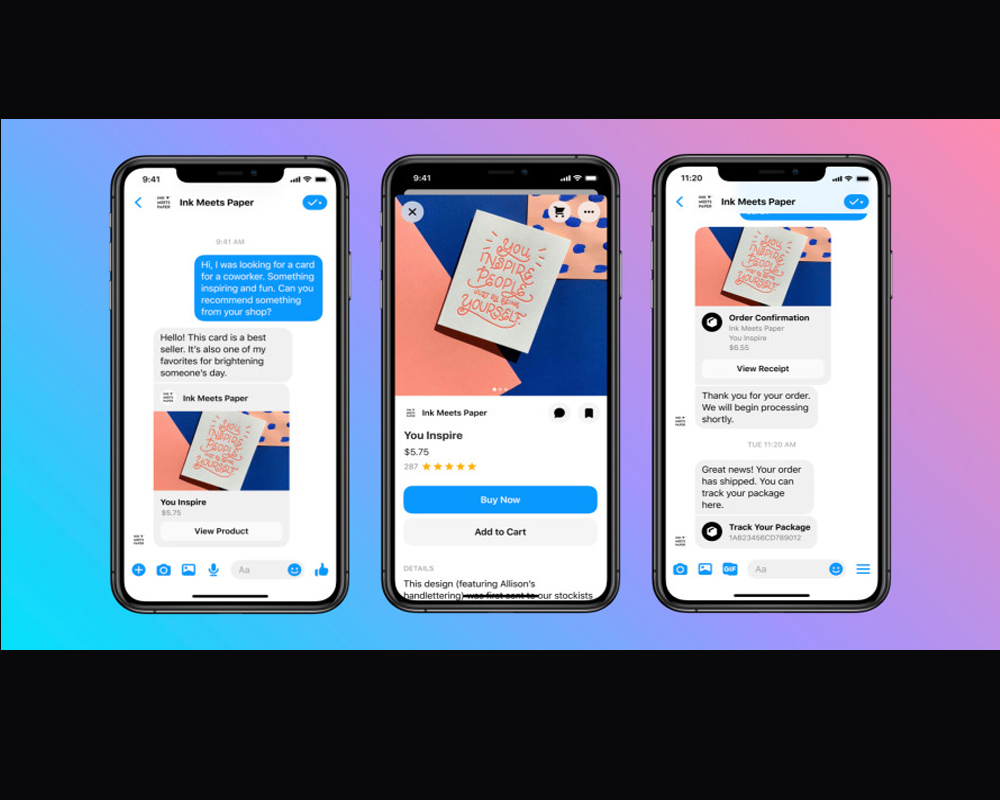 Merchants can utilize Shops as their advanced base camp. They can select and organize content shown on Shops through their DTC store admin page. They can curate content like product collection by season, promotion, upcoming launches, style, and more. Whether it be on Facebook or Instagram, the customer clicking the content can access the brand's product collection on Shops as well as a button that takes them to the DTC store.
Furthermore, since Shops is accessible by Facebook and Instagram users across the world, it can propel merchants' global expansion. Facebook highlights that Shops will lower barriers for entrepreneurs trying to start an online business and merchants selling across countries.
Cafe24's merchants engaging in cross-border e-commerce can localize their Shops to best suit each region's conditions, whether it be the United States, Japan, or Southeast Asia. For English-speaking customers, store content will appear in English, and they can pay through Paypal or other local services.
Likewise, merchants with businesses driven globally due to the popularity of K-pop, K-style, or K-content, can communicate smoothly with overseas customers through Shops. As international demand for Korean fashion, beauty, and other K-wave products continue to increase, DTC brands' connection to Facebook Shops can accelerate the rise of exports.
Working together to help entrepreneurs succeed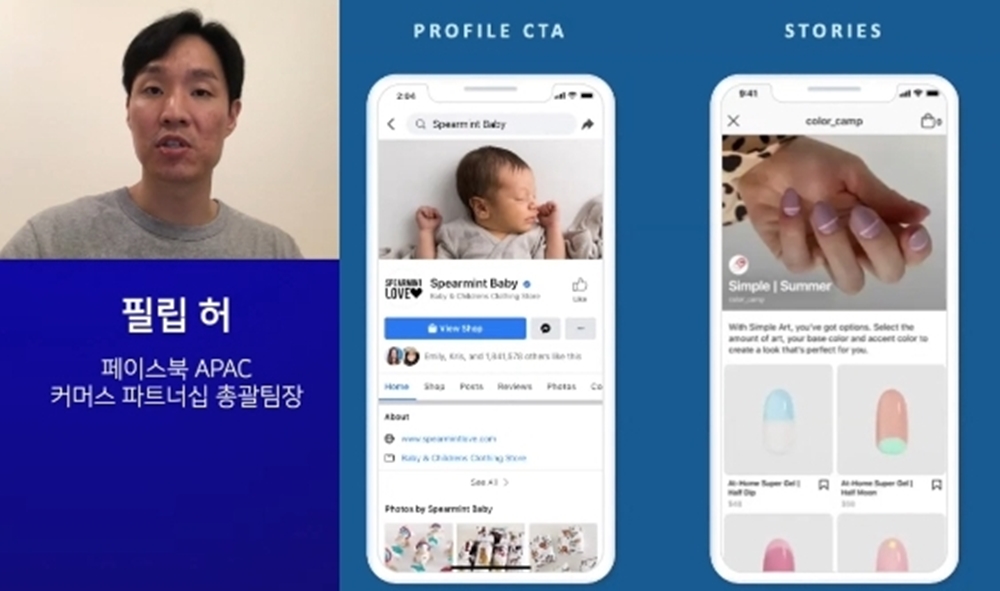 Even just a few years ago, product images with captions that read "For Sale" could be easily found on Facebook and Instagram. Yet many users were reluctant to sell online because it was perceived to be something only famous social media influencers could do.
Cafe24 and Facebook are working together to tear down the psychological and technological barriers to e-commerce entrepreneurship by creating an environment where advanced technology is readily available. They aim to make cross-border selling just a click away for everyone.
Recently, their joint webinar on "Successful E-commerce Strategies on Facebook" attracted 1,800 attendees. The high attendance reflected merchants' hopes for the two companies' cooperation to translate into their business success.
Philip Hur, Facebook APAC Head of Partnerships, spoke at the webinar and stressed the importance of enhancing technologies together.
"By closely working with Cafe24, we will provide Shops and other enhanced services to businesses. Facebook has always been about connection. We will make online shopping more seamless for consumers," Hur said.
He also talked about some Shops features currently in the works. One feature will allow customers to add products to their shopping carts on Shops and place orders on the brand's DTC store. He also mentioned that Shops will be available on other Facebook family apps.
In summary, various synergies between Cafe24's DTC stores and Facebook have already been recognized or are anticipated. These include Facebook and Instagram's ad targeting based on DTC store data, quality content creation, and new opportunities presented by Shops.
In the end, all of these synergies will be organically linked. Merchants can pursue these synergies one by one, or create strategies that employ multiple aspects. Cafe24's big data can be utilized to deliver the most relatable content to the most suitable potential customers via their mobile phones. Shops multiplies the number of customer entry points. In other words, these aspects will be linked in hyperconnectivity.
Merchants can take advantage of this environment to secure overwhelmingly fast management cycles. Narrowing their focus on manufacturing and brand competitiveness will naturally translate to overseas marketing and sales.
Cafe24 and Facebook have now launched a massive initiative to advance through cooperation. They will continue to present various technologies and services for merchants in the global e-commerce market. Much is anticipated for the change brought on by the two companies that prioritize connection and communication.