What is omnichannel marketing?
Omnichannel marketing is a strategy where brands establish a unified presence across multiple channels to provide a seamless brand experience from the beginning to the end of a customer's shopping journey.
Omnichannel marketing explained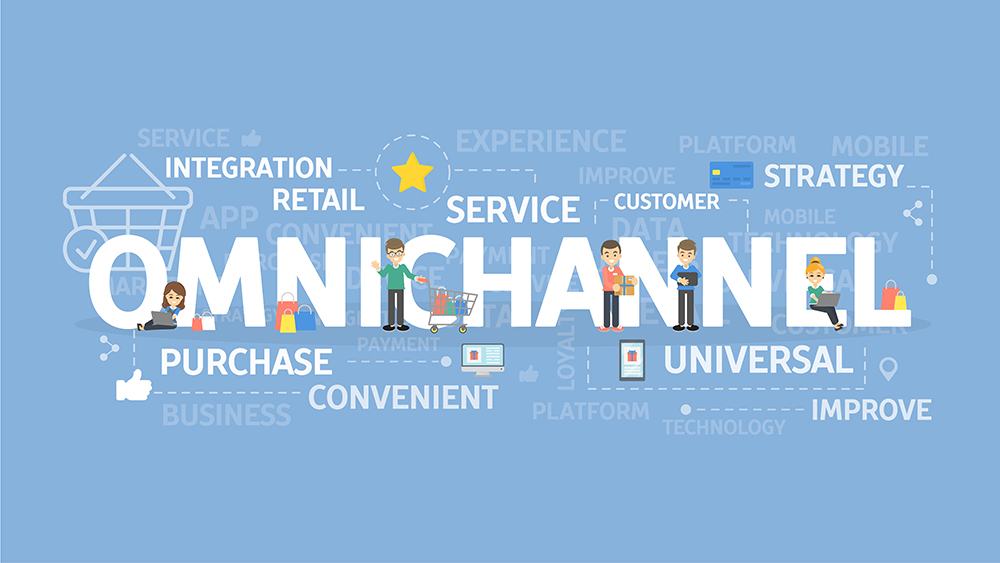 Omnichannel marketing is often used interchangeably with multichannel marketing. The two are different, and it would help to define both concepts.
Multichannel marketing is a strategy where a brand interacts with consumers through various channels. It can be through print ads, flyers, social media, text messages, emails, and websites. In multichannel marketing, a brand adopts and sends out messaging altered to suit each channel. In other words, each channel operates independently from one another. The unified goal is to get the most customer engagements possible.
Omnichannel marketing also involves interaction with customers via different channels — but with a unified message, voice, and branding. The omnichannel strategy requires integrating all the brand's various platforms to provide a seamless and connected brand experience.
The goal of omnichannel marketing is to ensure that customers get a streamlined and consistent experience when they move from channel to channel. Today's customers are omnichannel. They utilize a combination of touchpoints during their shopping journey that starts with finding a product and ends with making a purchase. Harvard Business Review says that 73% of shoppers use multiple channels during their shopping journey. Another study showed that 48% of consumers access their smartphones while shopping in stores for in-app discounts, look up product information, or compare prices at other brands.
How to effectively implement omnichannel marketing
Omnichannel marketing places the customer at the center of the strategy. It aims to give them a personalized and consistent experience across all channels — be it online, physical, and everything in between.
A business applies a consistent brand image and experience through all its channels to increase familiarity and customer relationships in this approach. Additionally, it tweaks its brand message to personalize the experience according to distinct customer needs and channels.
To maximize the result of omnichannel marketing, brands can take these necessary steps:
Get to know the customers. The end goal of omnichannel marketing is to provide a seamless shopping experience to customers. Therefore, businesses must understand their customers' behavior — where they spend most of their time and how they spend it. Determine buyer personas, including demographics, shopping habits, purchasing journey, and interactions with the store.
Optimize digital presence. Meet customers where they are — which is increasingly on the digital sphere. Almost 5 billion global individuals use the internet. More than 900,000 new users are going online each day with 92% using mobile devices. Social media use also continues to grow, with users reaching 4.33 billion worldwide in April 2021. These numbers clearly show online – especially mobile and social media – are among the best places to serve consumers.
Integrate channels. Ensure that all marketing and sales touchpoints are interconnected for easier data management and faster response to customer needs. For the buyer to have a seamless experience from one channel to another, any changes and updates on customer data must be instantly reflected across all platforms.
Always include a call to action. Including a call-to-action doesn't necessarily mean turning every content into an ad. However, each marketing effort must facilitate the buyer to move into the next stage of the shopping journey. For example, social media posts can have a 'Follow Us,' 'Message,' 'Contact Us,' or 'Learn More' button to engage customers in further activity. Meanwhile, emails can prompt the recipient to subscribe to the brand's newsletter or join its rewards program. Distribute discount vouchers or promo offers that will encourage the user to go back to the brick-and-mortar or online store and purchase again.
Offer more than just the product. A big part of a user's shopping experience is the added value when they shop across various channels. Content such as feature articles that provide additional knowledge on the product, influencer video testimonials, and user reviews help brands become more relatable to customers. Meanwhile, businesses can be more accessible for consumers by facilitating easy communication and providing prompt support on every platform.
Seamless omnichannel marketing on Cafe24
Cafe24 makes it easy for merchants to implement omnichannel marketing through Direct-to-Consumer (DTC) stores. On the e-commerce platform, brands can easily link their social media channels and other marketing tools to their DTC store. Merchants can then conveniently manage all channels and strategies from one place.
DTC gives businesses direct access and control over customer data, allowing them to establish a strong relationship with consumers. As a result, store owners can thoroughly understand their customers and their preferences, making it easy to personalize offerings for more specific preferences. Merchants that have insight into the shopper's habits and activity can develop better marketing strategies for building their cross-channel marketing efforts.
Furthermore, Cafe24 provides a wide range of marketing services to merchants looking to promote their businesses to various channels and markets. Brands on the e-commerce platform can successfully implement omnichannel marketing by leveraging Cafe24's network of global partners and local experts. They have access to leading global marketing companies such as Google, Facebook, Instagram, Twitter, and YouTube. Additionally, businesses can create advanced marketing strategies by utilizing big data from the 1.9 million online stores on Cafe24. The company also gives marketing consulting services optimized for different markets, ranging from website consultation, global marketing strategies, and guidance from certified global experts.