What is augmented reality?
Augmented reality (AR) is a technology that superimposes digital images onto the user's view of the real world through their mobile or computer screens.
Understanding augmented reality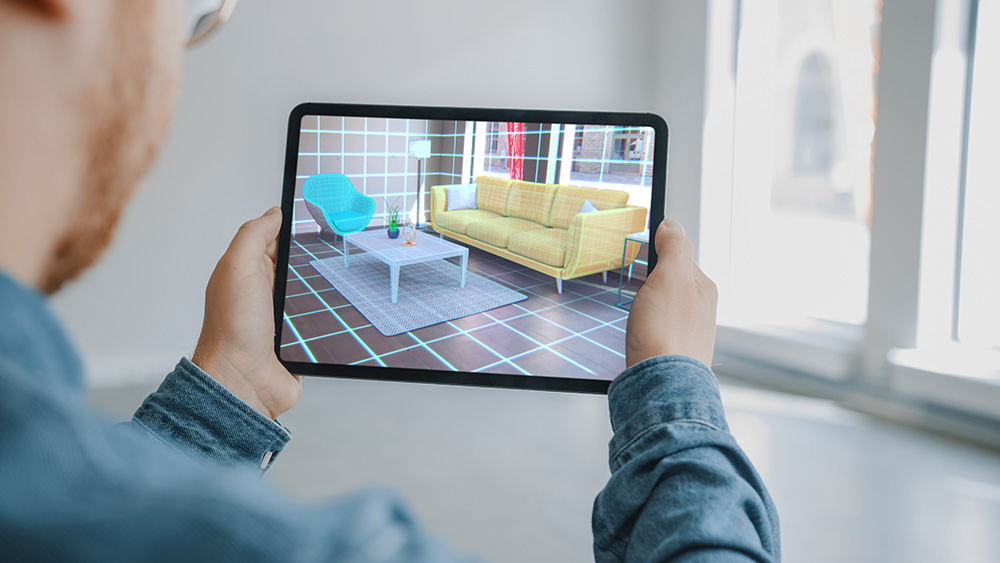 Unlike virtual reality, an entirely artificial simulation, AR overlays digital images to the real-world environment reflected on a user's screen. With the help of AR, people can simulate a digital picture of an object to their screens to see how it will look like in their real-life surroundings.
AR may seem to be a futuristic technology, but several forms have been around for years. One of its earliest applications is the head-up display in fighter jets that allows the pilot to see altitude, direction, and speed information overlaid onto their view outside. More recent examples of AR introduced into our daily lives are camera filters on apps like Snapchat and Instagram, as well as games like Pokemon Go.
AR continues developing and spreading across a wide range of applications. New technologies that can integrate with many products and services have the potential to revolutionize industries. Economists at the Technical University of Munich believe that several sectors will face disruption thanks to AR. Their research predicts that further advancements in the field will lead to radical changes in the next 20 years, especially in retail.
How AR works in e-commerce
Despite the many innovations in e-commerce, there is still some difference between offline and online shopping experiences. Not seeing a product in person before purchasing can cause a gap in expectations and lead to returns. In the US, the cost of return deliveries may add up to 550 billion dollars by the end of 2020. AR can help online retailers bridge the product experience gap between online and offline channels so that consumers can be more confident in making purchasing decisions.
Customers and business owners alike are more open to see its adoption. Several top brands are already implementing AR:
IKEA: The IKEA Place app allows customers to preview how a piece of furniture would look in their homes. This tool makes it easier for customers to find the best-fitting styles, colors, and sizes to buy. It also saves the customer time once they have the actual product. They can use the app to preview their room's layout instead of moving furniture around to see where things would look best.
Sephora: Cosmetics brand Sephora's Virtual Artist experience uses AR technology to show customers how a product would look once applied. In place of the in-store experience of swatching makeup, buyers can use their selfies to see which shade of lipstick, eyeshadow, and blush suits them the most. Sephora also gamified the feature so that customers can take votes from friends for shade recommendations.
Nike: The Nike Fit is an in-app feature that allows customers to scan their feet to find the right shoe size. It uses recommendation algorithms that consider size differences per product's performance intent to suggest the best measurements for each style.
Simply put, AR can bridge the gap between offline and online shopping experiences by providing consumers with a better sense of what they're buying.
Why AR is becoming essential to e-commerce
The Harvard Business Review predicted that AR spending would reach 20 billion dollars in 2020 as more businesses are looking to gain an edge with AR. It's also worth noting that AR's most common application is for mobile devices. With mobile e-commerce sales continuously growing, conversion tools like AR have become increasingly important for businesses to have. It is also a feature that consumers are expecting to see more of:
63% of buyers are confident that AR can transform their online shopping experience
35% of customers say that they would likely shop more online if they can try out the products first
22% would be less likely to shop at physical stores if online brands offered AR services
Online merchants implementing AR capabilities can expect the following benefits:
Attract new shoppers: Brands can use AR to introduce their products to potential buyers. Making a good first impression by offering new ways to experience a product will start a positive brand-to-customer relationship.
Increase customer engagement: AR prolongs customer visits on a store's website or app. The longer a customer stays at a store, the more likely they are to buy something. Even if they don't make a purchase, the improved engagement will make them more likely to come back and purchase in the future.
Boost conversion rates: AR can boost sales due to the amount of information a customer can get using the technology. Consumers can gain more confidence in making a purchasing decision through virtual placements and fitting rooms. Their expectations will also be closer to the actual product, which may cause fewer returns.
Cafe24 supports the adoption of new technologies
More people are shopping online and retailers must innovate and improve strategies so they can better cater to customers. Cafe24 understands this need and provides merchants with apps and services to create a seamless online shopping experience.
Merchants interested in adopting AR technology for their stores can visit the Cafe24 Store to try apps like Lololooks, which allows users to try on accessories before buying. Brands using this app saw an increase in conversions by an average of 5.12% and saw a decrease in product-related inquiries and returns. The app also uses big data and artificial intelligence to automatically recommend different styles users would be interested in.
AR capabilities can be applied to different product sectors for businesses with specific needs. Cafe24's Store platform connects merchants with developers who can custom-create apps and tools that they need to enhance their customers' shopping experience. By implementing customized AR features, merchants can boost their customers' confidence in making buying decisions and raise sales.