The Cafe24 Store continues to thrive with 200K app downloads
Press release
DTC stores made 127K app downloads in 2020, a two-fold increase YOY
AI & big data apps allow stores to implement advanced tech quickly
More than 4100 developers produce diverse winner apps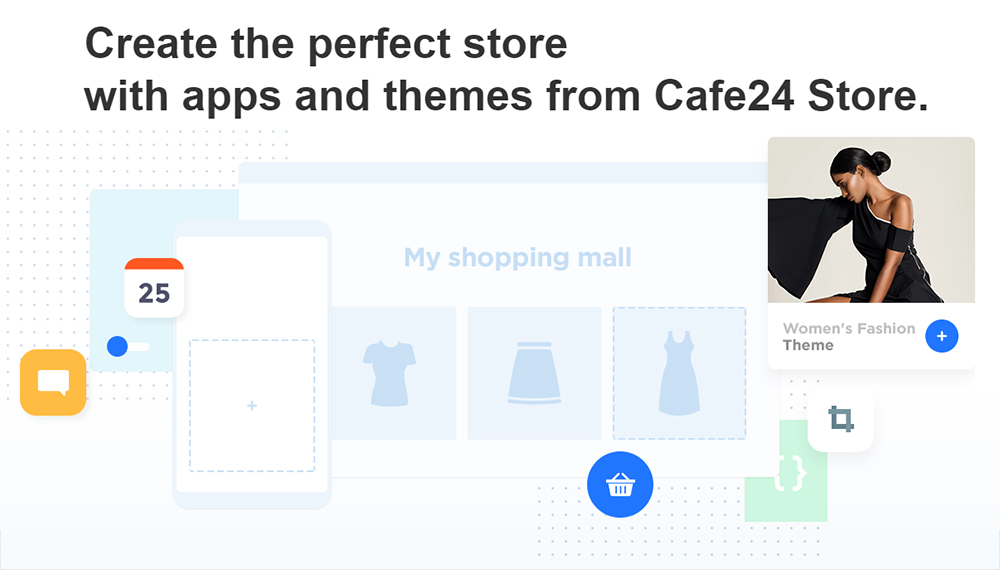 Demand for online store-optimized functions and services is on the rise.
Global e-commerce platform Cafe24 announced that more than 200,000 cumulative app downloads occurred through its Cafe24 Store in the past two and a half years.
These apps are optimized for online Direct-to-Consumer (DTC) stores and instantly provide merchants with advanced tech capabilities. They help merchants avoid stretching themselves thin to hire third-party developers or internal engineers. From SMBs to enterprises, businesses of all sizes can increase their operating efficiency and customer traffic by simply installing an app from the Cafe24 Store. The Store is a public marketplace where merchants and developers can sell and buy various e-commerce specialized apps.
App downloads among online DTC stores are accelerating. Total downloads for 2020 was 127,055, a two-fold increase from 60,610 in the previous year.
These numbers reflect how the latest e-commerce functions and services are becoming essential business growth elements for merchants. Advanced tech adoption among businesses is expected to surge as the world shifts toward a contactless business environment, driving more online purchases.
Cafe24 and the developers in its e-commerce ecosystem provide processing, shipping, marketing, sales managing, and customer support apps to improve overall online store operations. Apps are built on the latest technology like artificial intelligence (AI), big data, virtual reality (VR), and augmented reality (AR).
Indent Corporation's VReview app is built on the company's patented AI chatbot. The app collects video product reviews from customers and automatically uploads them to the online store. Demand for VReview is growing. It drives merchants' conversion and sales while providing shoppers with engaging video content that also helps with purchasing decisions. There are about 2,000 stores that have installed VReview to date.
Lologem's Lololooks app that allows customers to try on jewelry via AR is also getting noticed by jewelry brands. Shoppers visiting online stores using the app can browse through different products and virtually try them on. Just last month, about 40,000 shoppers experienced the try-on feature. Building on plenty of positive responses, Lologem is working on expanding its AR solution across more product categories like fashion and furniture.
"We were able to service more merchants by working with Cafe24," said Helen Kim, CEO of Lologem. "The latest technologies in the e-commerce ecosystem are being developed into apps to help online businesses grow."
More developers are joining the rapidly growing e-commerce app market. A total of 4,146 developers have joined the Cafe24 Developers platform as of last year. Cafe24 Developers is a platform that provides app development support. About half of the developers joined last year as enthusiasm for building online store apps spreads.
Cafe24 will continue to work with various service partners to expand the e-commerce ecosystem.
"Today's online stores are ripe for implementing advanced technologies," said Lee Jaesuk, CEO of Cafe24. "We will strive to deliver greater values for e-commerce merchants, developers, and consumers alike."
Meanwhile, Cafe24 Developers was launched in 2018 for Cafe24 to collaborate with developers and agencies. The platform provides open Application Program Interfaces (API) to maximize synergy in their joint efforts.
About Cafe24
Cafe24 is a global success platform that provides a one-stop business environment for e-commerce merchants so that they can achieve continued growth by focusing on their creativity.
Cafe24 has established an e-commerce ecosystem with 1.8 million Direct-to-Consumer (DTC) merchants and various global partners in areas like payment, shipping, and marketing. Cafe24 is poised for growth as more DTC brands and e-commerce participants continue to join the burgeoning industry.
About Cafe24's open API (Application Programming Interface)
An Application Programming Interface (API) serves as a go-between software for two or more applications that work together to fulfill specific functions. It also acts as an entryway to databases. In 2018, Cafe24 opened twenty years' worth of APIs to the public to encourage more developers and agencies to take part in its e-commerce ecosystem. The company currently provides 350 APIs, the most an e-commerce platform has ever made available. Third-party developers utilize these APIs to build and launch apps with various functions that online stores need to operate more efficiently. By using these apps, merchants can quickly implement functions built on the latest big data, artificial intelligence (AI), and augmented reality (AR) technologies into their online store.