Cafe24 hosts 3rd Developers Seminar on developing e-commerce apps with promising companies
Press release
Developers that received foreign investment, Israeli companies MindAd and Dialogue participate
Stories of maximizing online shopping experiences using AI, AR technologies shared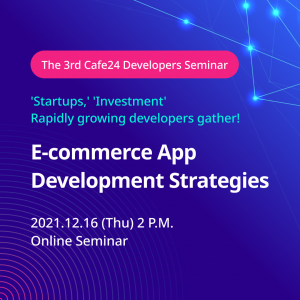 The e-commerce app development market is flourishing as national and international developers participate in Cafe24's ecosystem to launch e-commerce apps. Cafe24 is hosting a stage on December 16 to share its know-how and business expansion strategies.
Global e-commerce platform Cafe24 announced that it will be hosting its '3rd Cafe24 Development Seminar' online on December 16, at 2 p.m. KST. By sharing success stories of the popular apps on the Cafe24 Store, the seminar is expected to encourage new technology development and provide a vision for growth to developers.
At this seminar, promising domestic and international developers, who have launched their apps using advanced AI and AR technologies, are attending as keynote speakers. Israeli developer Dialogue, digital media agency MindAd Media that connects leading Israeli IT startups to DTC businesses, Facebook's official marketing partner Uneedcomms, AR technology company Lolozem that has successfully attracted US investment, and the winner of the 1st AI Awards Odd Concepts will be presenting.
Global company MindAd serves as a bridge for promising startups in Israel with revolutionary technology to launch their e-commerce apps through Cafe24. The partnership between Cafe24 and MindAd enabled Israeli developer Dialogue to launch its AI marketing automation service app on the Cafe24 Store. MindAd Media's VP of Sales and Business Development Gillit Segev, and CTO of Dialogue Or Lavee will attend as keynote speakers. They will talk about the reason for their interest in the Korean e-commerce market, app development process, and business operation strategies.
Uneedcomms is one of Facebook's global partners, which developed a marketing automation solution using RPA (Robotic Process Automation). The seminar will share why the company began developing marketing automation services and discuss the development process from the very beginning to solution advancement stages.
Lolozem's AR technology was recognized and successfully attracted US investment. The company offers a service that allows consumers to virtually try on fashion items such as jewelry and eyewear. During the seminar, Lolozem will share development strategies for its AR data visualization technology, which helps maximize consumers' shopping experience.
Lastly, Odd Concepts is another outstanding company that won the 1st AI Awards. The company developed a service that analyzes consumer preferences to provide personalization services through product recommendations. It is currently being used at 800 online stores and is receiving positive responses from the market. Odd Concepts will talk about its know-how on AI curation advancement during the seminar.
"Cafe24 Store provides services necessary for merchants to drive online store sales and helps developers expand businesses," said Noh Dongwoo, CTO of Cafe24. "Moving forward, we will continue to collaborate with developers from all around the world to help boost the e-commerce ecosystem."
Meanwhile, Cafe24 Store is a platform where apps for online businesses can be sold and purchased. Anyone can participate in developing apps. To expand the ecosystem for developers, Cafe24 began providing an open API in 2019 and launched Cafe24 Store. Over the past three years, more than 450,000 cumulative app downloads occurred and about 6,500 developers have participated on the Cafe24 Store.
About Cafe24
Cafe24 is a global success platform that provides a one-stop business environment for e-commerce merchants so that they can achieve continued growth by focusing on their creativity.
Cafe24 has established an e-commerce ecosystem with Direct-to-Consumer (DTC) merchants and various global partners in areas like payment, shipping, and marketing. Cafe24 is poised for growth as more DTC brands and e-commerce participants continue to join the burgeoning industry.