Cafe24's webinar shares how million-dollar brands drive growth with e-commerce apps
Press release
Taking a closer look at how brands like HOTPING & 66 Girls use apps
Cafe24 Partners lay down strategies for live commerce, balancing accounts, and AI recommendations
Webinar to benefit merchants' sales growth and operational efficiency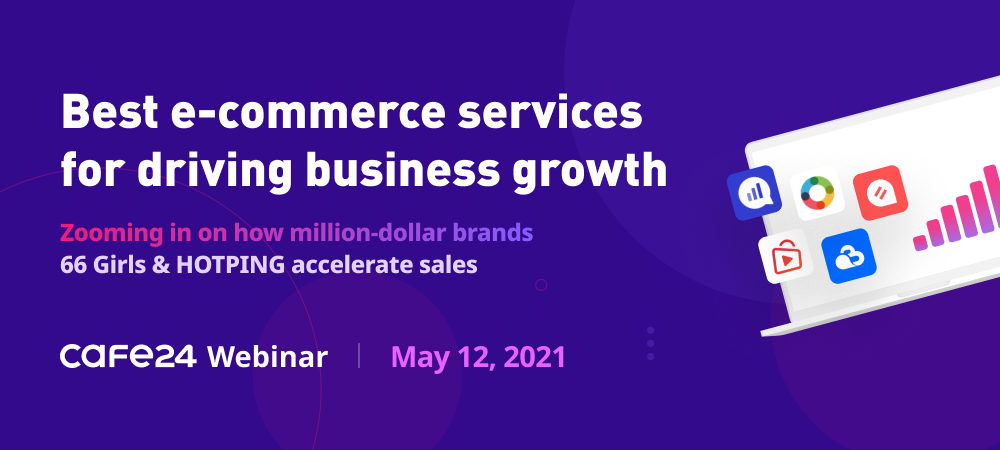 Online brands using various e-commerce apps to drive millions in sales annually will be sharing their business know-how with entrepreneurs.
Global e-commerce platform Cafe24 will be hosting its 'Best E-commerce Services for Driving Business Growth' webinar on May 12 at 2 p.m.
The webinar will introduce various e-commerce services that Direct-to-Consumer (DTC) brands like HOTPING and 66 Girls use to generate millions of dollars in sales annually and improve operational efficiency.
Cafe24 Partners that developed these apps will be taking the stage as speakers for the webinar. Partners including SGRSOFT, Only1, Lunasoft, Odd Concepts, and Snap Company are IT companies that are actively taking part in Cafe24's platform ecosystem. These Partners provide tech-based apps through the Cafe24 Store to help online businesses scale.
Partners will present apps that serve the latest e-commerce trends like live commerce, AI-based fashion recommendation, and automatic curation. These include LIVE24 that increases live commerce sales, Sellerbot Cash that makes balancing accounts more convenient, and remarketing service Reload that drives down customer bounce rates. Speakers will also shed light on utilizing AI-based apps like fashion recommendation service PXL for boosting conversion and automatic product curating service SNAP Q for efficiently organizing in-store product displays.
The webinar is free to attend. Applications are available via Cafe24's homepage. The event will be extra helpful for online merchants and businesses looking to leverage e-commerce functions to improve their sales and operations.
"Entrepreneurs aiming to achieve business success must actively employ various e-commerce functions," said Lee Jaesuk, CEO of Cafe24. "We will continue to collaborate with more partners to achieve mutual growth with our merchants in the e-commerce ecosystem."
About Cafe24
Cafe24 is a global success platform that provides a one-stop business environment for e-commerce merchants so that they can achieve continued growth by focusing on their creativity.
Cafe24 has established an e-commerce ecosystem with Direct-to-Consumer (DTC) merchants and various global partners in areas like payment, shipping, and marketing. Cafe24 is poised for growth as more DTC brands and e-commerce participants continue to join the burgeoning industry.
About Cafe24 Store
Cafe24 is the only open platform in Korea that supports various e-commerce functions via the Cafe24 Store. Developer companies of all sizes can turn their ideas into e-commerce apps for merchants on Cafe24's platform. To date, 350 apps are available through the Cafe24 Store, and cumulative app downloads exceed 200,000.