Cafe24's developer seminar shines a light on e-commerce biz success strategies
Press release
Seminar attended by 300 developers interested in e-commerce business
Sessions on successful service development insights and know-how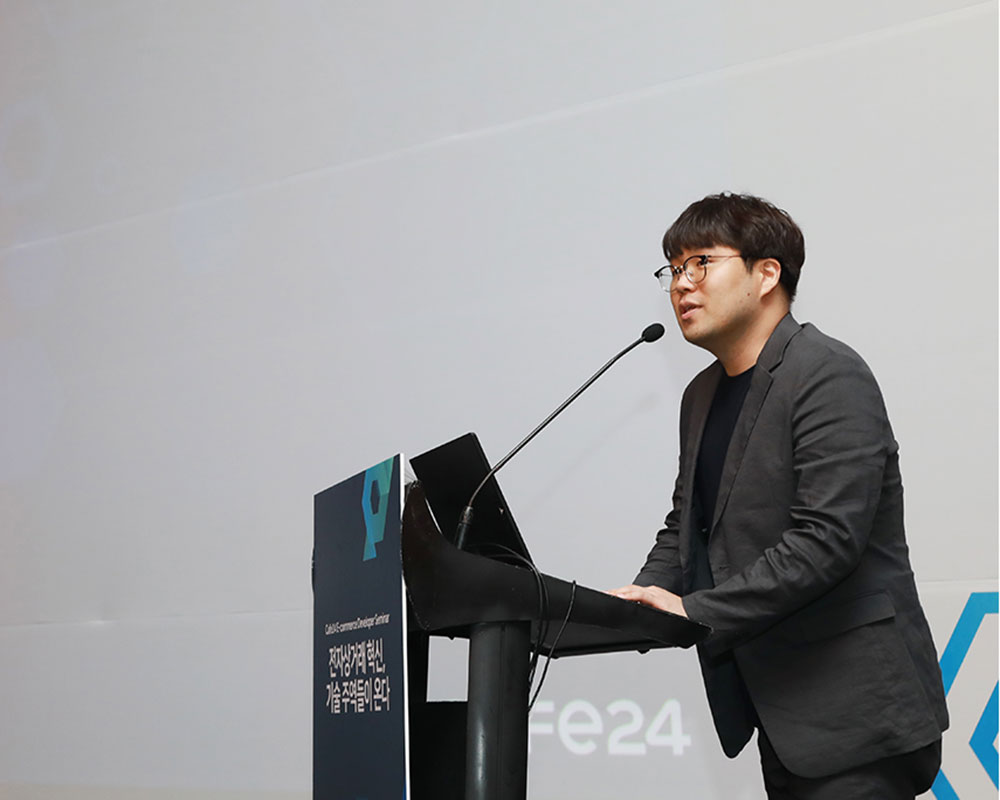 Success strategies for developers interested in creating services for e-commerce merchants were revealed at large.
Global e-commerce platform Cafe24 successfully hosted its "Innovative Players in E-Commerce" developer seminar at The Conrad Hotel Seoul Grand Ballroom on September 3. The event was attended by 300 developers looking to create new services for DTC merchants.
Developers operating through Cafe24 took the stage to share their success strategies and know-how. Sessions included "Developing Apps that Capture Merchant Attention" by Boksung Kim, CEO of Masterskin; "API in Data Application and Visualization" by Ingeun Na, Head of Business at Builton; and "Developing Data-Optimized Customer Support AI" by Siwon Choi, CEO of ZOYI Corporation.
Boksung Kim said, "DTCs are in constant need of diversified services as market trends evolve. The start of a successful business is keeping merchant needs in mind – this should always steer the direction of the service that is being developed."
Ingeun Na said, "The need for big data is rapidly spreading across various aspects of e-commerce. Launching big-data based services through the use of systematic API will attract more merchants."
Siwon Choi said, "Developers must focus on merchant needs. Continued developer business growth is achievable when merchant needs are regarded to be the ultimate goal and their feedback is constantly taken into account."
Changkyu Choi, Chief of EC Business at Cafe24, spoke on Cafe24's open API and Store. Following, Ilseob Hwang, Head of EC Platform at Cafe24, shared his experience on successfully integrating large companies to Cafe24's platform using API.
Daegon Cho, Professor of IT Management at KAIST College of Business, shared insights on big data science through his session "Platform Business and Data Mining."
Dongwoo Noh, CTO of Cafe24 said, "Cafe24 will actively expand the e-commerce ecosystem in order to grow with developer partners on the platform." He said, "The key is to cooperate in settling new players onto the platform and turning new ideas into a variety of services – when achieved, success will follow."
About Cafe24

Cafe24 is a global success platform that provides a one-stop business environment for e-commerce merchants so that they can achieve continued growth by focusing on their creativity. Cafe24 has established an e-commerce ecosystem with 1.7 million Direct-to-Consumer (DTC) merchants and various global partners in areas like payment, shipping, and marketing. Cafe24 is poised for growth as more DTC brands and e-commerce participants continue to join the burgeoning industry.
About Cafe24's open API and Store

Through Cafe24, partners can develop, integrate, and sell services that are necessary for merchants to run their online business. Cafe24 provides open API that partners can utilize to create solutions and services that can conveniently be integrated into Cafe24's platform. Moreover, partners can make their services available for Cafe24's 1.7 million online merchants through the Cafe24 Store. Already, various partner services like big data-based marketing, AI chatbots, logistics management, and promotional events are offered through Cafe24.