Cafe24's 2nd Developers Seminar on e-commerce success strategies
Press release
500 Developers attend Cafe24's Developers Seminar
Successful data mining and scraping applications discussed
Experienced developers encourage more tech-based e-commerce services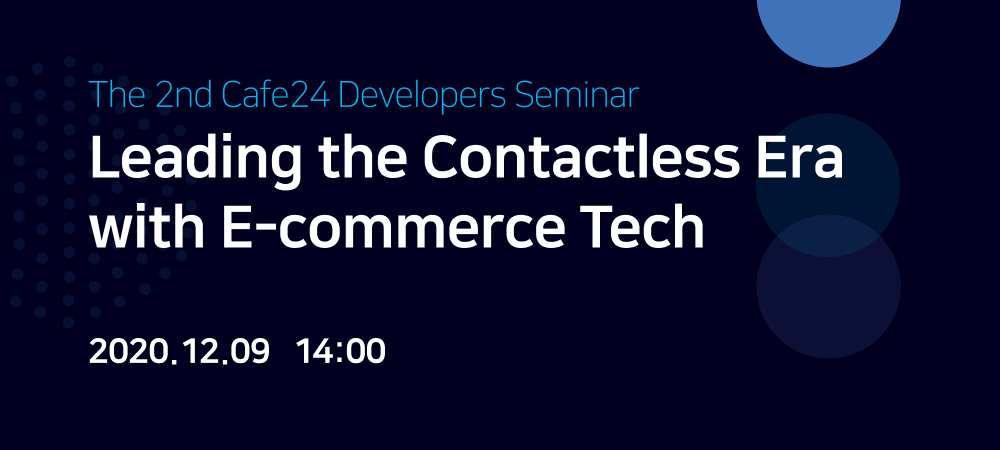 Global e-commerce platform Cafe24 hosted its 'Leading the Contactless Era with E-commerce Tech' event for developers on Dec 9. About 500 developers attended the second-ever Developers Seminar that took place via webinar this year.
This year, developers focused on the technologies behind the apps built using Cafe24's open API (Application Programming Interface). Seasoned developers delivered their expert insights in several presentations.
Kidae Kang, CTO of Bankda, shared the company's experience building an app based on scraping technology. The app collects financial big data for e-commerce merchants and generates it for convenient online business use.
Kang said, "A lot of effort and cost goes into analyzing money transfer data, distinguishing between people with the same name, and verifying payments. We wanted to minimize such work for merchants, so we used Cafe24's API to develop an app with data analysis and automatic matching algorithm capabilities. Payment usually needs to be integrated with large amounts of data. Bankda provides an environment that can integrate up to 100,000 payment orders. E-commerce is at the center of the Fourth Industrial Revolution, and Cafe24's open API structure will open new business opportunities for developers."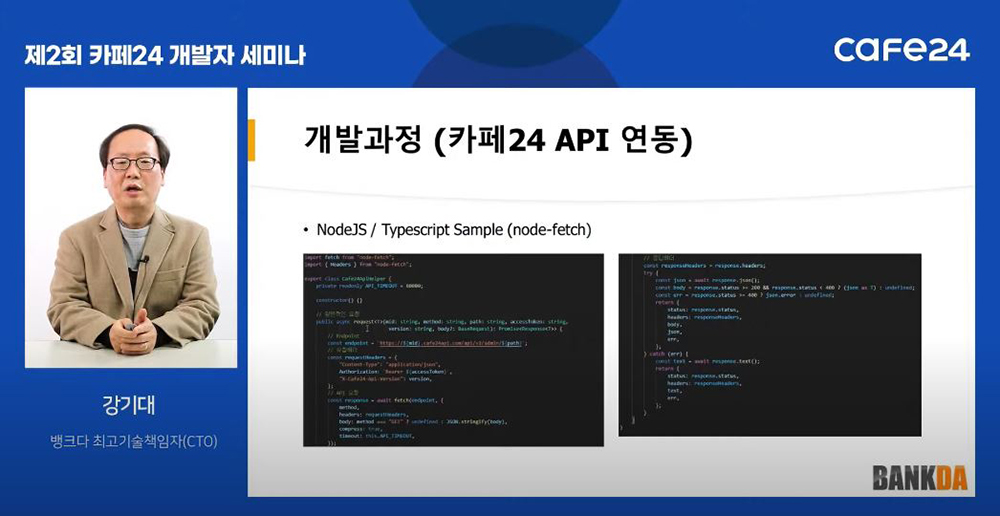 Dong-hyuk Ahn, CEO of Chatis, introduced the data mining technology used in the company's app that automates merchants' daily tasks. Chatis currently has about 20,000 online businesses as clients.
Ahn said, "Merchants have a need to utilize a variety of customer data – from existing customers' purchase information to potential customers' shopping cart item information. Data can automate tasks, increasing work efficiency for customer service, sales events, product review management, and social media operations. Chatis collected data regarding products, orders, customers, and promotions through Cafe24's API and built a task-automation app. The app helps merchants boost their operational efficiency and also positively affects Chatis' business growth."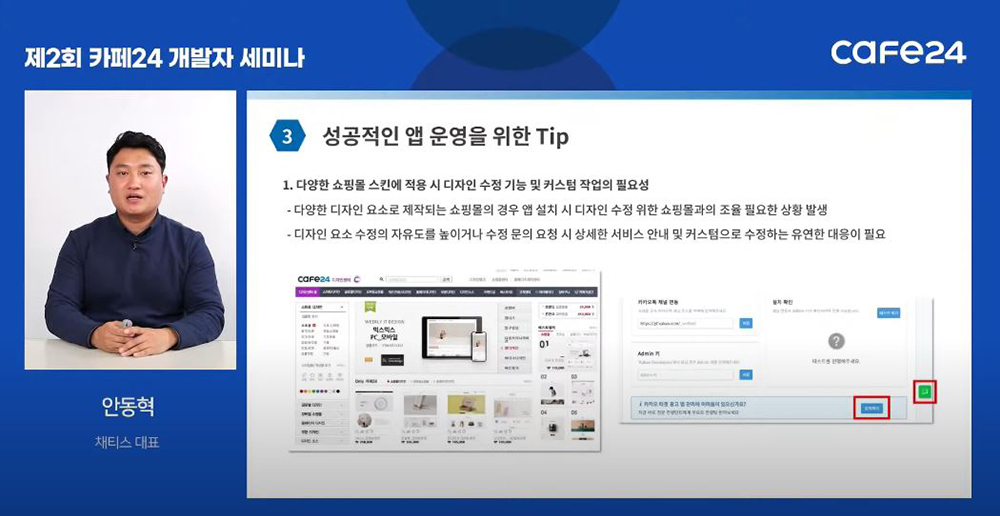 Byung-wan Jung, CEO of WEPNP, talked about building an app based on Web-to-Print patent technology using Adobe InDesign and HTML5. The app offers merchants the tools they need to sell personalized products like custom-printed t-shirts, phone cases, and more.
Jung said, "Online businesses needed the right tools to satisfy the increasing demand for personalized items. WEPNP integrated our service with Cafe24's API to provide merchants with such an app. Cafe24's open API provides an environment where anyone who knows JavaScript can develop their own app. This open environment will enable many business opportunities in the B2C and B2B service development areas."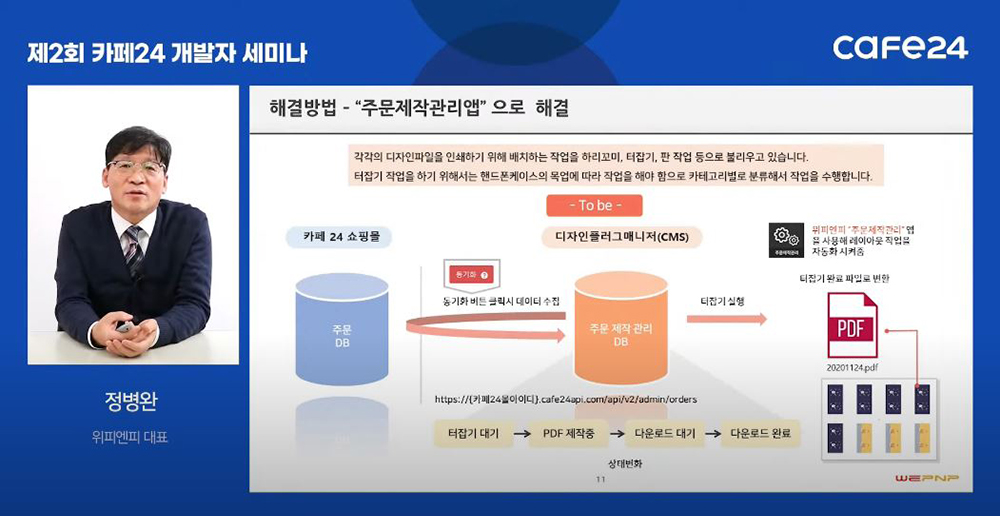 The sudden growth of the e-commerce industry is placing online merchants in need of much more tech-based services. The seminar hopes to encourage developers to build more services that merchants need.
Dongwoo Noh, CTO of Cafe24, said, "We expect more explosive demand for commerce services based on artificial intelligence, augmented reality, and big data in the near future." He added, "Cafe24 strives to provide developers with plenty of opportunities to succeed in this contactless era."
Meanwhile, Cafe24 opened its Developers platform in 2018 to provide open APIs and cooperate with developers and agencies. It hosted its first Developers Seminar in April 2019. More than 3,700 developers are currently participating in vitalizing the e-commerce market with Cafe24. Such seminars will continue to take place to share the latest e-commerce technology and business cooperation methods.
About Cafe24
Cafe24 is a global success platform that provides a one-stop business environment for e-commerce merchants so that they can achieve continued growth by focusing on their creativity.
Cafe24 has established an e-commerce ecosystem with 1.8 million Direct-to-Consumer (DTC) merchants and various global partners in areas like payment, shipping, and marketing. Cafe24 is poised for growth as more DTC brands and e-commerce participants continue to join the burgeoning industry.
About Cafe24's open API and Store
Through Cafe24, partners can develop, integrate, and sell services that are necessary for merchants to run their online business. Cafe24 provides open API that partners can utilize to create solutions and services that can conveniently be integrated into Cafe24's platform. Moreover, partners can make their services available for Cafe24's 1.8 million online merchants through the Cafe24 Store. Already, various partner services like big data-based marketing, AI chatbots, logistics management, and promotional events are offered through Cafe24.