Merchant Spotlight: CES winner Maetel talks AI sleep tech and globalization plans
CES 2022 brought together 2,300 exhibitors that demonstrated technologies that will drive the future of how people live and work. Cafe24 takes a deeper look into the South Korean honorees of the CES Innovation Award.
Maetel is one among many startups that made its online store using the global e-commerce platform Cafe24. Recently, the company joined the 2022 Consumer Electronics Show (CES) where it bagged an Innovation Award for its cornerstone product, the ZEREMA Smart Pillow. Cafe24 sat down with Maetel CEO Key Jeong to learn more about the award-winning sleep tech product and the company's plans for the future.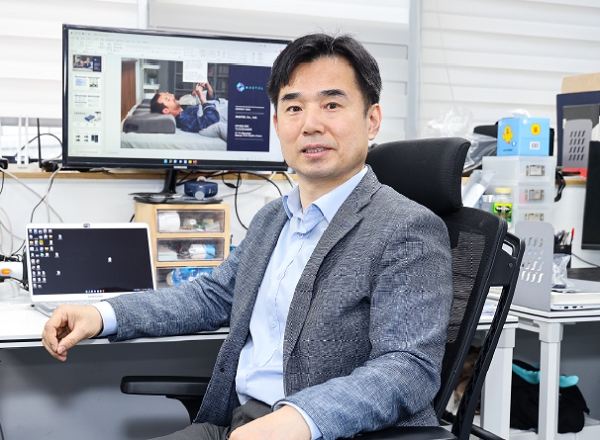 ZEREMA's development and growth
According to Jeong, ZEREMA took about 50 months to develop as they had to incorporate various technologies in the creation of the smart pillows. Jeong, who spent nearly 15 years working for Samsung Electronics, said his previous experience made everything possible, from ideation to production.
Q: Were there any difficulties when you were first developing the product?
Yes, first up was the variety of the technologies integrated into our product. If you're developing an app, you just need to focus on making a good app. However, since our product involves hardware, app, server, and device, development becomes super challenging. Our product is made up of many different parts, ranging from instruments to cloth. Many of the challenges arose from this very extensiveness.
As for servers, we had to cover overseas servers and test them out, which involved workforce issues. In terms of our app, we had some trouble with porting deep learning models to modules. Basically, everything was difficult. I would say that we're the only startup in Korea capable of from-scratch product design, product development, and mass production.
I spent a great deal of time working on production, testing, and field testing at Samsung, while our engineer used to be in charge of firmware before joining us. Our prior experiences and expertise synergize together, which made mass production possible. We are a startup truly capable of designing, developing, and making its own product.
Q: What are the three main features of your product? Which technology or unique selling point sets your product apart?
First of all, our pillow ZEREMA has an automatic height adjustment feature. When you rest your head on the pillow, start the app, and press the automatic height adjustment button, the pillow measures the pressure at which it will be used. By measuring the pressure from your neck and the back of your head, the pillow automatically adjusts the height accordingly. The pressure is then spread out properly, making your neck more comfortable. With this feature, you can reduce neck pain that many people struggle with these days.
Also, there are those who are constantly searching for the perfect pillow, migrating from one product to another, but never able to settle on the right one. The problem with the pillows they use is that they are mostly just soft and not supportive. On the other hand, our pillow can be both soft and firm, as it adjusts to the right height. This unique feature allows the user to enjoy a sound sleep in a comfortable position.
Second, it has an anti-snore feature. When ZEREMA's deep learning technology detects snoring, it gradually lifts your neck to open your airway. Inch by inch, your head is tilted back and alleviates snoring. Once the snoring stops, the pillow returns to its initial height. The pillow records all of the snoring and uploads it onto a server, accessible to the user anytime.
There are other anti-snore pillows in the market. However, as they simply pick up frequencies similar to those of snoring, they move up whenever they detect any loud noise. That's not the case for ZEREMA, because it uses deep learning that can distinguish between snores and other noises almost like humans. Since ZEREMA uses AI to make the call, errors are significantly less likely to occur.
The third is a feature that can accurately detect tossing and turning during sleep. By detecting how much you toss and turn during your slumber, ZEREMA calculates your overall sleep score. Everything is saved on the server, allowing users to see daily, weekly, and monthly statistics.
Q: What made your product win the CES Innovation Award?
There were pillows of a similar nature. However, when you get down to the details, I think our product is definitely one of a kind. We created a completely new type of pillow involving many different technologies, such as cloud servers, AI, deep learning, and IoT devices. I believe this appealed to the CES Awards.
Since it was the largest award we had ever received, it was a rewarding experience and an eye-catching achievement for many investors and distributors. We did apply for the award back in 2020 before our launch, but only got a lukewarm response. This time was different because we could sense that our product was extremely popular. We became motivated to take home another one next year.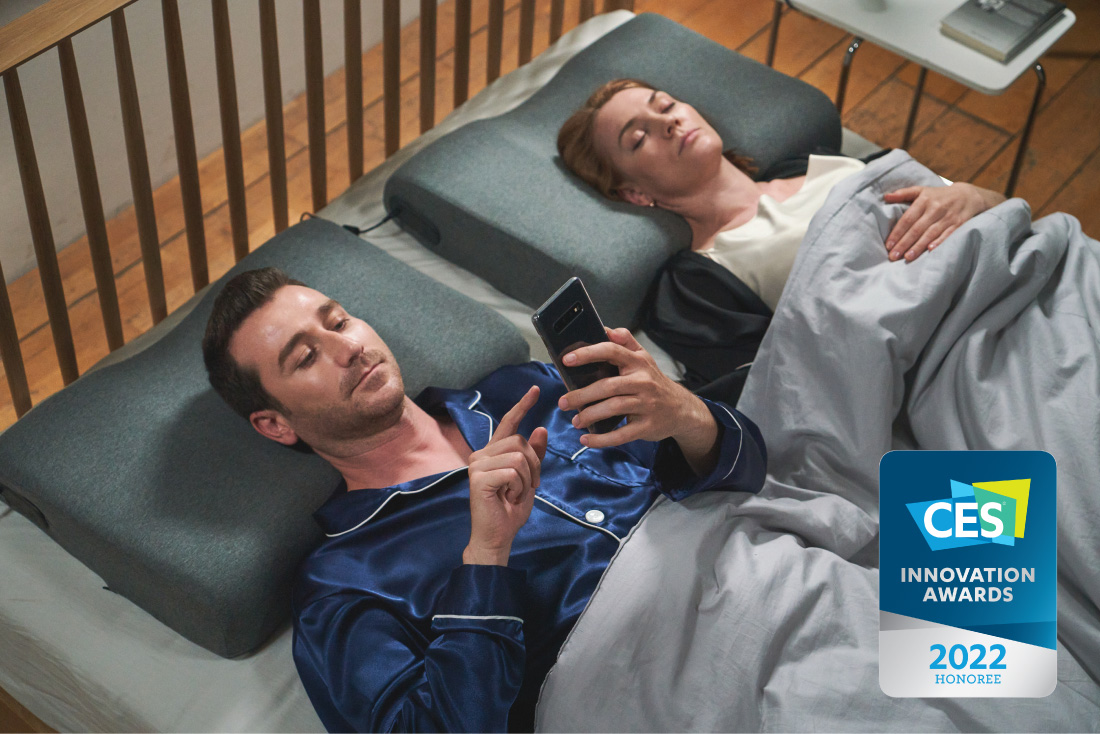 About Maetel
Although the term 'sleep tech' hasn't been around for too long, its rise is an indicator for the future of the sleep market. With wellness trends catching on, more people are becoming interested in sleep tech, the possibilities it may bring, and the companies driving the market forward.
Q: Out of many business ideas, why sleep tech?
I myself have sleep problems, such as snoring and neck pain. Moreover, these are issues that so many people I know can relate to. I believe that fixing my issues could solve those of others, so I jumped into this business.
Q: Was Maetel your first own business?
It was my first time starting my own business. While I was at Samsung, I got an offer to work for a former employee's startup. After weighing all the factors, I decided to do something that could help many people. So I quit and joined the startup. Working there as a tech director for about a year and a half, I met director Seungyo Kim, which eventually led to the founding of Maetel.
Q: In which direction do you plan on growing your business?
Sound sleep is greatly affected by physical and mental factors. Therefore, physical products and the surrounding environment have a much larger impact than intangible services. So, sleep tech will develop in a product-centered way, and I think we are the best at this. We have strength in this area through various development experiences and know-how, biomedical engineering knowledge, and manufacturing and production capabilities.
In the future, we will develop not only pillows but also various smart beddings that provide a comfortable sleep and IoT products that create an excellent sleeping environment. We want to help our customers improve sleep quality with AI for real-time adjustment of the user's sleeping environment.
Future plans for ZEREMA and Maetel
With over 3,000 units sold, 120,000 dollars in sales, and the great reception at CES, Maetel and its smart pillow ZEREMA are on a path towards greater growth.
Q: Which region was ZEREMA the most popular in, and where do you plan to advance into?
ZEREMA was quite well-received in the United States, perhaps because there are many snorers in the region. There were also many individual customers who were interested. There were some wealthy CES attendees from Arab countries who wished to buy our pillows on the spot, too.
Recently, many people from Singapore and other Southeast Asian countries have been showing interest, despite ZEREMA's high price. We have also been receiving a lot of inquiries in Sweden and the United Kingdom after European media outfits introduced ZEREMA there.
Q: In terms of overseas expansion, what are Maetel's status quo and future plans?
Upon its founding, Maetel's goal was to expand its presence overseas. From the outset, Maetel proactively sought ways to expand its footprint in the global market, by joining a global acceleration program, attracting foreign investment, and participating in overseas exhibitions. In particular, Maetel raised 100,000 dollars in funding through the global crowdfunding platform Kickstarter. The project's performance was in the top 1.7% of all Kickstarter campaigns. Thanks to this opportunity, Maetel was able to promote its brand ZEREMA globally. Buyers from 15 countries and many investors have shown interest. Turning this interest into tangible results, the company plans to advance further into the global market.
About Cafe24
Cafe24 is a global e-commerce platform that provides everything global e-commerce brands need to build an online business in one-stop. Cafe24's platform has established an e-commerce ecosystem with millions of businesses and various global e-commerce service providers in areas like payment, shipping, and marketing.