Cafe24 successfully hosts first Online Business Fair with 700 attendees
Press release
36 Cafe24 partner companies share e-commerce success strategies
Specialized consulting and presentations on effective business solutions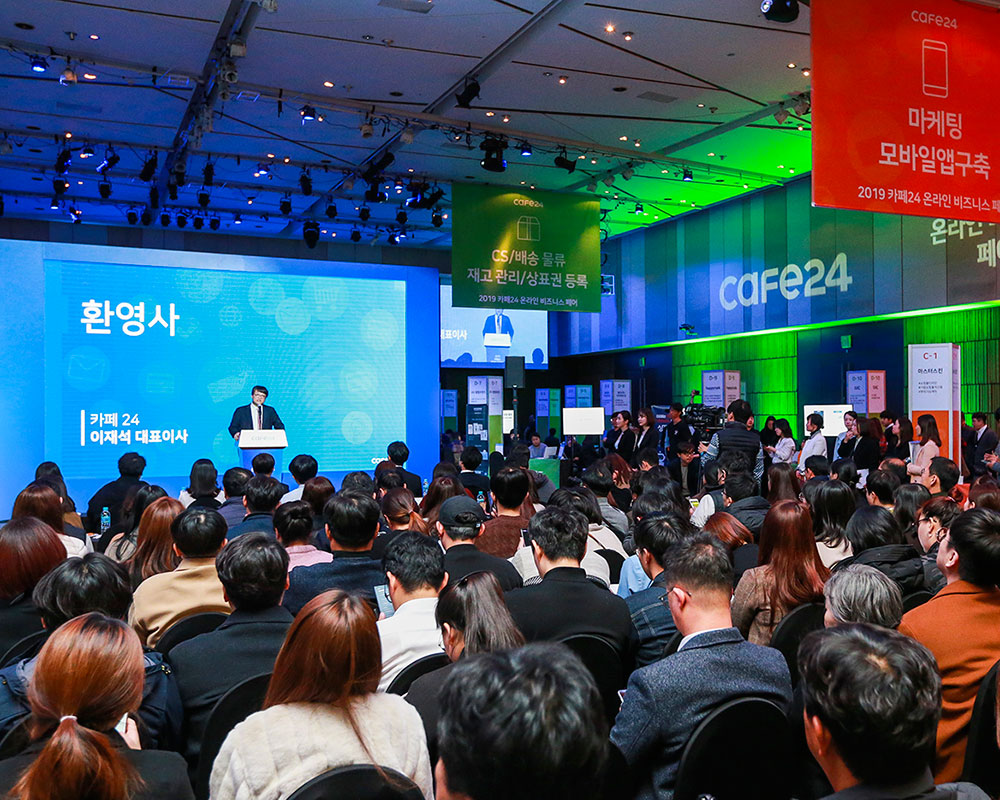 Online e-commerce businesses are maximizing opportunities for success through Cafe24's partner companies.
Global e-commerce platform Cafe24's first '2019 Cafe24 Online Business Fair' held at the Yeouido 63 Convention Center on Nov 14 was a success with attendance from 700 e-commerce businesses and affiliates in various industries including fashion, beauty, and foods.
A total of 36 companies in Cafe24's partner network were present on-site to share e-commerce success solutions with attendees. Ten design and template partners including Morenvy and Design-book; nine homepage and custom store-building partners including With Brother and Giantsoft; seven big data marketing service and mobile app development partners including Masterskin and Genieworks; 10 artificial intelligence(AI)-based chatbot and inventory management services partners including ZOYI Corporation and LM Friends were present. Partners were situated at consulting booths to answer questions and offer helpful solutions based on expert know-how.
Soojin Lee, CEO of Morenvy, said, "A DTC store's design directly affects its brand identity. A store's design can be planned to be both aesthetic and optimized for shopping patterns to drive sales."
Kyu-sung Lim, CEO of With Brother, said, "Online businesses each need customization that is optimized for its specific customer base. Adopting a system with various functions to increase customer convenience and internal management can boost overall operation efficiency."
Bokseong Kim, CEO of Masterskin, said, "More e-commerce businesses are starting to pay attention to the details in their services in order to gain a competitive edge. It is becoming important to offer special customer experiences like telling the story of a product or offering a simple game for a chance to win free shipping."
Sun-won Choi, CEO of LM Friends, said, "Having expertise in customer service is as important as having good products. AI-based chatbots make it easier to systematically manage customer support that leads to loyal customers."
Cafe24 expert instructors also gave presentations during the fair. Topics included easy entrepreneurship through Cafe24's Smart Mode; creating product detail pages without Photoshop through Cafe24's AI photo editor Edibot; data analysis for e-commerce business success; and YouTube marketing success strategies.
Jaesuk Lee, CEO of Cafe24, said, "E-commerce businesses will be able to scale up faster by utilizing services and technologies provided by our partners." He added, "Cafe24 will continue to support the active cooperation between our online businesses and partner companies."
About Cafe24
Cafe24 is a global success platform that provides a one-stop business environment for e-commerce merchants so that they can achieve continued growth by focusing on their creativity. Cafe24 has established an e-commerce ecosystem with 1.7 million Direct-to-Consumer (DTC) merchants and various global partners in areas like payment, shipping, and marketing. Cafe24 is poised for growth as more DTC brands and e-commerce participants continue to join the burgeoning industry.