Cafe24 successfully hosts Facebook webinar with 2,200 merchants
Press release
Facebook experts share how to create content that can speedily increase reach
K-brands using Facebook Shops experience raised convenience and conversion
Instagram & Facebook's machine learning drives more customers to stores
Cafe24 and Facebook revealed global market success strategies that are garnering attention from numerous merchants.
Global e-commerce platform Cafe24's 'Facebook's Global Commerce Success Strategies Using Shops' webinar on February 17th was attended by more than 2,200 e-commerce merchants.
E-commerce experts from both Cafe24 and Facebook provided detailed selling strategies for K-style products utilizing Facebook Shops. They introduced various approaches to converting 3.3 billion Instagram and Facebook platform users to customers.
Facebook APAC's Instagram Product Marketing Manager Jerko Grom presented strategies for creating content optimized for Shops. He shared how merchants can better utilize the Shop product display space on Facebook and Instagram.
"Contents displayed on Shops can be delivered more effectively when photos are at least 600×600 pixels and show the product's pricing, length, materials, and more," said Grom. "Merchants can switch colors, backgrounds, and fonts on Shops freely to help strengthen the effects of branding." Merchants that use this strategy to consistently promote Shop content to Facebook and Instagram users can increase their businesses' brand influence significantly.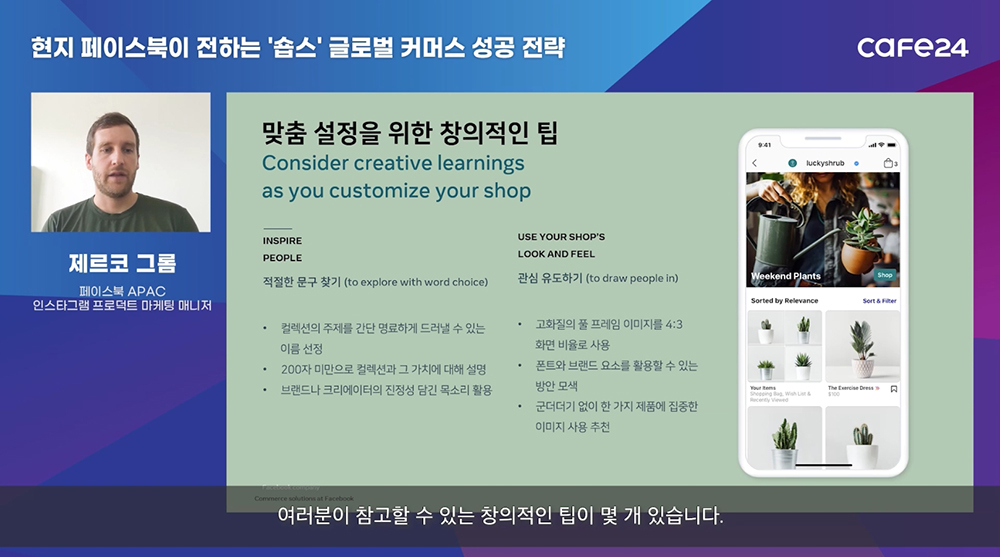 Facebook also emphasized the rapidly expanding e-commerce market. Participants were particularly attentive to the message of how operating a Shops-based online store during the current industry growth can lead to more prominent success.
"Accelerated growth in the e-commerce industry is a megatrend that formed in last few months of social distancing," said Facebook APAC Head of Partnerships Philip Hur. "Implementing a strategy that combines both Cafe24 and Facebook's solutions can help merchants ride the industry's growth to achieve greater success."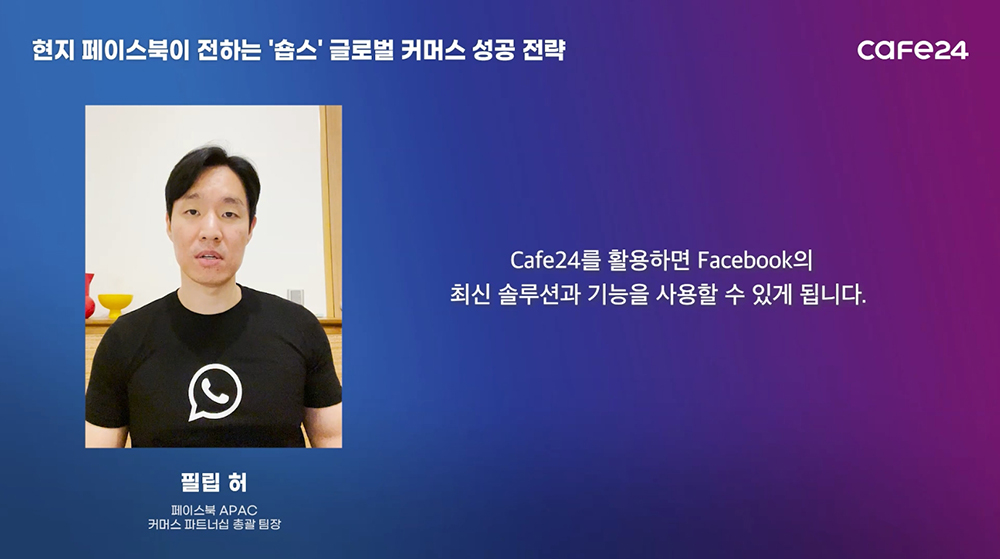 K-brands that advanced to global markets especially gained attention as they presented their success stories. Presenters included K-beauty brand Sister Ann that earned over half of its 17.9 million dollars (20 billion won) in sales revenue last year internationally, and K-fashion designer brand INSTANTFUNK gaining immense popularity in Japan.
"Facebook Shops' straightforward features make it easy for anyone to build a Shop and navigate the platform – in this respect, using Shops in itself is a business secret," said Chun Jung-wook, CEO of Sister Ann. "After connecting Shops to our store, we have experienced a drastic increase in purchase rates from both customers at home and overseas."
"Before the Shops feature, we were registering our products one by one to Instagram and Facebook," said INSTANTFUNK Manager Kim YoPhil. "We've been able to increase our work efficiency drastically since integrating our store to Shops."
Cafe24's Facebook Shops Project Owner Park Heeyeon presented Shops' easy-to-navigate features and product exposure effects from an online merchant's standpoint. According to Park, "Facebook's big data and machine learning-based algorithm analyzes product information automatically to recommend relevant products to users. Specific data including product instructions, benefits, and product photos, are all used to improve the accuracy of analyzing and making recommendations."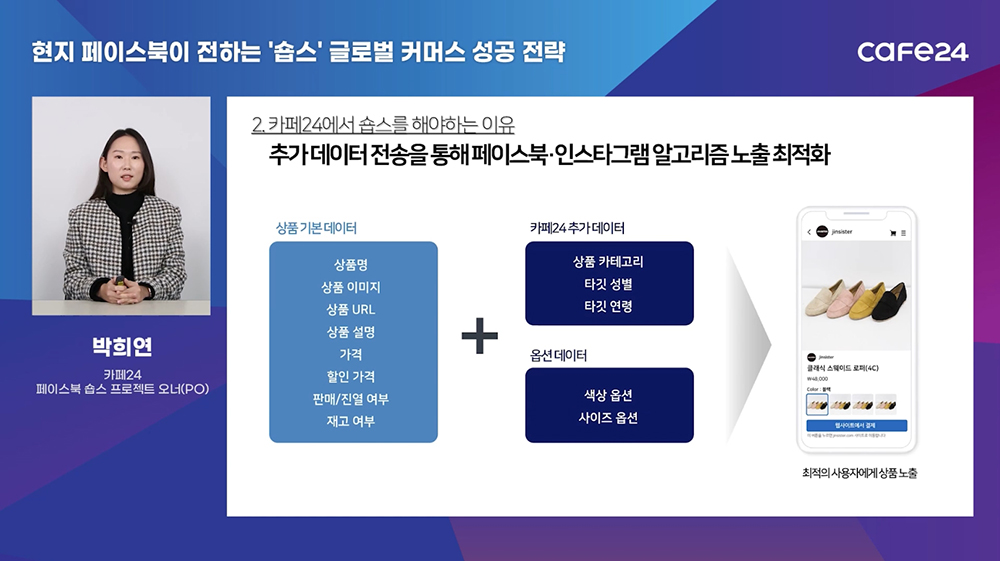 Cafe24 and Facebook will continue to collaborate to provide merchants even more opportunities for success in the global e-commerce industry.
"The webinar confirmed online merchants' interests in utilizing Facebook Shops to succeed in international markets," said Lee Jaesuk, CEO of Cafe24. "Our partnership with Facebook will work as a catalyst for their success."
About Cafe24
Cafe24 is a global success platform that provides a one-stop business environment for e-commerce merchants so that they can achieve continued growth by focusing on their creativity.
Cafe24 has established an e-commerce ecosystem with 1.8 million Direct-to-Consumer (DTC) merchants and various global partners in areas like payment, shipping, and marketing. Cafe24 is poised for growth as more DTC brands and e-commerce participants continue to join the burgeoning industry.
About Facebook Shops
Facebook Shops enables Direct-to-Consumer (DTC) merchants to create online product display spaces on Facebook and Instagram with just several clicks. Cafe24 was the first in East Asia to launch its Facebook Shops integration service in December 2020.