Cafe24 SOHO Business Centers to total 43 branches in May
Press release
Eight more shared offices for e-commerce entrepreneurs to be opened in May
A total of 14,000 e-commerce entrepreneurs have used center services
The rise of e-commerce entrepreneurs is influencing an increase in shared offices specialized for online businesses.
Global e-commerce platform Cafe24 announced on May 16 that the company will be adding eight more shared offices, or SOHO Business Centers, within this month to total 43 centers across major cities in South Korea.
The rise of e-commerce entrepreneurs has led to an increase in demands for office spaces and services that are specialized for e-commerce. The average occupancy rate of Cafe24 SOHO Business Centers is over 80%. To date, a total of 14,000 entrepreneurs have utilized the centers to run their online DTC businesses.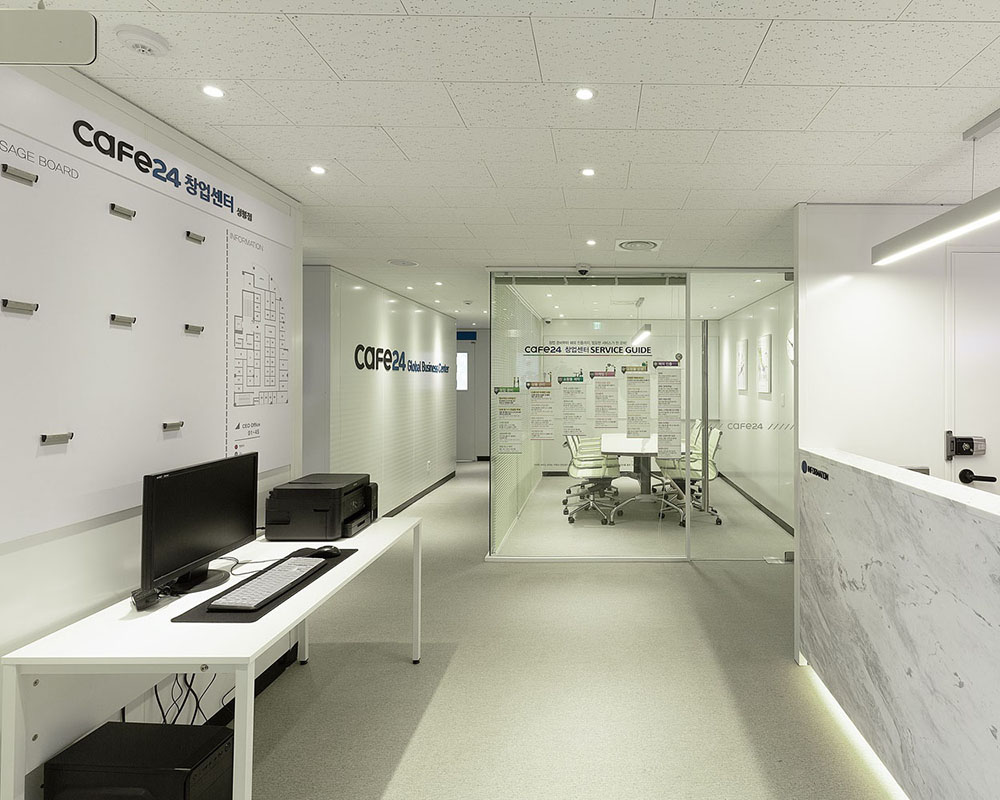 Cafe24's SOHO Business Centers help fledgling entrepreneurs grow and stabilize their businesses by offering office space, reasonable delivery rates, product photography studios, online business education, 1:1 consultations, tax services, and more.
The most recent openings at Gyeongbokgung and Seoul National University of Education stations were established with the purpose to offer SOHO core services of delivery, studio, and education to all Cafe24 merchants – not just those who are center residents.
Jaesuk Lee, CEO of Cafe24, said, "The demand for Cafe24's SOHO Business Centers will continue to climb as the e-commerce market matures and more online businesses launch." He added, "Cafe24 will carry on to develop key services like delivery and photo studios that entrepreneurs need to run their online business."
■ Cafe24 SOHO Business Center locations by city (43 Branches Total)
Seoul (21): Gasan Digital Complex, Gangdong, Gyeongbokgung Station, Seoul Nat'l Univ. of Education Station, Dongdaemun-gu Office, Mok-dong, Balsan, Boramae, Samsung Station, Sangbong, Seokchon, Seongsu, Sungshin Women's Univ., Songpa-Garak, Sindang, Amsa(Opens May 30), Yeoksam, Yeomchang, Changsin, Cube, Hongdae
Gyeonggi (11): Bucheon, Bundang Yatap, Bundang Ori, Seongnam Sujin, Suwon City Hall(Opens May 22), Suwon Maegyo, Suwon Sungkyunkwan Univ., Suwon Yeongtong, Suwon, Ansan Joong-ang, Anyang Beomgye
Incheon (2): Bupyeong, Incheon City Hall
Chungcheong (3): Daejeon Doan, Cheonan Ssangyong, The Federation of Korean Trade Unions
Yeongnam (4): Daegu Suseong, Daegu Junggu, Busan Daeyeon, Busan Jungang
Honam (2): Gwangju Sangmoo, Gwangju Chonnam Nat'l Univ.
About Cafe24
Cafe24 is a global success platform that provides a one-stop business environment for e-commerce merchants so that they can achieve continued growth by focusing on their creativity.
Cafe24 has established an e-commerce ecosystem with 1.7 million Direct-to-Consumer (DTC) merchants and various global partners in areas like payment, shipping, and marketing. Cafe24 is poised for growth as more DTC brands and e-commerce participants continue to join the burgeoning industry.