Cafe24 signs MOU with Japan's Softbank Payment Service
Press release
MOU for key payment services in Japan like mobile and convenience store payments
Rapid growth expected through strengthening the competitiveness of DTCs selling in Japan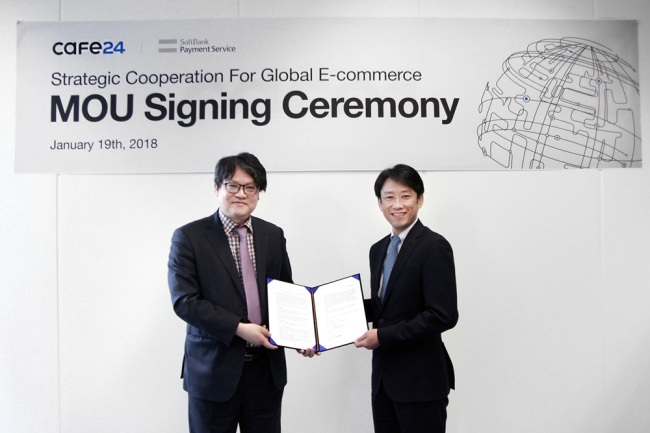 Cafe24 will join hands with Japan's payment service company, SoftBank Payment Service to increase the payment competitiveness of DTCs using Cafe24's platform.
Global e-commerce platform Cafe24 announced on Jan. 19 that the company signed a memorandum of understanding (MOU) with Japan's major payment platform SoftBank Payment Service (SBPS) at Cafe24 headquarters in Seoul. The MOU aims to propel the vitalization of global e-commerce.
The MOU will provide various SBPS payment services such as mobile, convenience store, and credit card payments for Japanese consumers purchasing on DTC stores made with Cafe24. Further, the two companies plan to share business know-how in order to provide Japanese consumers with services that align with local shopping patterns and preferences. In this way, the two companies will cooperate on many fronts to vitalize global e-commerce.
Japan's e-commerce market share in 2016 reached 135 billion dollars (15 trillion yen). This is more than twice the size of Korea's e-commerce market share. Cafe24 is preparing to expand into the Japanese market with its global e-commerce platform within this year. Considering this, Cafe24 and SBPS' collaborative efforts are expected to maximize joint business synergy.
Jaesuk Lee, CEO of Cafe24, said, "Cafe24's consistent recognition for its e-commerce know-how and growth potential has allowed the company to join hands with SBPS." He added, "Cafe24 will continue to expand partnerships with key global companies that possess technical expertise in order to provide optimized local services in various countries."
SBPS is the payment service company under SoftBank Group. The company reported an annual GMV of 18 billion dollars (2 trillion yen) in 2016. Japan's leading open market along with over 80,000 online businesses selling products and digital contents are using SBPS' secure payment services.
About Cafe24

Cafe24 is a global success platform that provides a one-stop business environment for e-commerce merchants so that they can achieve continued growth by focusing on their creativity.
Cafe24 has established an e-commerce ecosystem with 1.7 million Direct-to-Consumer (DTC) merchants and various global partners in areas like payment, shipping, and marketing. Cafe24 is poised for growth as more DTC brands and e-commerce participants continue to join the burgeoning industry.