Cafe24 and Shibuya109 sign MOU for boosting global fashion exports
Press release
Cafe24 enters agreement with Japan's iconic fashion mall Shibuya109
Joint popup store, system integration, support for Japanese brands going global
Global e-commerce platform Cafe24 entered into a strategic partnership with Shibuya109 Entertainment, operator of the Shibuya109 shopping mall, to invigorate the global exports of Korean and Japanese fashion brands. The signing ceremony took place on August 6 at Cafe24's headquarters in Seoul.
Cafe24 and Shibuya109 will actively interchange business infrastructure, expertise, and know-how. The companies will cooperate to help Korean online fashion brands enter Japan's offline market, and in turn, support offline Japanese fashion brands expand to the global e-commerce market.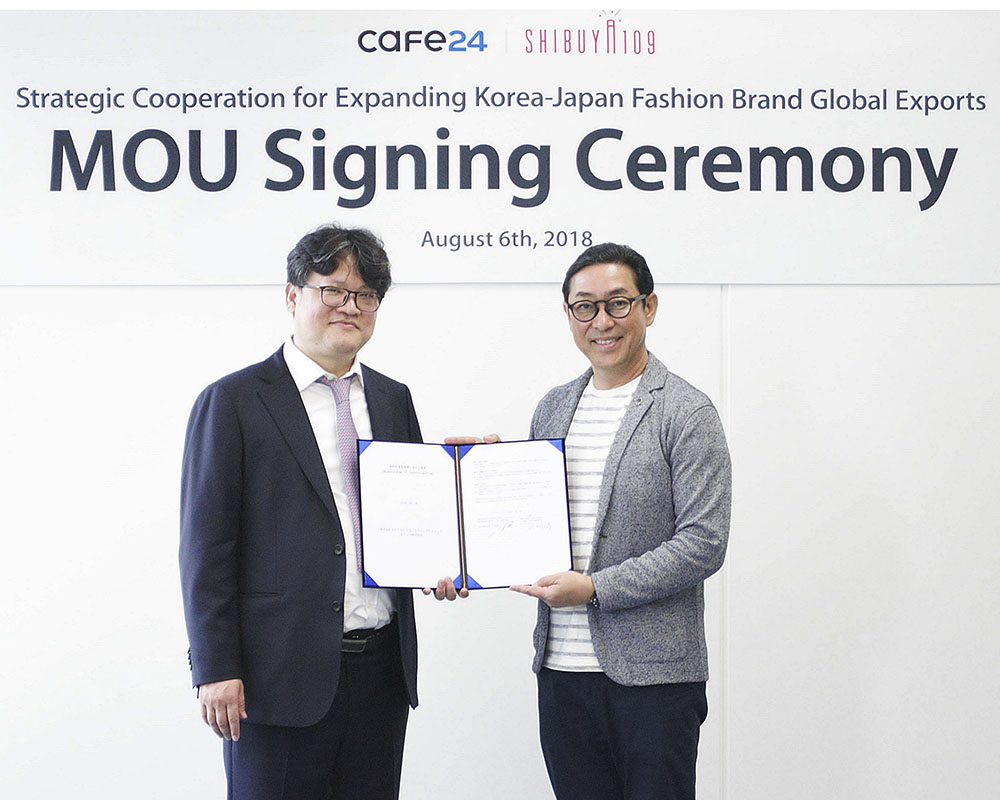 The two companies plan to hold a popup store event this year within Shibuya109's online and offline integrated store, IMADA MARKET. The event opportunity will be open to Cafe24's DTC brands. Localized offline store selection, product sales, and integrated marketing services will be available for Korean brands to quickly gain a foothold in Japan.
Going forward, the scope of the cooperation will progressively expand to include system integration of Cafe24's platform and Shibuya109's online shopping platform. Shibuya109 brands will also be able to expand to global markets through Cafe24's platform.
Tomoo Kimura, President of Shibuya109, said, "It is exciting to be able to introduce Cafe24's K-fashion brands through Shibuya109's IMADA MARKET." He said, "Shibuya109 will work to build a lasting relationship of trust with Cafe24 in order to help Japanese brands go global through Cafe24's platform."
Jaesuk Lee, CEO of Cafe24, said, "This opportunity will allow Cafe24's K-fashion brands to extend their reach to Japan's online and offline markets." He added, "With our upcoming expansion to Japan, Cafe24 will be able to support more Japanese fashion brands and entrepreneurs in their journey to reach different markets across the globe."
About Cafe24
Cafe24 is a global success platform that provides a one-stop business environment for e-commerce merchants so that they can achieve continued growth by focusing on their creativity. Cafe24 has established an e-commerce ecosystem with 1.7 million Direct-to-Consumer (DTC) merchants and various global partners in areas like payment, shipping, and marketing. Cafe24 is poised for growth as more DTC brands and e-commerce participants continue to join the burgeoning industry.
About Shibuya109
Established in 1979, Shibuya109 is one of Japan's major shopping malls that offer the latest fashion trends to its mostly younger customer base. The shopping mall building is a couple times the size of Korea's Doosan Tower and Migliore malls in the Dongdaemun fashion district. Shibuya109 currently operates a total of 6 shopping malls in the Japanese cities of Tokyo, Osaka, Kagoshima, and Hong Kong. Under the corporate philosophy "Making You SHINE!", Shibuya109 continues to support the dreams of youths while introducing new trends and cultures.