Cafe24 and Kakao sign partnership to vitalize e-commerce marketing
Press release
New customer acquisition and big data target marketing to drive biz growth
Cafe24 platform integrates with KakaoTalk's easy registration service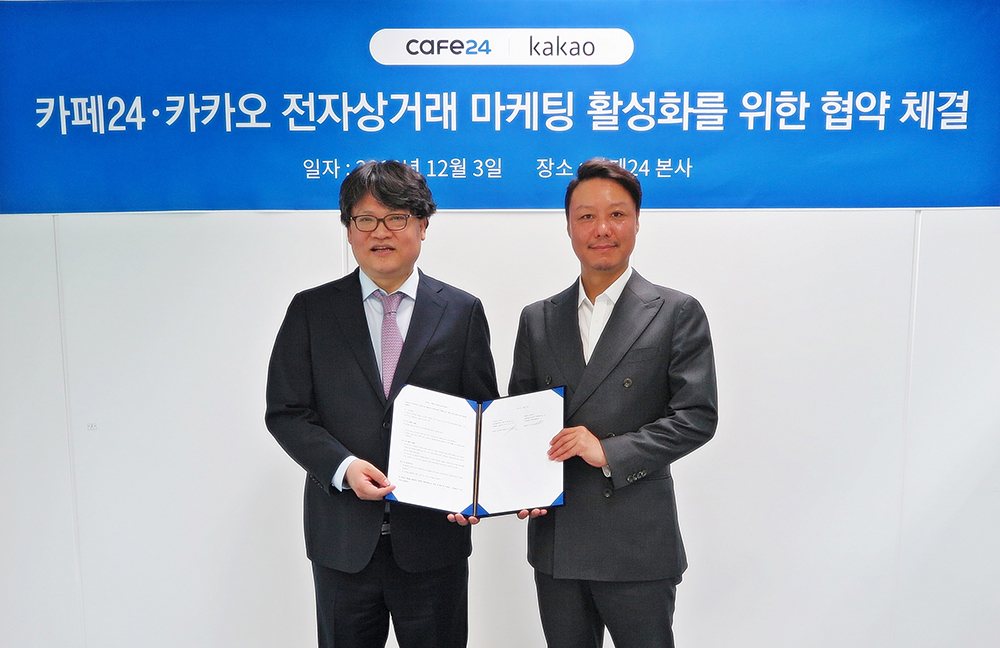 Cafe24 and Kakao are joining hands to provide e-commerce merchants with big data marketing.
Global e-commerce platform Cafe24 signed an MOU with Kakao on Dec 3 at its headquarters in Sindaebang-dong, Seoul, to join efforts in vitalizing e-commerce marketing.
The agreement will integrate Cafe24's e-commerce platform with KakaoTalk's easy registration, a business solution that provides easy registration and marketing services through KakaoTalk.
Merchants will now be able to provide their customers with easy registration and login services through Kakao accounts. In turn, easy new customer registration and targeted marketing using customer big data will allow for accelerated online business growth.
Seok-chul Shin, Vice President of Kakao, said, "KakaoTalk's easy registration service is very convenient for merchants and consumers alike." He added, "The recent strategic partnership with Cafe24 will let many businesses increase their marketing efficiency and obtain a foothold for business growth."
Jaesuk Lee, CEO of Cafe24, said, "Customer acquisition and marketing made easy through KakaoTalk will help drive e-commerce sales." He added, "Cafe24 will continue to provide various services so that merchants can conduct effective marketing and become more successful."
About Cafe24

Cafe24 is a global success platform that provides a one-stop business environment for e-commerce merchants so that they can achieve continued growth by focusing on their creativity. Cafe24 has established an e-commerce ecosystem with 1.7 million Direct-to-Consumer (DTC) merchants and various global partners in areas like payment, shipping, and marketing. Cafe24 is poised for growth as more DTC brands and e-commerce participants continue to join the burgeoning industry.