Cafe24 and Facebook's joint webinar attracts 1,800 attendees
Press release
Cafe24 brand Ablue achieves 2X click rates through Facebook target ads
Facebook to partner with Cafe24 to provide enhanced Shops features
Global e-commerce platform Cafe24 and Facebook's joint 'Successful E-commerce Strategies on Facebook' webinar attracted more than 1,800 business and merchant attendees.
Cafe24 and Facebook APAC's e-commerce experts spearheaded the webinar. They discussed how to maximize online business growth through Facebook and Instagram's advertising and marketing tools.
Cafe24 experts shared real-life use cases of Facebook and Instagram's target optimization process. An especially well-received topic was how online Direct-to-Consumer (DTC) businesses could analyze their store data and statistics to develop marketing strategies.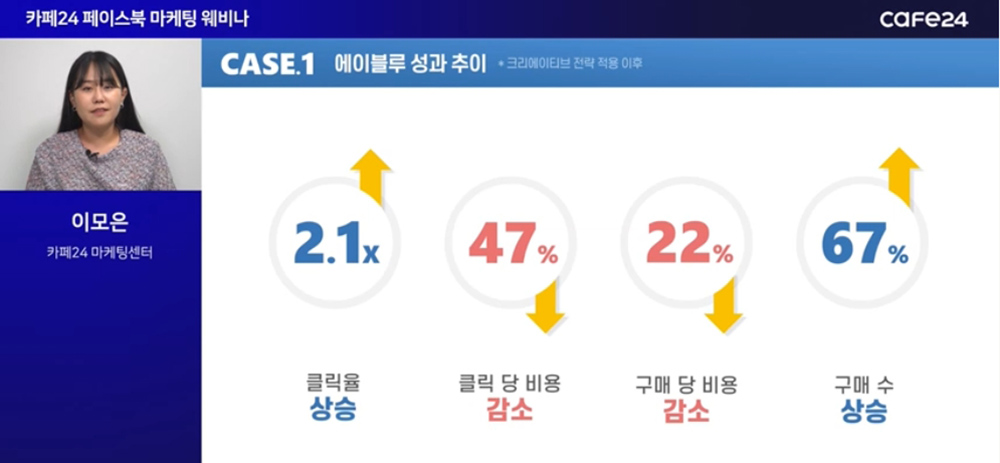 Moeun Lee, Facebook Strategy Consultation Manager at Cafe24, shared the story of online brand Ablue. This brand is known for its posture-correcting Curble chair and posts over 8 million dollars in monthly revenue.
She said, "Ablue first identified a target audience that would be most interested in its product, further categorized them by distinctions like job or age groups, and conducted an advertising campaign optimized for the selected group." According to Lee, Ablue used this strategy to grow their advertising click rates more than two-fold.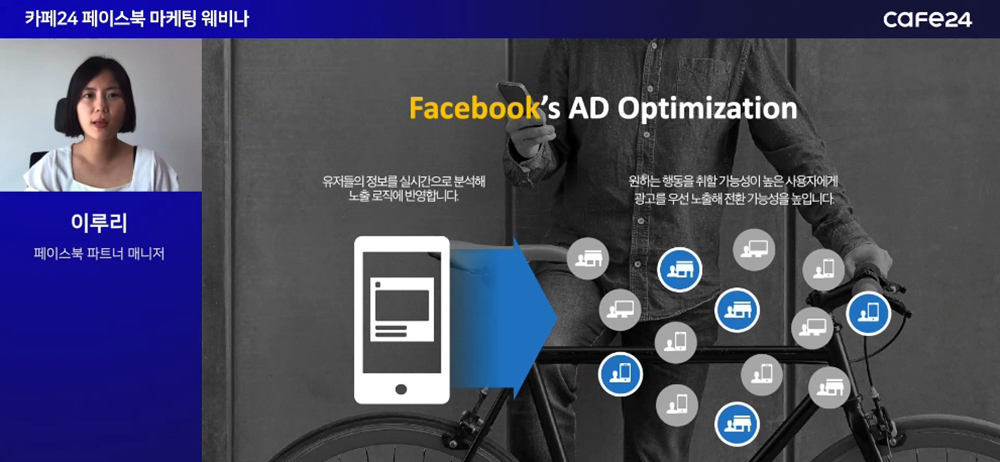 Cafe24 and Facebook's use of statistical data to predict marketing effectiveness was also a popular topic. Facebook's algorithm that automatically analyzes potential customers' reactions to advertisements, combined with Cafe24's online stores, resulted in significant synergistic effects.
Ruri Lee, Partner Manager of Facebook APAC's Korea Scaled Team, said, "Facebook's API (Application Programming Interface) is easily installable on online stores and automatically learns data from customers that make a purchase or leave the website." She said, "Using this data, businesses can correctly target their advertising efforts to those that will be most receptive among Facebook's 2.7 billion users."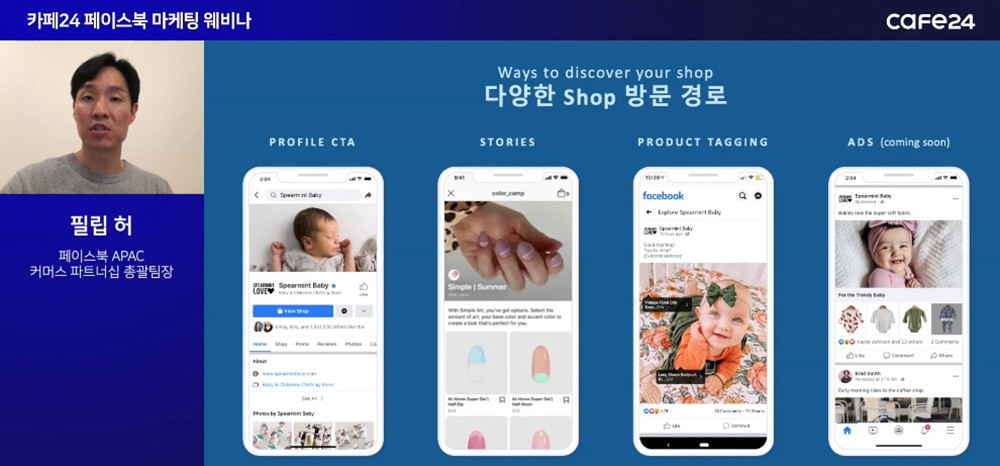 Facebook Shops, which was announced in May this year, was also introduced in detail. Philip Hur, APAC Head of Partnerships, said, "We're working very closely with Cafe24 to offer seamless onboarding and enhanced features for Shops." Facebook Shops is a digital commerce support solution for small to medium-sized businesses (SMBs). Cafe24 is the only Korean company participating as a partner.
Cafe24 and Facebook will continue cooperation to drive SMB's global success.
Jaesuk Lee, CEO of Cafe24, said, "The high attendance for the Cafe24 and Facebook's joint webinar is reflective of SMB's eagerness." He added, "We will continually establish hyperconnectivity with technologically advanced companies to support businesses in this time of rapid market change."
About Cafe24
Cafe24 is a global success platform that provides a one-stop business environment for e-commerce merchants so that they can achieve continued growth by focusing on their creativity. Cafe24 has established an e-commerce ecosystem with 1.7 million Direct-to-Consumer (DTC) merchants and various global partners in areas like payment, shipping, and marketing. Cafe24 is poised for growth as more DTC brands and e-commerce participants continue to join the burgeoning industry.