Cafe24's webinar spotlights e-commerce apps driving success for big brands
Press release
Successful brands' best practice cases draw 1,500 attendees
60M+ dollar brand HOTPING hits record 9.6% conversion with Reload app
Expanding app integrations to support merchant & developer growth
Cafe24's latest webinar focused on different e-commerce apps that big-name online brands use to drive sales and boost operating efficiency.
Global e-commerce platform Cafe24 held a webinar on May 12 at 2 p.m. to introduce successful online brands' business expansion strategies. The event grabbed much attention, attracting 1,500 attendees.
Experts from the companies that make apps for big-name brands like HOTPING and 66 Girls presented their best use cases and key performances.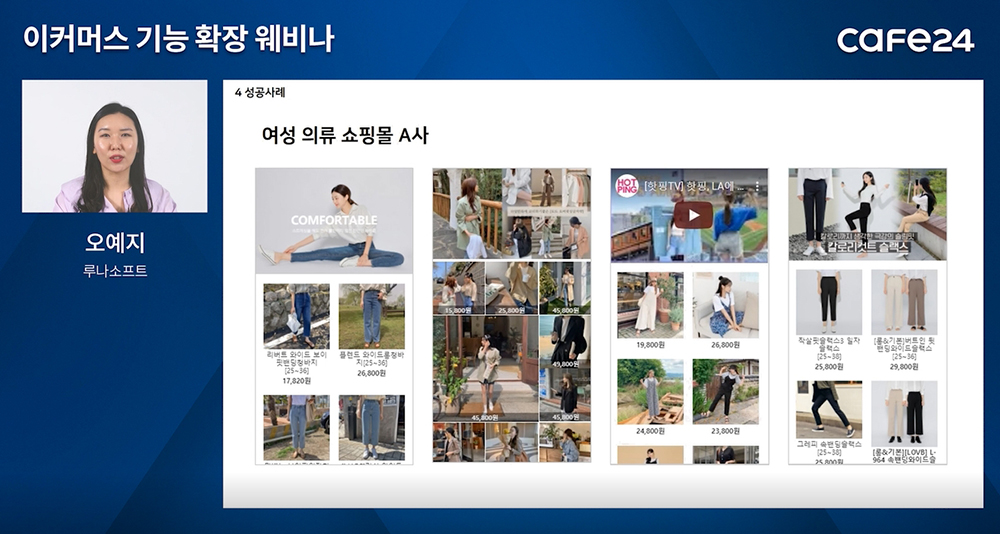 Manager Oh Yeji of Lunasoft, the maker of remarketing service Reload, spoke on the achievements of HOTPING, an online brand that recorded more than 62 million dollars in sales last year. Reload is a service that instantly recognizes when a customer leaves a webpage. It strategically places recommended products and promotion pages on the customer's exit path to encourage them to re-enter the site.
HOTPING has been using the Reload app for more than two years. The service focuses on cost-effectiveness. So it aims to show as many products and prices on a single page as possible. This strategy raised HOTPING's conversion rates to 9.6%. Oh quoted Google Ads, saying that the e-commerce market's average conversion rate is less than 1%.
"Return on advertising spend for search engine or social media ads are about 250% and 300%, respectively," said Oh. "Meanwhile, brands that use Reload see about 1600% in ad spend returns."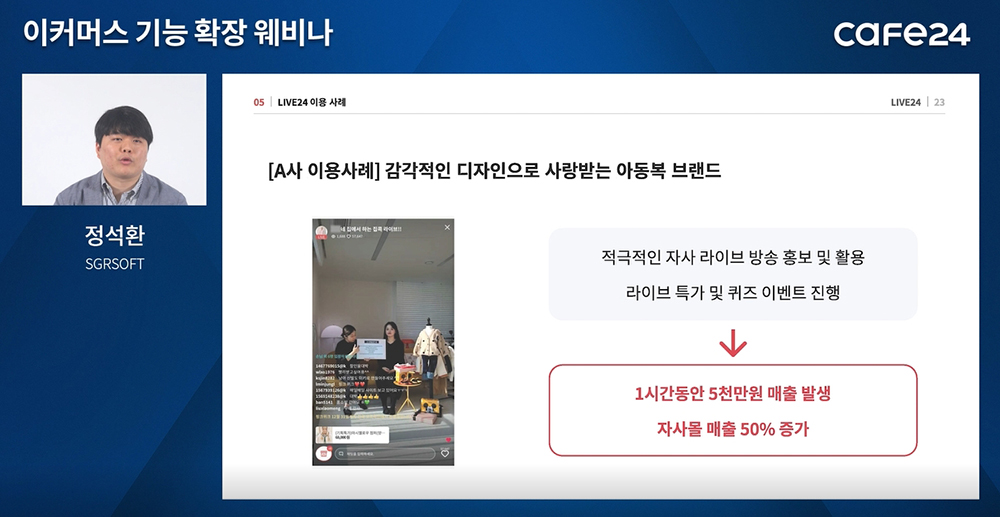 Performance for LIVE24, a live commerce service built with Cafe24's e-commerce platform, was also shared.
A children's apparel brand initiates advertising before its live commerce broadcast and holds discount events and quizzes during its stream. Such active promotion recently drove up sales to about 45,000 dollars in a single hour. The brand's online store sales also saw a 50% surge. Another handcrafted ceramics brand interacts with its customers via regular live streams on the same day of every week. As a result, the brand garnered a pool of avid viewers and loyal customers. Its conversion rates average at 18%, sometimes going as high as 30%.
"Pre-marketing activities to promote the live streams are as important as preparing for the stream itself," said Jung Sukhwan, Supervisor at SGRSOFT. "Holding regular streams with the same host helps a brand build customer trust."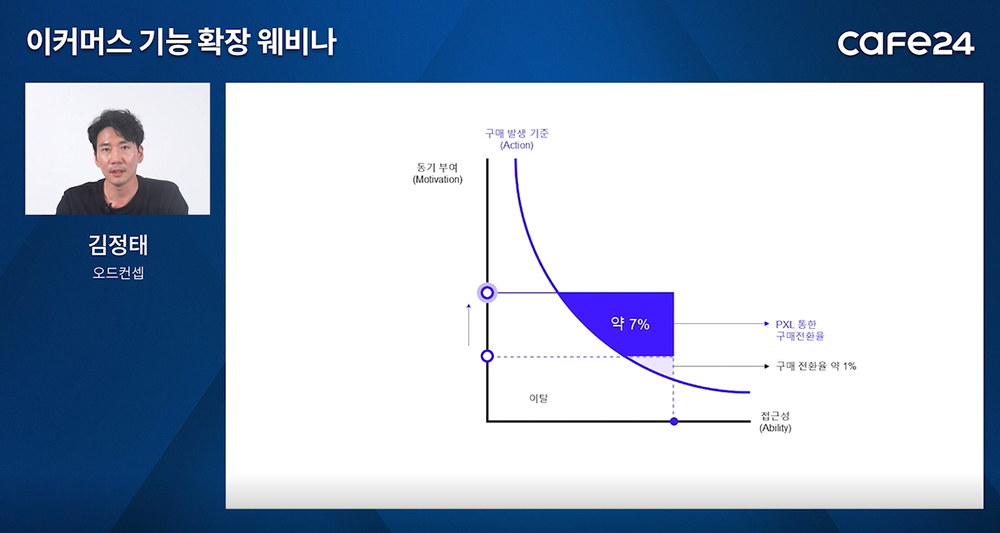 Customer conversion rates can improve with artificial intelligence functions. "PXL AI acts much like Netflix's recommendation feature because it understands what the customer is looking for and even suggests other styling items," said Kim Jungtae, CEO of Odd Concepts. "Merchants with 1% conversion rates can employ PXL to drive their rates up to 7%."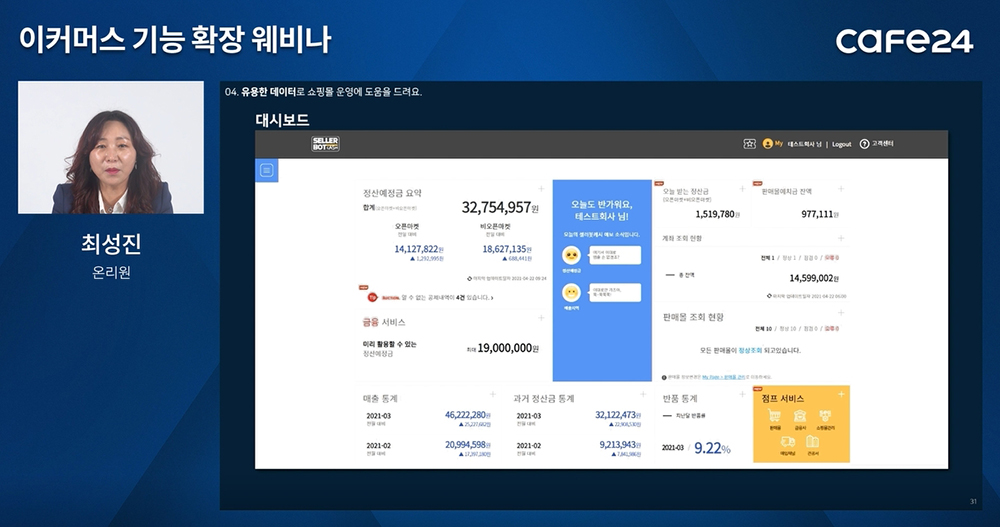 Choi Sungjin, CEO of Only1, spoke on the easiest way to check expected balances across various sales channels. "Manually compiling balance data for each sales channel is a tedious job because all channels operate by different rules," he said. "Sellerbot Cash makes managing balances easier by rounding up data from 42 channels, including online marketplaces, PG companies, and offline department stores."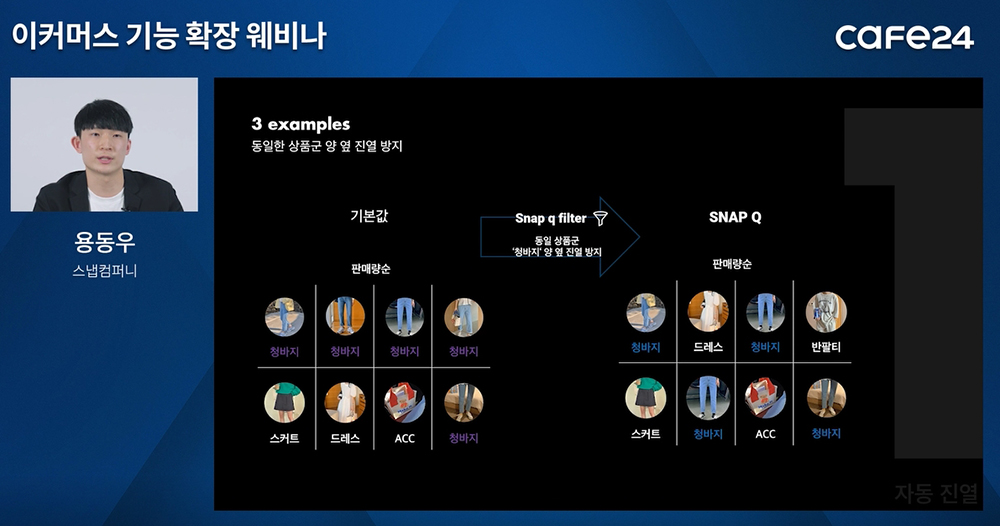 Yong Dongwoo, Manager at Snap Company, talked about using big data to efficiently showcase products on an online store webpage. "It's hard for merchants to check customer data one by one to decide where to place each item," he said. "They can lower bounce rates and increase sales by using SNAP Q, an AI service that shuffles through big data to pinpoint the products that will interest customers the most and automatically place them on a webpage."
Cafe24's hyperconnectivity strategy led to the rise of e-commerce apps for online stores.
"Cafe24 aspires to integrate various additional services that merchants would want to link to their stores," said Kim Jae-eun, Head of Cafe24's E-commerce team. "The Cafe24 Store helps merchants find the functions they want, install them, and use them to advance their operational capabilities."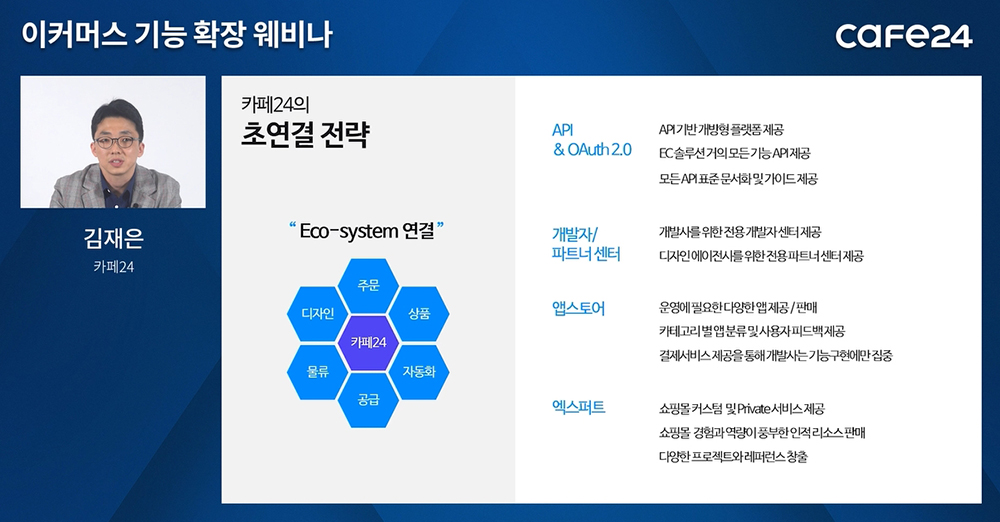 The apps featured in the webinar are all available for download on the Cafe24 Store.
"Cafe24 helps merchants build online stores with the hyperconnectivity strategy and offers various functions that they need to run their business," said Lee Jaesuk, CEO of Cafe24. "We will continue to create and scale an ecosystem where developers and merchants can grow together."
Cafe24 began offering open Application Programming Interfaces (API) in 2018 to build an ecosystem around its e-commerce platform. The company has 300 APIs to date. Services using open APIs include Cafe24's app marketplace, Cafe24 Store, and customization commission service, Cafe24 Experts.
About Cafe24
Cafe24 is a global success platform that provides a one-stop business environment for e-commerce merchants so that they can achieve continued growth by focusing on their creativity.
Cafe24 has established an e-commerce ecosystem with Direct-to-Consumer (DTC) merchants and various global partners in areas like payment, shipping, and marketing. Cafe24 is poised for growth as more DTC brands and e-commerce participants continue to join the burgeoning industry.
About Cafe24's open API (Application Programming Interface)
An Application Programming Interface (API) serves as a go-between software for two or more applications that work together to fulfill specific functions. It also acts as an entryway to databases. In 2018, Cafe24 opened twenty years' worth of APIs to the public to encourage more developers and agencies to take part in its e-commerce ecosystem. The company currently provides 300 APIs, the most an e-commerce platform has ever made available. Third-party developers utilize these APIs to build and launch apps with various functions that online stores need to operate more efficiently. By using these apps, merchants can quickly implement functions built on the latest big data, artificial intelligence (AI), and augmented reality (AR) technologies into their online store.