Will Cafe24 and Facebook shift the online shopping paradigm?
Cafe24 and Facebook are joining hands to support Direct-to-Consumer (DTC) brands all over the world. The partnership will accelerate the spreading of the up-and-coming online shopping trend, Discovery Commerce.
The world watches the DTC trend
The DTC model is the hot topic of the day in e-commerce. This business model places a merchant-owned online store at the center. The store acts as a business hub to connect multiple channels like online marketplaces, driving more sales. Businesses actively employing the DTC model can minimize logistics margins like commission fees. But the greatest advantage is the capacity to collect and manage customer data. Utilizing various data for customer relationship management (CRM) and brand management can lead to more loyal customers.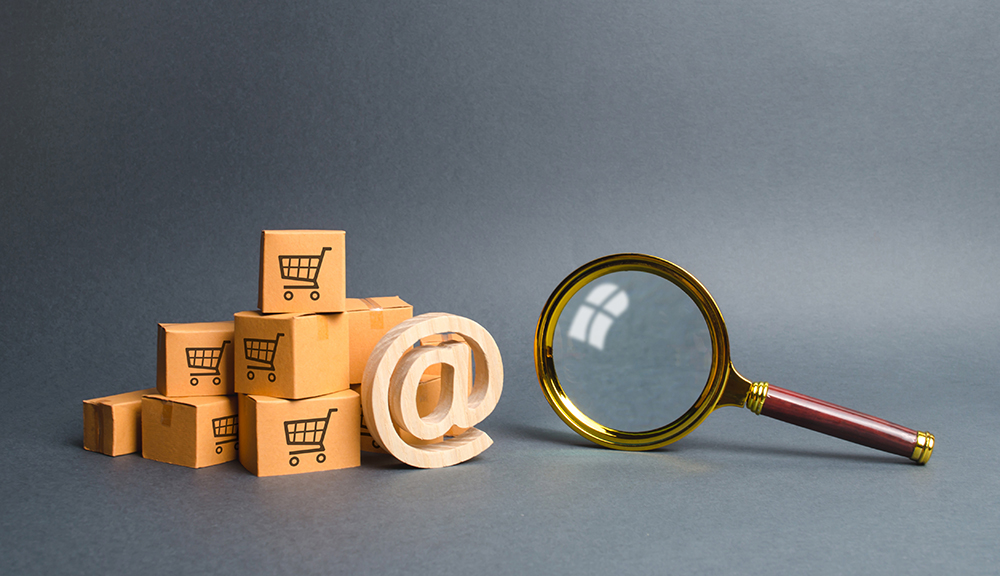 Such advantages have led many big brands to move off of online marketplaces to set up their own DTC strategies. Nike is leading the exodus of brands from Amazon. Since leaving Amazon in November 2019, Nike's online business has grown by 82% year-on-year. Brands following the lead to strengthen their DTC strategies are L'Oréal and Birkenstock, among others.
Cafe24 and Facebook partner to support DTC brands
The news of Cafe24 and Facebook's partnership is spreading among e-commerce merchants. In May, Facebook announced its new shopping service called Facebook Shops. It enables merchants to showcase their brands and products on social media. Users wanting to buy can connect to the brands' DTC stores through Shops.
Through Shops, Facebook can gain a wide range of brands and merchants as business partners while merchants can strengthen their DTC strategies. Facebook announced eight global e-commerce partners in its Shops initiative. Among them, Cafe24 is the only Korean company and also the only partner from East Asia. CedCommerce, headquartered in India, is the only other partner from Asia.
The integration between global e-commerce platform Cafe24 and Facebook Shops is significant. Merchants can download the Facebook Channel app from the Cafe24 Store and install it on their DTC stores to instantly sync product offerings to Shops. Cafe24 already connects merchants to domestic and international sales channels like Coupang and Lazada. Now it provides a connection to Facebook, allowing merchants on its platform to conveniently add Shops as a sales channel.
Products seek out the consumer on Shops
The combination of social media and shopping is what makes Shops special. Social media is where information is shared and people connect. Adding a shopping aspect to the mix can tie together various products, unique brands, and merchants all within one platform.
Consequently, Shops is anticipated to bring about a paradigm shift to online shopping. Online shopping has long been about the consumer actively searches for items to buy. But this pattern will shift as consumers first discover products on social media and then make a purchase. Social media plays an important role in this new shopping form. It observes the items that a user's connections like and generates customized product recommendations for users via algorithms. Because the products seek out the consumer instead of the other way around, this new shopping pattern is called Discovery Commerce. It drastically cuts down the time and effort on the consumer's part to find products to buy.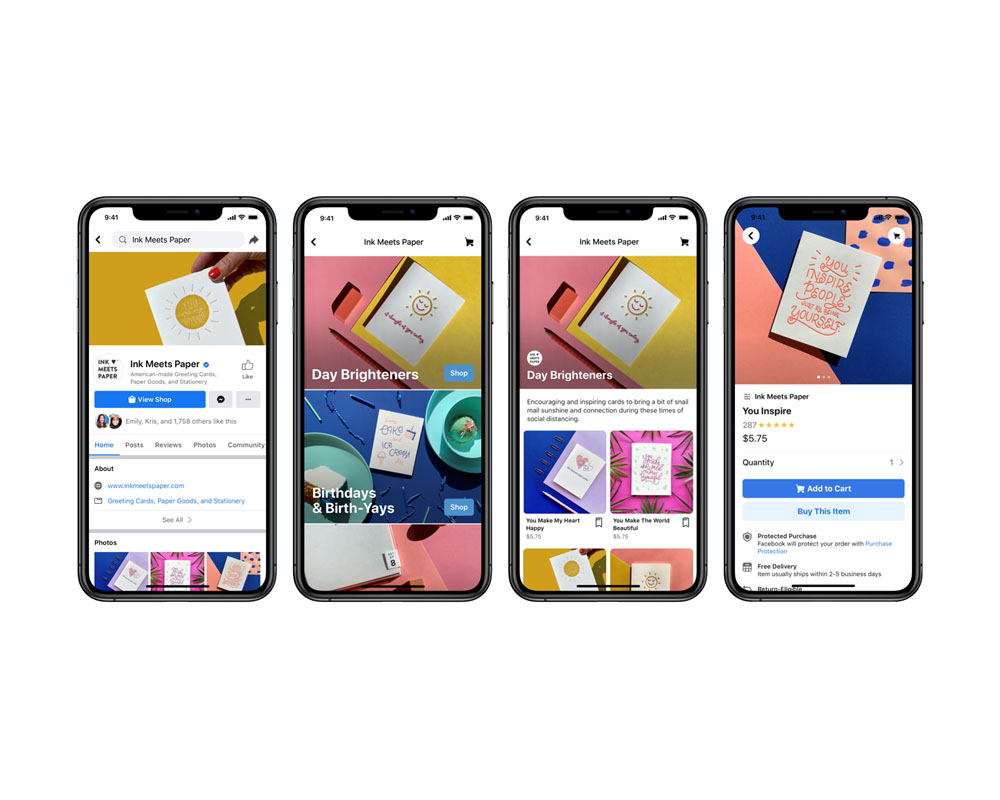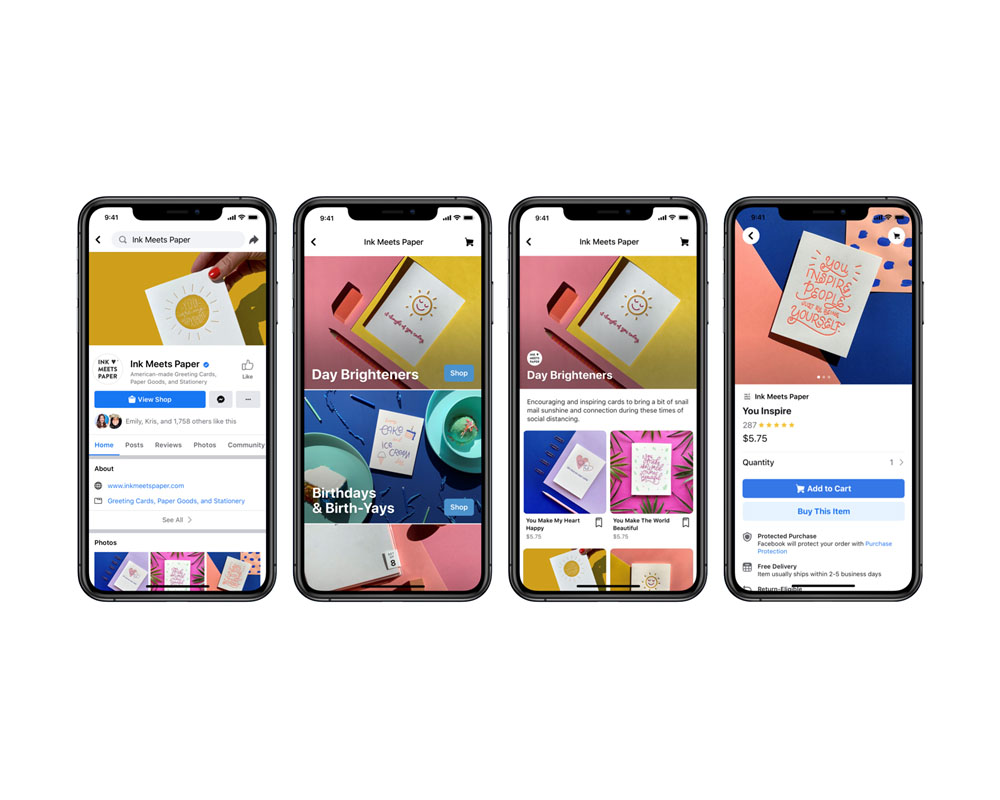 Good news for global merchants
Cafe24 and Facebook's partnership can open new doors for Korean merchants. Facebook has 3.1 billion users all around the world. Merchants can present their products through Shops to consumers in the United States, Europe, Asia, and other countries where Facebook has a presence.
Cafe24 fully supports e-commerce merchants expanding their business overseas. Merchants on the platform can build multilingual stores for free in English, Chinese (Traditional and Simplified), Japanese, Vietnamese, Spanish, and Portuguese. Cafe24 partners with global payment providers like PayPal, Eximbay, AXES, Alipay, and ECPay to offer merchants popular payment options. Partners in other areas like logistics and customs also allow merchants to access all the services they need in one stop. In this way, Cafe24's efforts to back merchants' global business and Facebook's goal to gather more global merchants onto its platform are mutually beneficial.
The partnership for Shops will surely bring new opportunities for merchants looking past domestic borders to expand their business to global markets.
By Byline Network
※The perspectives presented by external contributors may differ from Cafe24's official viewpoints.