COVID-19 changes commerce: How should enterprises respond?
On June 9, Cafe24 hosted a webinar for enterprise businesses looking for post-pandemic distribution strategies. What game plans can companies adopt to secure effective sales channels and reinvent legacy systems?
Commerce megatrend: E-commerce infiltration pushes enterprises into DTC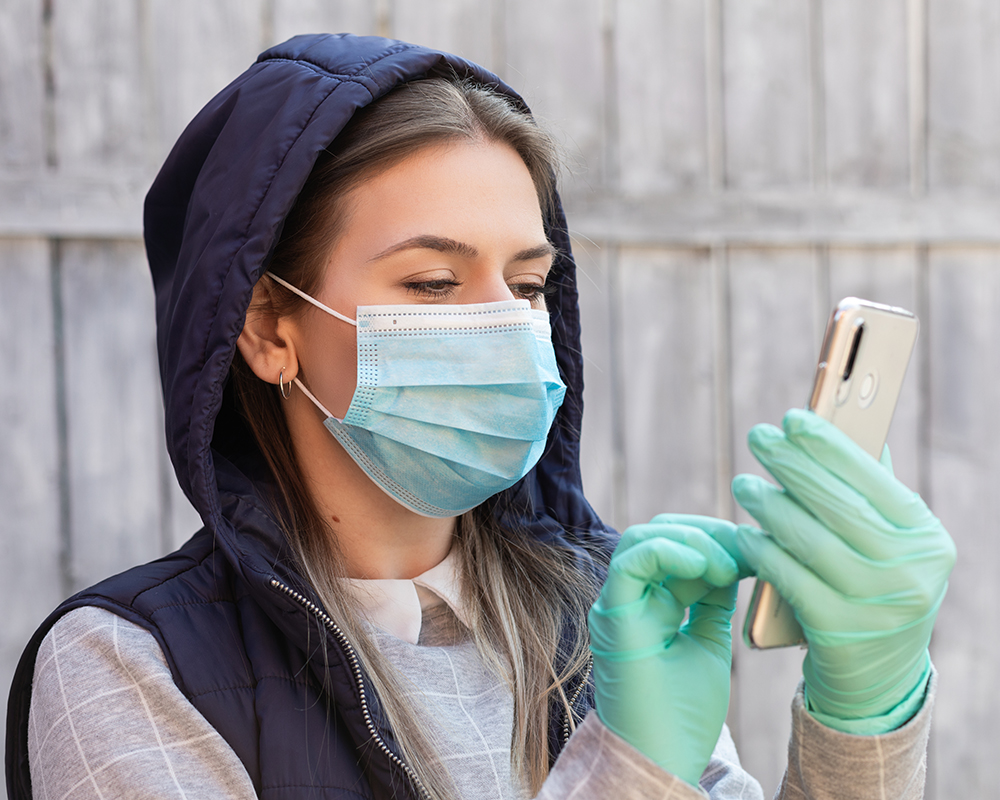 Legacy businesses with established online and offline distribution networks are starting to launch Direct-to-Consumer (DTC) stores to build 1:1 relationships with consumers. The change comes as the growing number of popular and influential online-born DTC brands is starting to threaten legacy top dogs. These businesses are recognizing the need to gain control of their data and distribution to survive the new retail environment. The Covid-19 pandemic has forced brick-and-mortar stores like department stores, supermarkets, and street shops to shut down, causing businesses to rethink their reliance on a single sales channel. They are now considering a multi-channel approach.
Cafe24 held a webinar on June 9 to help businesses respond to these new commerce trends and expand their influence.
Jessica Song, Head of Cafe24's Enterprise Business, introduced a post-pandemic online sales channel mix strategy. Jaekwan Ryu, the Director of store integration provider PIMZ, shared how companies can systematically modify their vendor-centered distributions to gain data for decision making. The summaries of their presentations are as follows. 
Effective sales channel mix strategy for enterprises
By Jessica Song, Head of Cafe24's Enterprise Business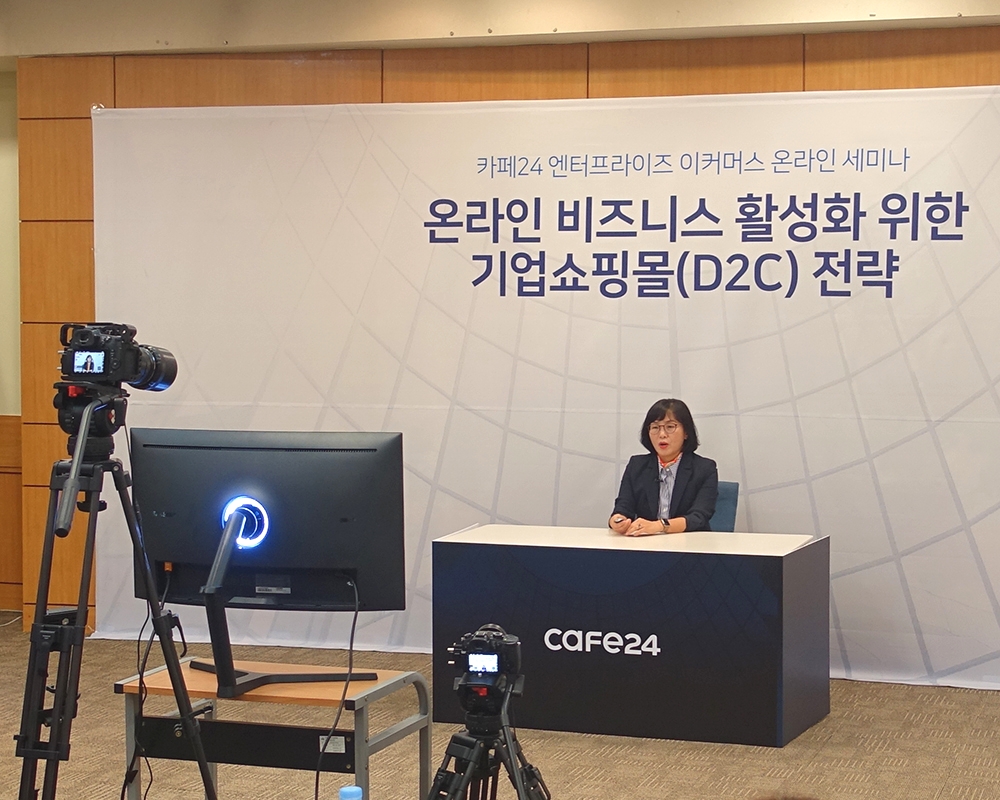 DTC stores are the base camp for an online sales channel mix strategy
"Even without looking up specific statistics, we can all feel that contactless commerce is becoming more widespread because of Covid-19. The certainty that this new trend will continue to grow is causing everybody to talk about DTC.
Businesses now more than ever must look beyond concentrating on one online channel. They must decide on a platform to ground their main business and then connect various channels based on their circumstances and strategies. In other words, companies must establish a DTC storefront to serve as their base camp. The most important part about developing a channel mix is having this base camp at the center of their existing vendors, retail stores, partnerships, and online marketplaces network.
Well-made, multilingual DTC stores can be effective for promoting products worldwide and creating country-specific content. Companies can also organize marketing activities and communicate with consumers without being restricted by local publicity rights or other legal issues. The store can also serve as a price anchor, enabling the company to use the same price policy across multiple regions. Streamlining consistent prices and marketing activities across target markets can be effective in strengthening consistent brand identity.
After establishing their base camps, companies need to factor in their material and human resources at hand. This will allow them to decide whether to focus on the domestic market or global expansion. They can also consider listing on each market's primary distribution channel or select specialized channels for their products."
Cafe24 provides sales channels that best fit the businesses' situation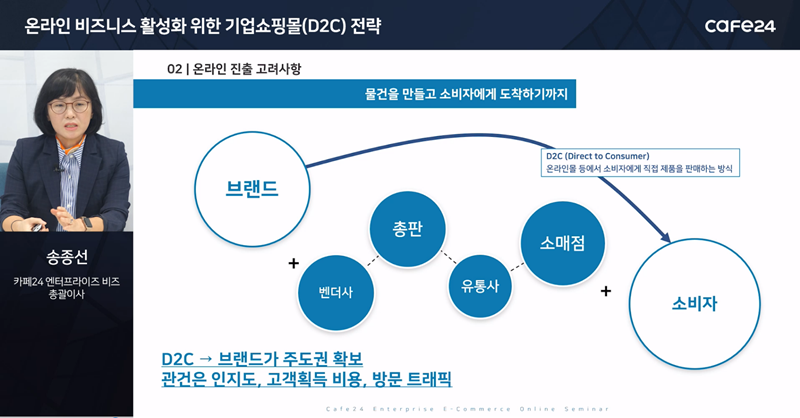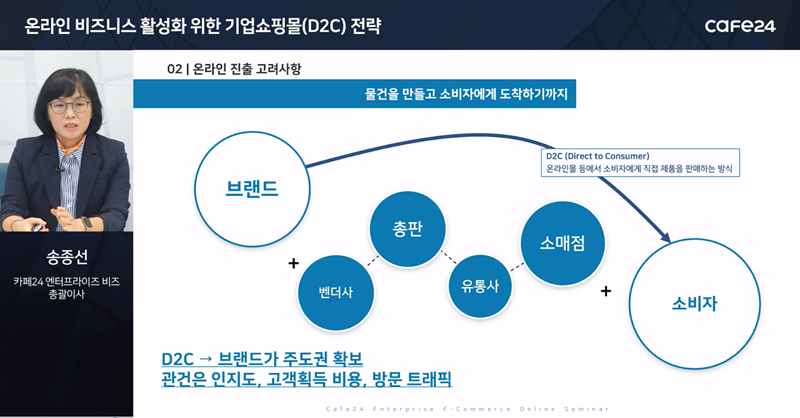 "Some companies might create DTC stores and expand sales channels all at once, while others might take a step-by-step approach. Cafe24 helps companies to consider the right channel for their current situation.
Cafe24 provides logistics services specialized for mainstream channels like Shopee, Amazon, and Rakuten. The company offers an integrated warehouse management solution to support businesses that might use multiple warehouses. Cafe24 also offers global customer support, product information translation, store management, marketing, and advertising services.
Companies that have some brand awareness and are capable of mid-to-long-term brand investment should launch DTC stores for multiple countries. Cafe24 not only offers e-commerce solutions for these businesses but also assists them with DTC store management and consulting services.
For instance, a brand that sells K-pop merchandise made inroads into many different sales channels like Tmall Global, Amazon, and Shopee. But it faced difficulties with balance accounts, logistics, and integrated communication because it had separate partners in every country it did business. After consultations with Cafe24, the brand created multilingual stores in Korean, Chinese, Japanese, and English. Also, it built an app to integrate its DTC store with global marketplaces to centralize all of its product data.
The company was able to establish a global logistics system that could track inventory across all channels and ship items. Also, it was able to manage multiple global sales channels with just a few staff because the new system could automate tasks like declaring exports."
How to innovate legacy systems for the new commerce environment
By Jaekwan Ryu, Director of PIMZ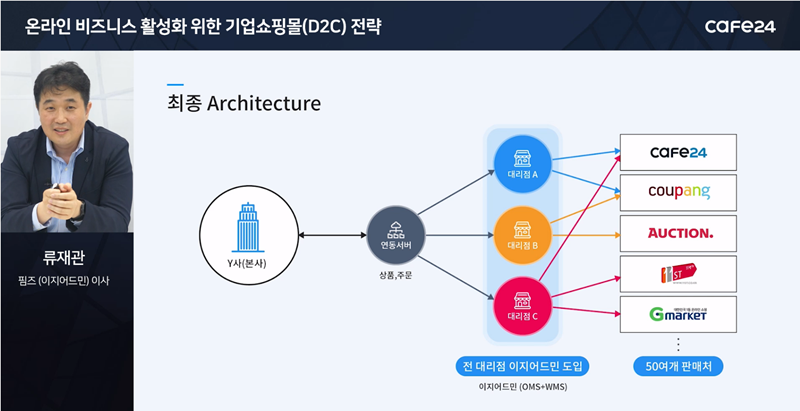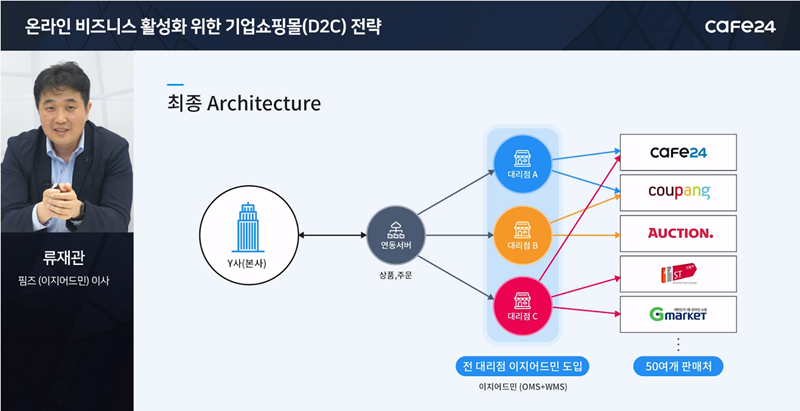 "Businesses with already-established distribution channels face an uphill battle when integrating their Enterprise Resource Planning (ERP) systems into external channels. PIMZ addresses this challenge through its EZ-ADMIN system. PIMZ currently provides online store integration services for more than 2,000 businesses. The company joined Cafe24 in 2018.
One leading household goods brand had ten online vendors that each sold products to more than 50 channels, including online marketplaces like 11Street and Gmarket. Some of these vendors had overlapping sales channels.
The brand could access the vendors' sales data but couldn't see those of the final distributors. The company could only ship stocks upon the request of each vendor. Thus, this brand wanted a detailed grasp of each channel's online sales data to better target promotion strategies. The company also wanted to know the inventory situation of each vendor on demand.
To solve this problem, all vendors adopted the EZ-ADMIN system to link product, order, and inventory data. For example, when a vendor places an order, someone at the brand's headquarters receives that information and inputs the requested delivery quantity in the system. Immediately, the vendor will be able to see the volume expected to arrive in their EZ-ADMIN inventory. The system's integrated server transfers data to the company after about 50 distributors place orders with the vendors. This enables the company to analyze each channel's product sales data to make better-informed, critical decisions."