Cafe24's enhanced mobile platform makes it easier to run an online store
Press release
Artificial intelligence and app integration capabilities added to mobile
Versatile mobile platform expected to trigger an online entrepreneurship boom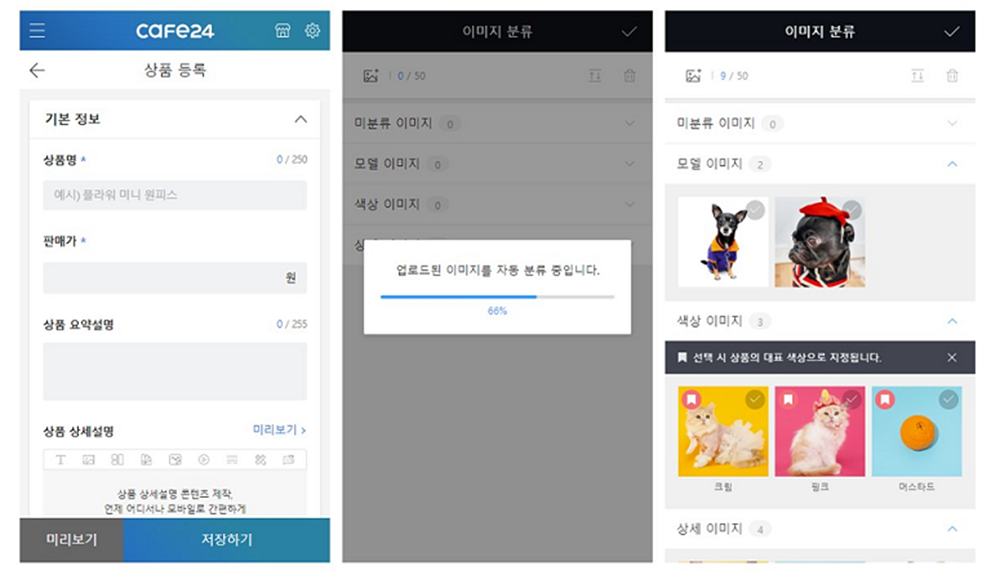 Global e-commerce platform Cafe24 significantly enhanced its mobile e-commerce platform by introducing new functionality and services like artificial intelligence (AI) and application integrations.
Cafe24's mobile platform now comes pre-loaded with the company's AI-based content creation tool, Edibot. This tool increases business efficiency by simplifying basic tasks. For example, a merchant can take photos of a product on their smartphone and feed them into Edibot. Then, Edibot uses AI to analyze the content of the photos quickly. It instantly creates a product detail page for the store's webpage. This quick process allows merchants to skip over the tedious task of building a product detail page element by element through Photoshop.
The functions and services available in app-form on the Cafe24 Store now support the mobile platform. Merchants can conveniently download the latest apps and install it to their online stores. Apps include big-data product recommendations, real-time chatbots, and augmented reality (AR) product try-ons.
The improved mobile solution ensures usability on a screen that is smaller than a PC. There is a new drag and drop capability and a content writing tool optimized for User interface (UI). Other new tools for customer management, promotional events, template management, and statistical information are now available to make it easier to operate an online store via mobile.
Anyone can run an online store on Cafe24's platform through their smartphone or PC. Cafe24 has lowered the entry barrier even further, possibly accelerating e-commerce entrepreneurship.
Jaesuk Lee, CEO of Cafe24, said, "We hope that the new and improved mobile platform triggers more e-commerce entrepreneurship and merchant success." He added, "We will continue to roll out new services so that creative minds can drive their online businesses to success."
About Cafe24
Cafe24 is a global success platform that provides a one-stop business environment for e-commerce merchants so that they can achieve continued growth by focusing on their creativity. Cafe24 has established an e-commerce ecosystem with 1.75 million Direct-to-Consumer (DTC) merchants and various global partners in areas like payment, shipping, and marketing. Cafe24 is poised for growth as more DTC brands and e-commerce participants continue to join the burgeoning industry.
About Edibot

Cafe24's Edibot presents a series of AI-based content creation and editing tools specifically designed for online businesses. Edibot launched in 2018 as a service that utilizes AI to instantly create product detail pages for online stores. Since then, Cafe24 has rolled out more tools to make running an online store easier. Edibot Themes makes online store template editing easy with the drag-and-drop method. Edibot Banner helps create and edit web ad banners. Edibot Fit automatically inserts relevant size charts in a suitable language under the product details section. Edibot Review creates digital content based on customer reviews.
About Cafe24's open API and Store

Through Cafe24, partners can develop, integrate, and sell services that are necessary for merchants to run their online business. Cafe24 provides open API that partners can utilize to create solutions and services that can conveniently be integrated into Cafe24's platform. Moreover, partners can make their services available for Cafe24's 1.75 million online merchants through the Cafe24 Store. Already, various partner services like big data-based marketing, AI chatbots, logistics management, and promotional events are offered through Cafe24.