Cafe24's Edibot Review quickly creates content using real reviews
Press release
Real customer reviews can be easily featured under product details
Variety in product information helps increase product and brand credibility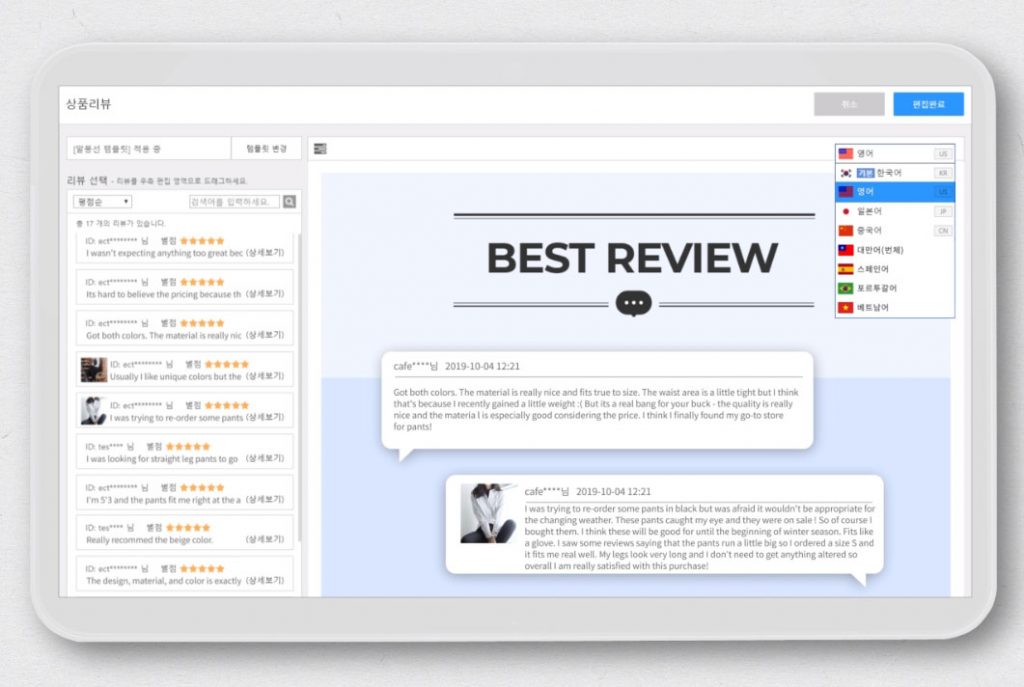 Global e-commerce platform Cafe24 is rolling out its Edibot Review service which enables DTC stores to easily create contents for products based on real customer reviews.
The service enables merchants to easily feature customer reviews on the products detail page. Real customer reviews and comments can be dragged and dropped to the desired placement on the online store webpage. Ready-to-use free templates make it easy for merchants to create content that looks professionally-designed.
Featuring real customer reviews as product content is gaining recognition in e-commerce as a differentiated marketing strategy. The increase in mobile and social media shopping has led to abundant reviews that are effective in attracting more shoppers.
Reviews can lead to product and brand credibility. They provide customers with more information and can even help them make purchasing decisions.
Edibot Review can be accessed through Cafe24's Artificial Intelligence-based Edibot service that helps create and edit online store contents. It is free for download on the Cafe24 Store.
"More product information in the form of reviews can help increase the product and brand's credibility," said Jaesuk Lee, CEO of Cafe24. "Cafe24 will continue to roll out services that are in tune with the e-commerce trend so that DTCs can succeed."
About Cafe24

Cafe24 is a global success platform that provides a one-stop business environment for e-commerce merchants so that they can achieve continued growth by focusing on their creativity. Cafe24 has established an e-commerce ecosystem with 1.7 million Direct-to-Consumer (DTC) merchants and various global partners in areas like payment, shipping, and marketing. Cafe24 is poised for growth as more DTC brands and e-commerce participants continue to join the burgeoning industry.
About Edibot

Cafe24's Edibot presents a series of AI-based content creation and editing tools specifically designed for online businesses. Edibot launched in 2018 as a service that utilizes AI to instantly create product detail pages for online stores. Since then, Cafe24 has rolled out more tools to make running an online store easier. Edibot Themes makes online store template editing easy with the drag-and-drop method. Edibot Banner helps create and edit web ad banners. Edibot Fit automatically inserts relevant size charts in a suitable language under the product details section. Edibot Review creates digital content based on customer reviews.