Cafe24 Edibot Banner updates make designing web ads more effortless
Press release
Merchants gain more efficiency with new Size Set and Filter functions
Translations in 8 languages support global market penetration
Banner-making becomes easier with 213 templates and 339 fonts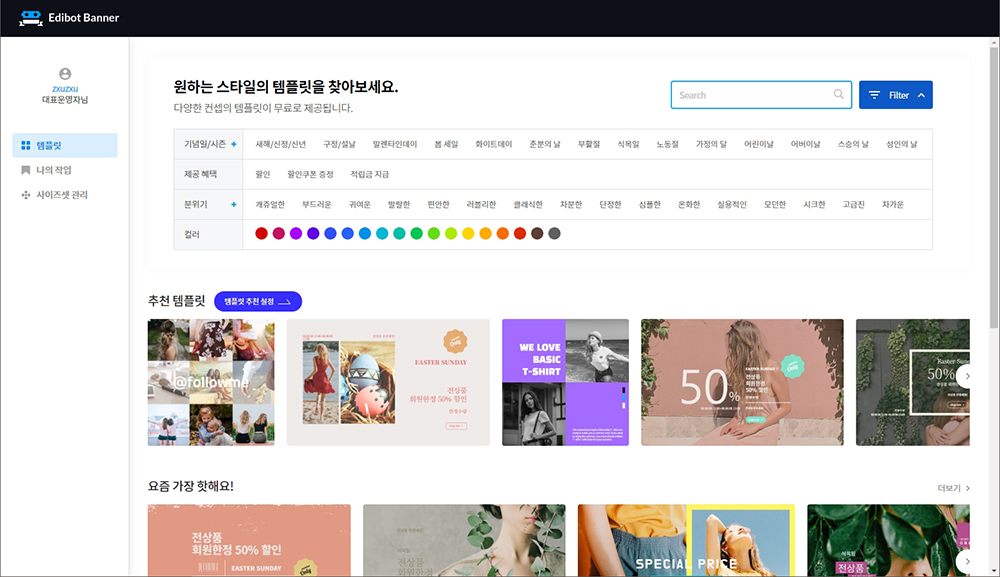 Online store merchants can now create web advertisement banners more effortlessly to increase sales.
Global e-commerce platform Cafe24 announced on April 19 that its banner-making tool, Edibot Banner has been significantly enhanced. With this update, online store merchants can now create quality promotional web banners without the help of professional designers or expensive graphic design tools. Banners are graphic images that merchants use to announce sales events and promotions on various online channels.
Merchants using Edibot Banner can simply drag and drop image or text elements to create or edit banner images. All Cafe24 merchants can utilize this service for free.
A few new functions have further expanded the tool's capabilities. Size Set allows merchants to create different versions of the same banner by simply inputting the image sizes they need for each marketing channel. The Filter function provides a list of mood keywords that automatically changes a banner's ambiance when selected. The Auto-Translate System immediately translates visible texts into different languages.
With the Size Set function, merchants can instantly create banner images in sizes optimized for multiple online marketing channels. For instance, a merchant that regularly posts on their online store and Instagram account can use Size Set to save image sizes that best fit each channel in the Edibot Banner tool. When making a new banner, they can simply browse through the many templates provided, choose, and edit. Edibot Banner will then instantly generate the finalized banner in two sizes – one for the store and one for Instagram. This simplified process eliminates the need for merchants to manually create multiple versions of the same banner for every marketing channel they plan to post, increasing work efficiency.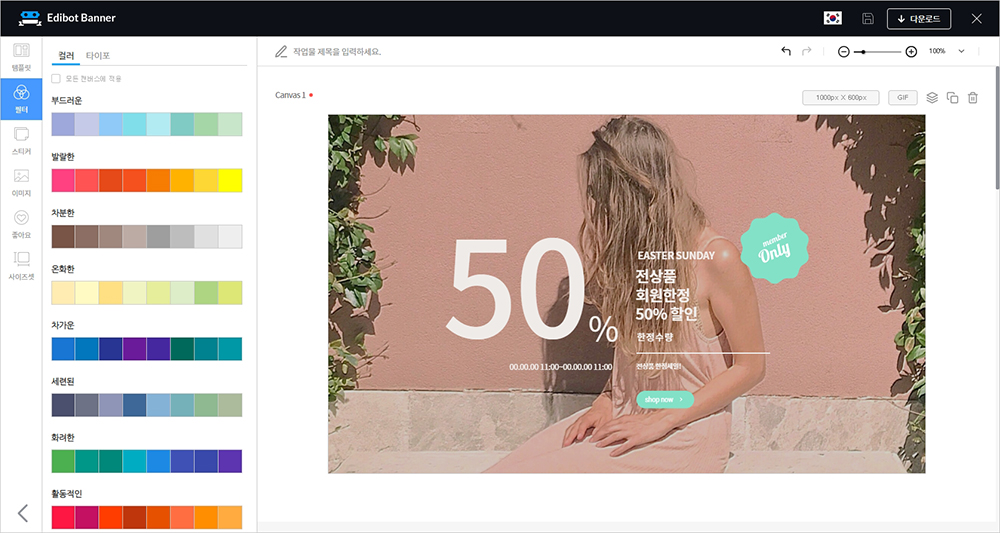 The Filter function presents a list of keywords that depict certain moods. When a keyword is selected, a banner with corresponding elements (like background color and fonts) is automatically generated. For example, choosing the 'pastel' keyword will create a banner in mint color tones, while selecting the 'lovely' keyword will create a banner using a bubbly font. Filter provides the best combination of design elements that portray the desired mood so that merchants don't have to browse through all options manually.
The Auto-Translate System translates all text elements in a banner into a selected language automatically. Eight languages are available, including English, Spanish, Portuguese, Chinese (traditional/simplified), Japanese, Vietnamese, and Korean. This tool is expected to help online stores selling in global markets grow their business faster.
The Edibot Banner update added more design elements that merchants can use to customize their banners even further. The addition of 19 templates brings the total number of available free templates to 213. Up to 339 license-free fonts are available as well.
The service enhancement will influence online stores' sales growth by allowing merchants to effortlessly produce effective ad content.
"The reinforced Edibot Banner service allows online merchants to deliver their products and contents to consumers more effectively," said Lee Jaesuk, CEO of Cafe24. "We will continue to support our merchants by improving their operational efficiency and launching innovative services that reflect the newest trends."
About Cafe24
Cafe24 is a global success platform that provides a one-stop business environment for e-commerce merchants so that they can achieve continued growth by focusing on their creativity.
Cafe24 has established an e-commerce ecosystem with Direct-to-Consumer (DTC) merchants and various global partners in areas like payment, shipping, and marketing. Cafe24 is poised for growth as more DTC brands and e-commerce participants continue to join the burgeoning industry.
About Edibot Banner
Edibot Banner is a service that allows merchants to easily create online banner advertisements (graphic images used by online stores to direct visitors' attention to important announcements and events). All Cafe24 merchants can use this service free of charge. Merchants can use it to create high-quality banners in just four steps: template selection, image editing, text editing, preview and saving. There is no need to seek help from professional designers or use various graphic tools. This service allows for reduced work time, usage of multiple templates and functions, and easy modifications.