Cafe24 now has 100 thousand merchants that use Edibot with AI-based e-commerce expansion
Press release
10K+ brands installed Edibot every quarter since 2019 4Q to improve operational efficiency
AI and big data analyze images to classify hundreds of photos quickly
Edibot reduces time spent on content design by 70%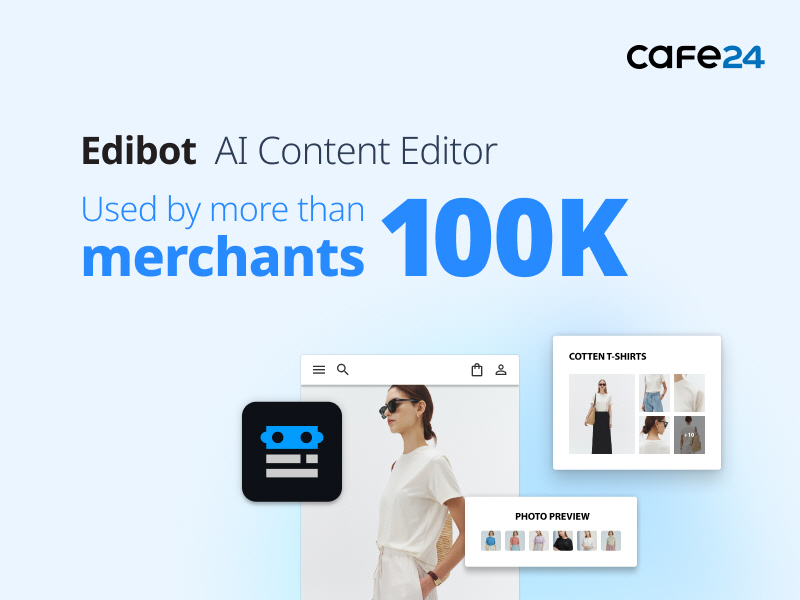 Cafe24's AI-based content creation solution Edibot has now surpassed 100 thousand users. The use of AI for e-commerce business growth is currently very active.
Global e-commerce platform Cafe24 announced on June 17 that by May 2021, a total of 107,549 companies had installed Edibot, which was introduced in March 2018.
Edibot is a service that supports easy online store content creation through AI and big data. Even a beginner can create a product information page like an expert in just a few clicks, significantly reducing work hours.
Through AI image analysis, product photos can be classified and arranged quickly according to photography techniques and the product's color and design. Processing 50 photos only takes up to 30 seconds. This solution eliminated the manual process of sorting and arranging hundreds of uploaded images one by one, increasing operational efficiency.
Product information pages can also be created with just a few simple clicks and dragging. Even without complex design programs, users can easily create high-quality product information pages with appropriately laid out product images, videos, and information. The page is then automatically optimized so customers can comfortably view it on both PC and mobile.
As Edibot's various advantages were becoming more acknowledged, the number of companies that installed the solution exceeded 10 thousand each quarter from 2019 Q4 until 2021 Q1. Regardless of business size – from startups and influencers to enterprises – all users and companies can easily apply AI to their businesses.
Real Edibot users that operate online stores provided positive feedback. CEO of Mono Daily Seo Da Rae especially praised Edibot's AI-based image analysis and simple user interface. After using Edibot, time spent on content design was reduced by almost 70%. "As we were increasing customers through our online store for over a decade, we were trying to find methods to improve quality of content while increasing work efficiency," said Seo. "Edibot was the solution to this concern as it sorts many product photos within seconds while producing a high-quality product information page."
Jin Young Choi, the CEO of Makepack – a company that provides packaging materials – also created online store content through Edibot. He started his business alone in 2019 and set a record of 2.33 million dollars in annual revenue in the past year. "With Edibot, creating product design content for product information pages has become much easier," said Choi. "The solution reduces the amount of effort I put in content creation and allows me to focus on product planning instead."
Cafe24 is continuously expanding Edibot's functions. In 2020, the mobile version of Edibot was introduced. At the beginning of this year, a search engine optimization function was installed to help increase Edibot users' product exposure.
Meanwhile, Cafe24's other AI and big data-based solutions are also being recognized by companies. Examples include Edibot Banner that creates banners for online stores and Edibot Social that integrates and manages various social media channels. Others are Edibot Promotion that registers events and analyzes data, and Edibot Review that inserts customer reviews in product information pages.
"We are developing AI and big data technologies to help increase the efficiency of e-commerce operation and lower entry barriers for startups," said Lee Jaesuk, CEO of Cafe24. "We will continue to grow a platform, where anyone can easily succeed with online stores."
About Cafe24
Cafe24 is a global success platform that provides a one-stop business environment for e-commerce merchants so that they can achieve continued growth by focusing on their creativity.
Cafe24 has established an e-commerce ecosystem with Direct-to-Consumer (DTC) merchants and various global partners in areas like payment, shipping, and marketing. Cafe24 is poised for growth as more DTC brands and e-commerce participants continue to join the burgeoning industry.