Cafe24 supports live commerce, opening doors to a 7.4B market
Press release
Service available for biz of all sizes, from entrepreneurs, influencers to companies
Merchants enjoy maximum freedom to sell 24/7 with just a smartphone
Data syncing in real-time makes product updates and promotions easy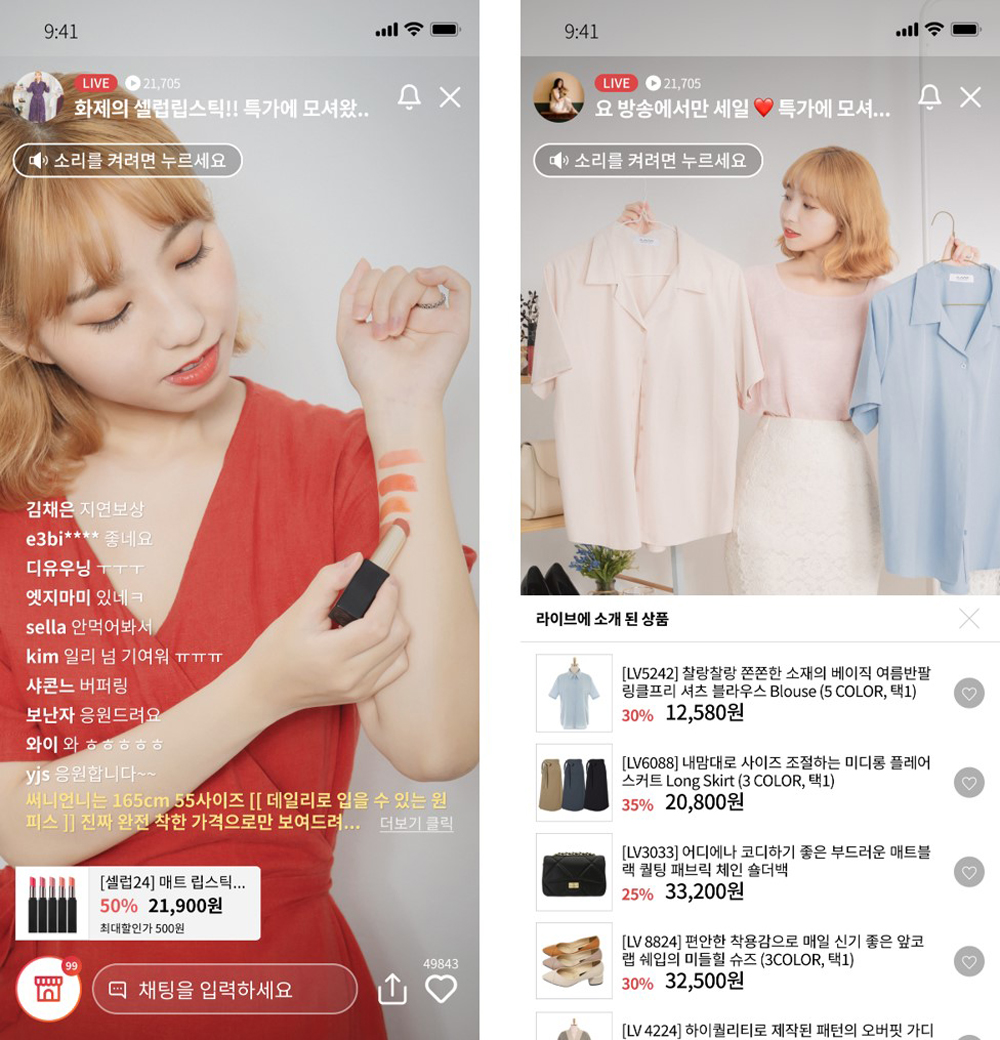 Cafe24 has lowered the barrier to entering Korea's prospective 7.4 billion-dollar live commerce market for its 1.8 million merchants.
Global e-commerce platform Cafe24 is providing access to a live commerce service for businesses of all sizes, from one-person brands to influencers and large companies, on Jan 6.
Live commerce is a method of selling that combines live video streaming with shopping. It allows sellers and buyers to interact and share information on products. Demand for live commerce is growing with the onset of contactless commerce. According to EBEST Investment & Securities, Korea currently has a 2.8 billion-dollar live commerce market, projected to grow to 7.4 billion dollars by 2023.
The new live commerce service enables merchants to go live and sell whenever they want, any day of the year. All they need is a smartphone. Until now, available services required merchants to go through complex processes to register for streams, sign contracts, and organize scheduling. These services were limiting and made it difficult for sellers to host a live-stream according to their individual preferences. With the service, merchants can open their online store admin page, input details like the live-stream time and featured products, and begin selling.
Real-time data integration between a merchant's online store and the live commerce service increases operational efficiency and convenience. Merchants can display tens to hundreds of products on their viewer-facing live commerce screen in a matter of clicks. Also, they can introduce a different product right away when a viewer requests it. Syncing data ultimately alleviates merchants from manual product registrations and limited product views.
Data integration also permits merchants to decide the scale and frequency of their promotional events freely. They can distribute various deals like discount codes or store credit to VIP or new members during the live stream by making a couple of clicks. These types of functions are effective in driving conversion rates.
The live commerce service provides various functions that make it easier to film and operate a live stream show. Merchants can stream their show in dual-screen mode and respond to announcements or inappropriate comments in the live chat. They can receive statistics and analysis on viewer count, page views, and the number of likes. And they can save streams as VODs to be made into more content.
Merchants using the live commerce service to communicate with their customers are basically using the trendiest tool and thus raise customer satisfaction. They are also directing consumers that prefer the live commerce format to their online stores. In this way, merchants can enhance their brand image and gain customer loyalty, leading to business growth.
Jaesuk Lee, CEO of Cafe24, said, "As live commerce gains global recognition, the new service will help merchants boost customer interaction and loyalty." He added, "Cafe24 will continue to keep pace with the rapidly changing e-commerce market to make it possible for anybody with creativity to grow their online business successfully."
About Cafe24
Cafe24 is a global success platform that provides a one-stop business environment for e-commerce merchants so that they can achieve continued growth by focusing on their creativity.
Cafe24 has established an e-commerce ecosystem with 1.8 million Direct-to-Consumer (DTC) merchants and various global partners in areas like payment, shipping, and marketing. Cafe24 is poised for growth as more DTC brands and e-commerce participants continue to join the burgeoning industry.