Cafe24-Shopee SEA biz webinar a success, merchants gain connection to 7 markets
Press release
K-brands' total GMV on Shopee last year increased 4X YOY
SEA's mobile shopping market to grow to 172B dollars by 2025
Cafe24 merchants gain support listing on Shopee, integrating orders, and translations
Korean brands' expansion to Southeast Asian markets is becoming much easier.
Global e-commerce platform Cafe24 hosted a webinar with Shopee on April 13 to share specific SEA expansion support strategies customized for K-brands.
The webinar attracted about 1,200 attendees as global experts from both Cafe24 and Shopee were scheduled to share expansion strategies. Representatives from businesses of all sizes – from online-based brands to enterprise businesses – attended to hear realistic advice on targeting local markets.
Shopee is one of SEA and Taiwan's biggest online marketplaces. Last year, it generated 35.4 billion dollars in GMV (gross merchandise volume) and processed 2.8 billion orders. In the same year, K-brands' combined GMV on Shopee grew four times compared to the previous year.
"Years of data show that K-brands' influence in the Southeast Asian market is continuing strong," said Yuna Kwon, Head of Korea Cross Border e-Commerce at Shopee Korea. "Their business volume is expected to grow more this year." She added, "Shopee Korea closely supports K-brands at every business growth stage to help them successfully make inroads into local markets."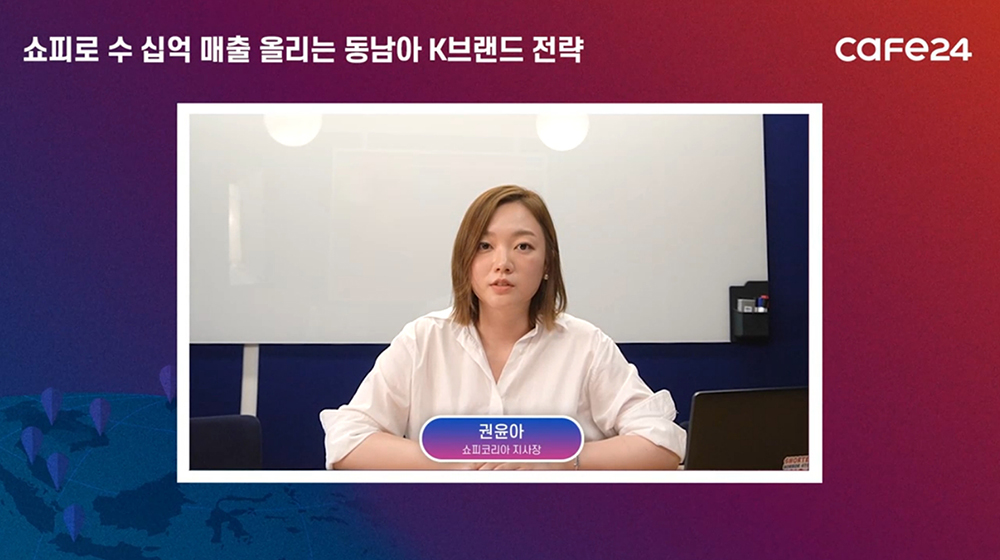 According to presentations, the volume of Korean fashion product orders on Shopee increased 2.2 times compared to the previous year. This indicates that Korean goods are in high demand in SEA, a region where the mobile shopping market alone is expected to grow to 172 billion dollars by 2025.
Lee JongSeok, Cross Border Business Development E-commerce Specialist at Shopee Korea, spoke about various strategies that merchants can employ when launching and growing their business in SEA.
"K-brands that list on Shopee and upload at least ten items for sale can receive support for growing their business in their target markets, including Singapore, the Philippines, and Taiwan," he explained. "Afterwards, they get help in areas like driving sales volume, logistics, and marketing." He added, "Shopee will drive synergy by combining popular strategies in Southeast Asia like live streaming and mobile coupons with Hallyu marketing." According to Lee, Shopee will further optimize localization strategies in countries like Vietnam and Indonesia, where the local language is more widely used than English.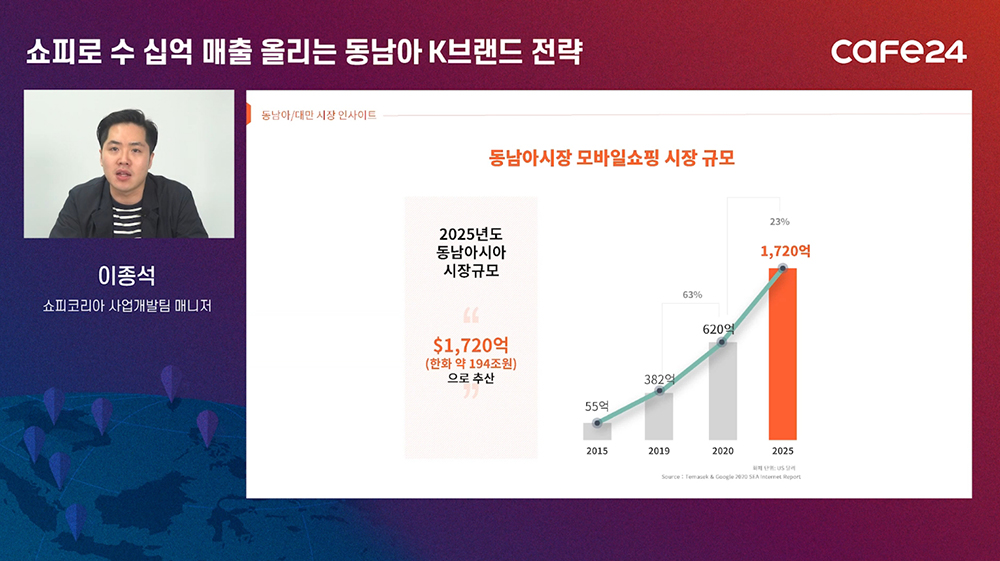 Song Junhwan, Manager of International Markets at Cafe24, introduced Cafe24 and Shopee's joint business support program. The Shopee Starter Package reduces the time and effort it takes for merchants to register on the marketplace. Even merchants that don't have experience listing and selling on international marketplaces can create accounts by country, integrate orders, register products, and process translations in a matter of clicks.
Song also demonstrated Cafe24's Multimarket Management service. Merchants using the service can upload new products to their Direct-to-Consumer (DTC) online stores and see the same products automatically updated to their Shopee listings.
"We've greatly simplified the process from registering products on Shopee to driving local sales," Song added. "We've made it possible for merchants to sell from their offices in Korea directly to major countries in Southeast Asia, cutting down the time and effort it takes to do business overseas."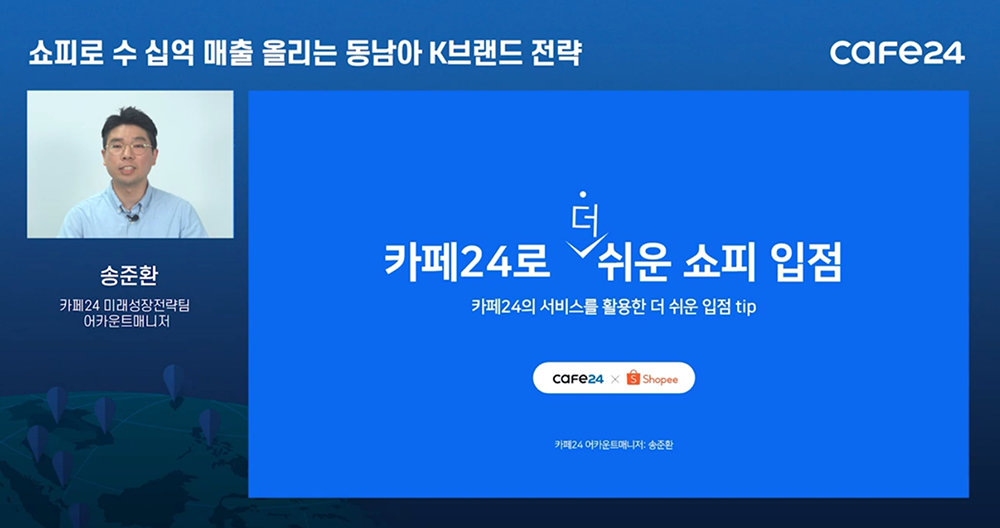 The webinar spotlighted SKIN1004, a cosmetics brand operating a Cafe24-powered DTC store that successfully established a presence in SEA through Shopee. SKIN1004 smoothed out complex logistics systems and raised its brand awareness in various markets in the region. In turn, the brand was able to catch customer responses quickly and develop their marketing strategies to promote their products more effectively.
Cafe24 and Shopee will continue to work together to support Korean businesses' international success.
Lee Jaesuk, CEO of Cafe24, said, "The rapid rise of Southeast Asia's e-commerce market combined with Hallyu's local popularity creates valuable opportunities for Korean merchants to succeed." He added, "Cafe24 is focused on hyperconnecting technologies with partner companies like Shopee."
About Cafe24
Cafe24 is a global success platform that provides a one-stop business environment for e-commerce merchants so that they can achieve continued growth by focusing on their creativity.
Cafe24 has established an e-commerce ecosystem with Direct-to-Consumer (DTC) merchants and various global partners in areas like payment, shipping, and marketing. Cafe24 is poised for growth as more DTC brands and e-commerce participants continue to join the burgeoning industry.
About Multimarket Management
The Multimarket Management service is a tool that helps Direct-to-Consumer (DTC) stores sell on online marketplaces, social commerce sites, and other external marketplaces by syncing products with the main Cafe24 DTC store. Adding new products, managing orders and shipping information can all be efficiently managed from the Cafe24 admin. This service enables merchants to sell their products on multiple online channels with less complexity and maximize sales.