Cafe24 reveals secrets to successful global e-commerce with PayPal and Eximbay
Press release
Webinar with global payment processing companies PayPal and Eximbay on the 11th
Experts to show payment solution usage, big data marketing, global expansion success cases
Expected to help domestic online merchants with active global expansion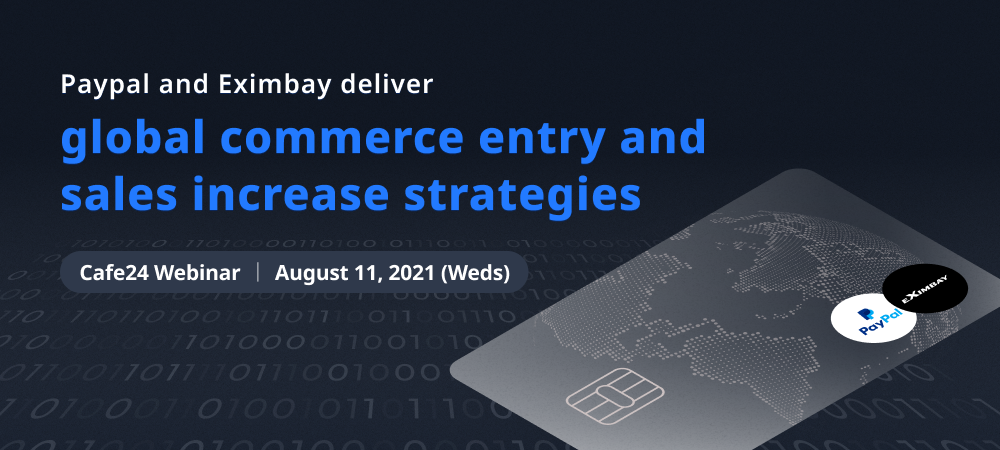 Cafe24 and global payment processing companies PayPal and Eximbay will provide tips and solutions to help domestic online stores succeed more quickly in international markets.
Global e-commerce platform Cafe24 announced on August 4 that it will be hosting 'Global Commerce Entry and Sales Increase Strategies' webinar with speakers from global payment processing companies PayPal and Eximbay on August 11 at 2 p.m. KST.
PayPal is one of the largest global payment processing companies in the world, empowering more than 400 million consumers and merchants in more than 200 markets. Eximbay provides country-specific payment services that consumers highly trust, such as Visa and Mastercard in the US, Alipay and UnionPay in China, convenience store payments in Japan, and YooMoney in Russia.
Tim Fu, Market Leader of Hong Kong, South Korea and Taiwan of PayPal and other experts will share helpful information. Main contents will include big data-based global e-commerce market trends and tips on how to use PayPal and Eximbay's payment solutions. Other topics will include marketing know-how best fit for each country and Cafe24's global expansion services and success cases.
This webinar is free, and anyone can register on the Cafe24 website.
"Through e-commerce expansion know-how of companies active in global markets such as PayPal and Eximbay, we expect online merchants' global expansion to increase," said Lee Jaesuk, CEO of Cafe24. "We will continue to collaborate with global partners to help domestic online merchants succeed in markets globally."
Meanwhile, Cafe24 offers locally optimized payment services fit for e-commerce, such as SB Payment Service, PayPay, Alipay, and UnionPay, in addition to PayPal and Eximbay.
About Cafe24
Cafe24 is a global success platform that provides a one-stop business environment for e-commerce merchants so that they can achieve continued growth by focusing on their creativity.
Cafe24 has established an e-commerce ecosystem with Direct-to-Consumer (DTC) merchants and various global partners in areas like payment, shipping, and marketing. Cafe24 is poised for growth as more DTC brands and e-commerce participants continue to join the burgeoning industry.