Cafe24 launches Edibot Thumbnail, an instant thumbnail-generator
Press release
Novice merchants can easily create professional-looking thumbnail images
Convenient usability combined with artificial intelligence boosts operation efficiency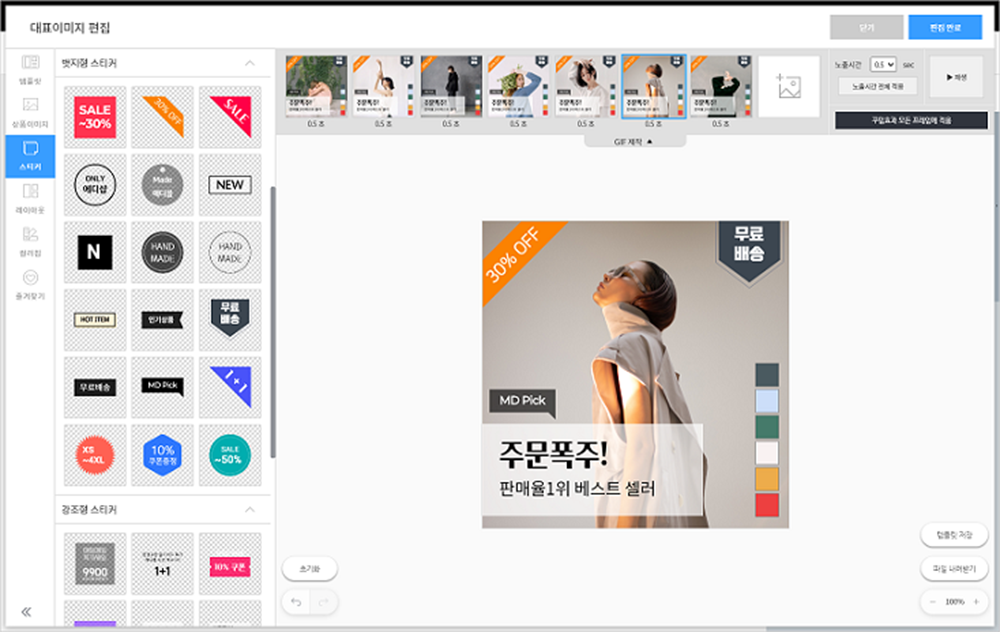 Global e-commerce platform Cafe24 launched its AI-based Edibot Thumbnail tool that generates online store thumbnail images instantly.
A thumbnail in an online store's shopping page acts as a small preview image of the product being sold. It is the first image of a product that a shopper encounters, so it tends to influence the click and conversion rates. Hence, merchants consider thumbnail production to be important.
Previously, making thumbnails required professional graphic tools like Photoshop or Illustrator. Merchants also needed additional help from experts. Edibot Thumbnail enables merchants with no prior graphic tool knowledge to make thumbnail images quickly and easily all by themselves.
The service currently provides eight free templates and will gradually add more options in the future. It uses the Drag and Drop function and can even create thumbnails with moving images called GIFs (Graphics Interchange Format). Also, AI can automatically identify all available product colors from the uploaded photos and insert the color options at the bottom of the thumbnail. In other words, Edibot Thumbnail is an all-in-one tool that makes it easy to generate thumbnail images with just a couple of clicks.
To use Edibot Thumbnail, the merchant must first select a free template. Inserting a text or photo completes the thumbnail. They can go on to create a GIF file if they wish to show a series of moving images that show product colors and styling.
Considering how tens to a couple of hundred thumbnails are produced every day, Edibot Thumbnail will be able to improve operational efficiency significantly. It is free to use for all Cafe24 merchants.
Jaesuk Lee, CEO of Cafe24, said, "Cafe24 is launching new services that focus on boosting usability and convenience so that businesses can operate more smoothly." He added, "Cafe24 aims to sophisticate our services to create an environment where anyone can easily start an e-commerce business."
About Cafe24
Cafe24 is a global success platform that provides a one-stop business environment for e-commerce merchants so that they can achieve continued growth by focusing on their creativity. Cafe24 has established an e-commerce ecosystem with 1.7 million Direct-to-Consumer (DTC) merchants and various global partners in areas like payment, shipping, and marketing. Cafe24 is poised for growth as more DTC brands and e-commerce participants continue to join the burgeoning industry.
About Edibot

Cafe24's Edibot presents a series of AI-based content creation and editing tools specifically designed for online businesses. Edibot launched in 2018 as a service that utilizes AI to instantly create product detail pages for online stores. Since then, Cafe24 has rolled out more tools to make running an online store easier. Edibot Themes makes online store template editing easy with the drag-and-drop method. Edibot Banner helps create and edit web ad banners. Edibot Fit automatically inserts relevant size charts in a suitable language under the product details section. Edibot Review creates digital content based on customer reviews.