Cafe24 hosts webinar with 35B dollar platform Shopee to support rapid merchant growth in SEA
Press release
Integrating an online store with Shopee opens doors to 7 SEA markets
Experts share customized marketing and logistics strategies for driving sales
K-brands gain opportunities for growth in a region with 660M consumers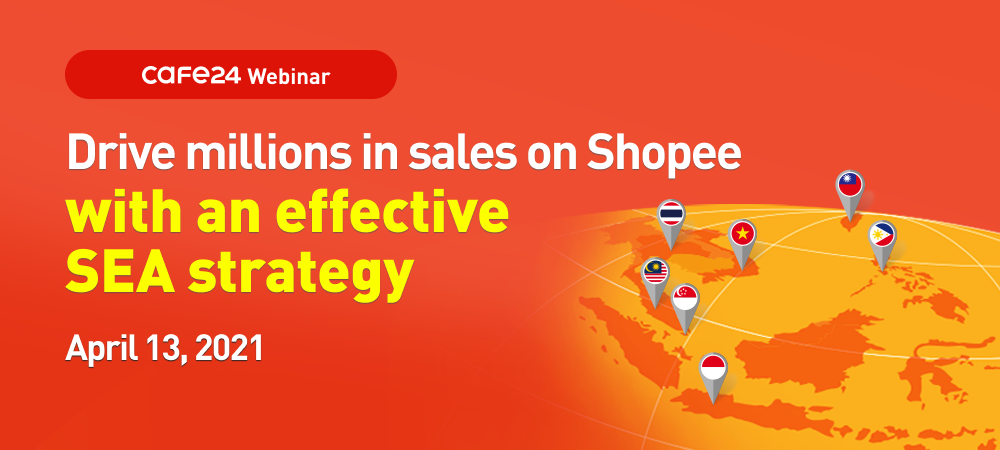 Cafe24 and Shopee, the biggest e-commerce platform in Southeast Asia (SEA) and Taiwan, are helping Korean merchants establish online sales strategies for maximizing exports.
Global e-commerce platform Cafe24 will be hosting a webinar for merchants on building effective SEA strategies with Shopee on April 13, at 2 p.m.
Headquartered in Singapore, Shopee is one of SEA's biggest online marketplaces. Last year, it generated 35.4 billion dollars in GMV (gross merchandise volume) and processed 2.8 billion orders. It currently lists an accumulation of 10 million sellers on its marketplace.
Cafe24 and Shopee have worked together to support Korean businesses' expansion to SEA. Their joint goal is to help merchants sell more K-branded goods locally. In this way, more K-brands will have the opportunity to grow their business in a region with a total population of 660 million people.
Hence, the two companies have developed a strategy that uses Cafe24's Multimarket Management service to directly integrate Cafe24's DTC (Direct-to-Consumer) online stores with the Shopee marketplace. Merchants using the service can upload new products to their online stores and the same products will automatically list on Shopee's seven regional sites in Singapore, the Philippines, Indonesia, Malaysia, Thailand, Vietnam, and Taiwan.
Experts from both companies, including Yuna Kwon, Head of Korea Cross Border e-Commerce at Shopee, will be presenting at the webinar. They will give insights into how businesses can leverage Cafe24 and Shopee's global infrastructure to drive millions in sales quickly.
Already, interest is building around sales strategies customized to SEA markets where Shopee has a presence. Topics will include listing on Shopee's marketplaces, operating logistics systems suited to local conditions, and K-brand marketing case studies for successfully attracting local customers.
There is also much anticipation for the presentation introducing a brand that made inroads into the SEA markets through its DTC online store. The brand's first-hand experience gained through its rapid rise to popularity will be valuable to merchants preparing to expand their business to the region.
The webinar is free to attend for anyone launching or operating an online business. Applications are available on the Cafe24 homepage.
Lee Jaesuk, CEO of Cafe24, said, "The SEA market's explosive growth combined with the Korean wave's popularity will bring about bigger opportunities for merchants in Korea." He added, "Cafe24 will continue to work with Shopee to support K-brands grow in SEA."
About Cafe24
Cafe24 is a global success platform that provides a one-stop business environment for e-commerce merchants so that they can achieve continued growth by focusing on their creativity.
Cafe24 has established an e-commerce ecosystem with Direct-to-Consumer (DTC) merchants and various global partners in areas like payment, shipping, and marketing. Cafe24 is poised for growth as more DTC brands and e-commerce participants continue to join the burgeoning industry.
About Multimarket Management
The Multimarket Management service is a tool that helps Direct-to-Consumer (DTC) stores sell on online marketplaces, social commerce sites, and other external marketplaces by syncing products with the main Cafe24 DTC store. Adding new products, managing orders and shipping information can all be efficiently managed from the Cafe24 admin. This service enables merchants to sell their products on multiple online channels with less complexity and maximize sales.