Cafe24 hosts 'Influencer Commerce' webinar, shares 1.35-million-dollar monthly revenue success story
Press release
Online brand CEO & influencer Habiunni, Onepound, Haselmode share biz experiences
Social media tips for customer communication and content creation
Winning strategies for a DTC store's role and design shared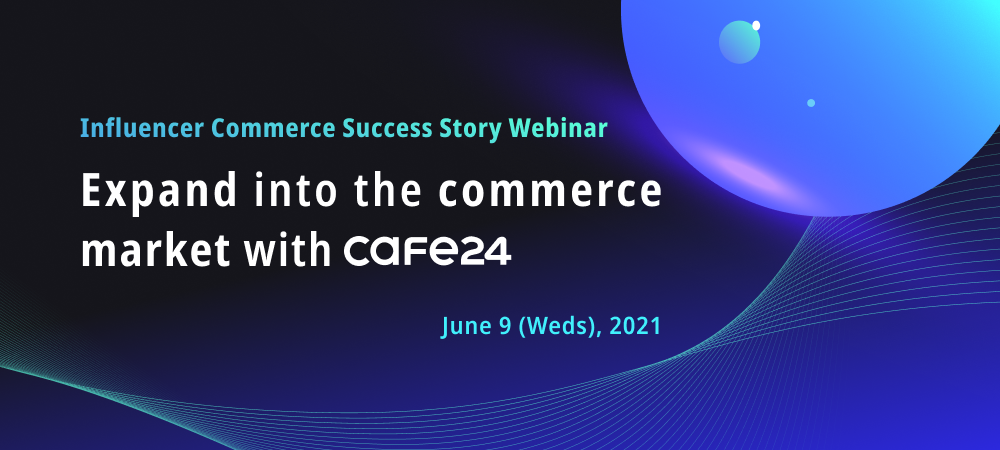 Famous influencers and CEOs of online brands will be presenting successful e-commerce strategies that use social media.
Global e-commerce platform Cafe24 announced on June 3 that it will be hosting 'Influencer Commerce' webinar on June 9 at 2 p.m. KST.
This webinar will feature brand CEOs Choi Min Ji of Habiunni, Lee Ji Hoon of Onepound, and Lee YeJi of Haselmode as speakers. They are social media influencers on YouTube, Instagram, and blogs, and are also CEOs who utilized Cafe24 to open and successfully expand their online DTC (Direct to Consumer) stores.
Choi Min Ji, CEO of Habiunni – a women's fashion brand – introduces styling tips and items that help women look and feel good on her YouTube channel. She appears in the videos to try on different clothes and communicate with her followers. Choi is also her brand's model, who receives positive feedback from female customers in their twenties and thirties. Habiunni has 170 thousand YouTube followers and monthly revenue of 1.35 million dollars.
Choi will present methods and experiences to rapidly expanding her online store. A number of useful tips for communicating with customers and operating a YouTube channel will be emphasized.
Lee Ji Hoon, CEO of Onepound is an Instagram influencer, who accumulated 160 thousand followers through his amicable personality. He established and has been leading the lifestyle fashion brand since 2014, with revenue doubling every year.
He will demonstrate the significance of operating an online DTC store as well as communication and marketing tips using social media channels. Strategies to create social media content that leads to sales and strengthen product selling points while communicating with customers will be disclosed.
Lee Yeji, CEO of Haselmode – a women's fashion brand – is the first generation of bloggers. While in school, she managed her blog to post photos of her favorite clothes and eventually sell them. The number of customers increased, and in 2014, she was able to further expand her business by launching an online store.
She will present exclusive techniques to decorate online stores similar to decorating social media channels in a way that can grab customers' attention and lead to increased revenue. She will disclose tips to decorate online stores to look as friendly as a friend's social media page and methods to expand businesses consistently.
This upcoming webinar is free, and anyone can register on the Cafe24 website. This will be helpful to merchants trying to use social media and online stores simultaneously to create synergy. Social media influencers planning to launch their brands can also register and benefit from the webinar.
"Social media channels are platforms that allow for more personal and friendly communication with customers," said Lee Jaesuk, CEO of Cafe24. "We hope our merchants can take away business expansion strategies from this webinar that uses social media channels and online DTC stores together."
About Cafe24
Cafe24 is a global success platform that provides a one-stop business environment for e-commerce merchants so that they can achieve continued growth by focusing on their creativity.
Cafe24 has established an e-commerce ecosystem with Direct-to-Consumer (DTC) merchants and various global partners in areas like payment, shipping, and marketing. Cafe24 is poised for growth as more DTC brands and e-commerce participants continue to join the burgeoning industry.