Cafe24 hosts 'Global Success Story' webinar to reveal strategies that can help lead to billions in revenue
Press release
CEOs of successful global online stores, Acmé de la vie, Chuu, and Ground Plan as speakers
Know-how to grasp locals' preferences and production methods for global customers revealed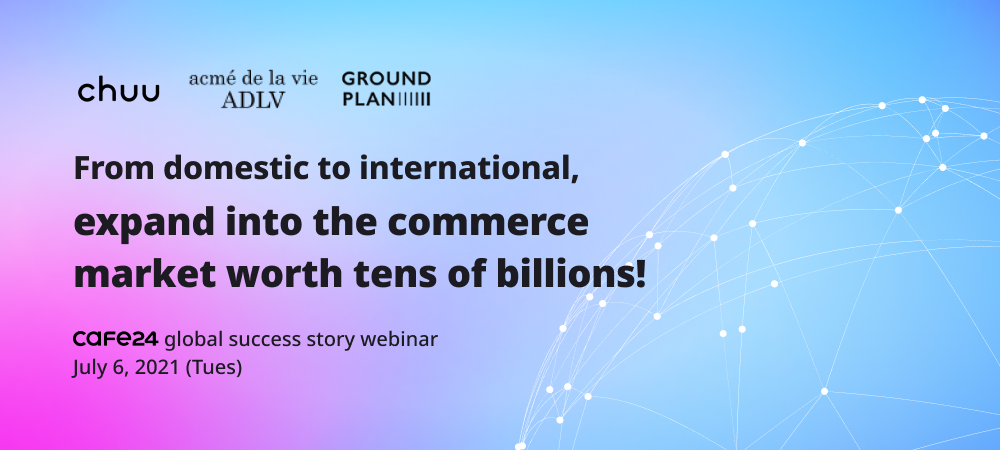 Online store CEOs who succeeded in expanding businesses through international market penetration will be disclosing various know-how.
Global e-commerce platform Cafe24 announced on June 29 that it will be hosting 'Global Success Story' webinar on July 6 at 2 p.m. KST.
This webinar will feature brand CEOs Goo Jaemo and Goo Jinmo of Acmé de la vie (ADLV), CEO Kim Yoon Kyung of Ground Plan, and Fashion Business team's General Director Kim Noah of Chuu. They will be sharing online store experiences succeeding in global markets and strategies that can help penetrate such markets.
Streetwear brand ADLV was found with only 2,600 dollars, but in three years became a brand with annual revenue of 44.2 million dollars. Since the brand targeted global markets from the very start, it was able to become successful quickly. CEOs Goo Jaemo and Goo Jinmo will reveal strategies to enter and create signature products specifically fit for each country, as well as know-how to increase repurchase rates.
Women's fashion brand Chuu generates about 80% of its total revenue in global markets such as Japan and China. The secret to stable international growth lies in localization. Fashion Business team's General Director Kim Noah will introduce various localization strategies, including methods to identify local customers' preferences.
Ground Plan is a cosmetics brand that produced over a million mega-hit items both domestically and internationally. CEO Kim Yoon Kyung will showcase international sales strategies for different countries and production strategies that helped attract customers globally.
This webinar is free, and anyone can register on the Cafe24 website. Online merchants will be able to learn practical strategies that can help increase revenue through global market penetration.
"Due to the Korean Wave, preferences for Korean products and culture are increasing all around the world, and Cafe24 has both the technology and infrastructure that allow easy purchases abroad," said Lee Jaesuk, CEO of Cafe24. "We will continue to support online merchants so they can expand businesses beyond borders."
About Cafe24
Cafe24 is a global success platform that provides a one-stop business environment for e-commerce merchants so that they can achieve continued growth by focusing on their creativity.
Cafe24 has established an e-commerce ecosystem with Direct-to-Consumer (DTC) merchants and various global partners in areas like payment, shipping, and marketing. Cafe24 is poised for growth as more DTC brands and e-commerce participants continue to join the burgeoning industry.