Cafe24 and Toss sign MOU for financial service partnership geared to businesses
Press release
Strategic partnership with Viva Republica, operator of mobile financial service Toss
Cooperation in various fields, including financial service development for online businesses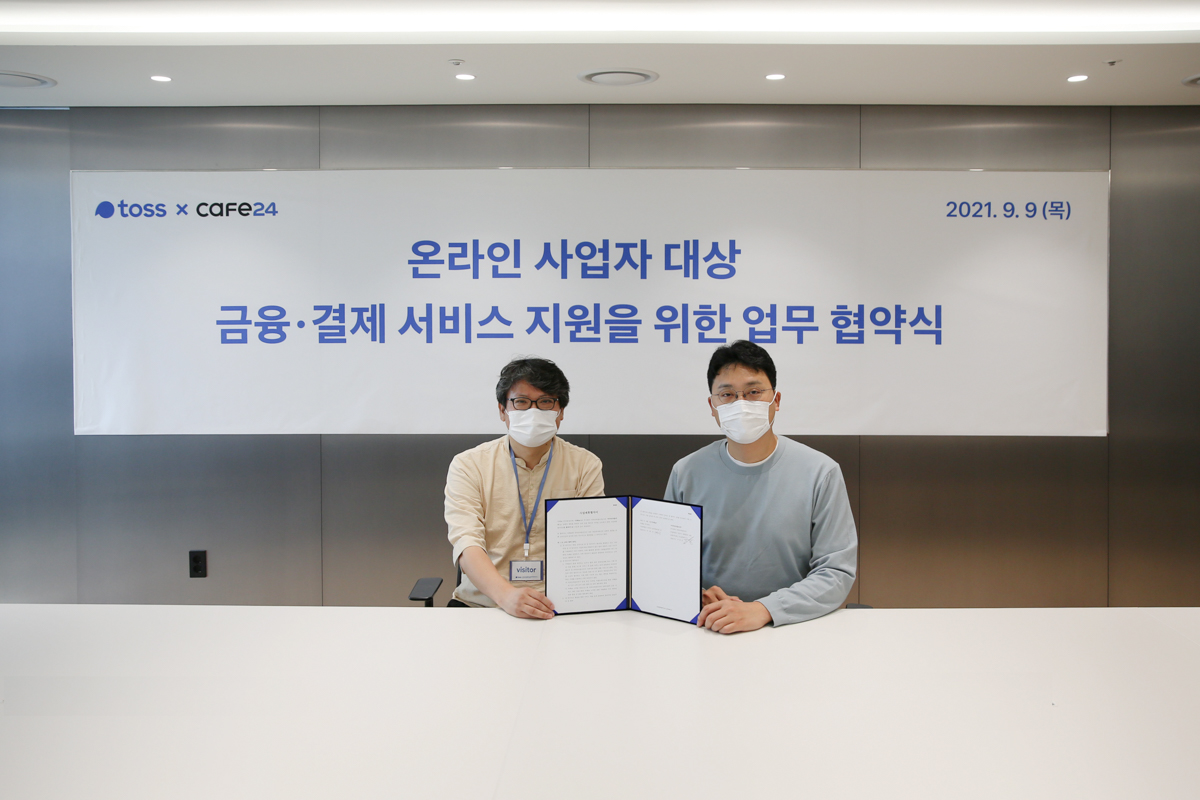 Cafe24 partners with Toss to strengthen financial and payment services for online businesses.
Global e-commerce platform Cafe24 announced on September 9 that it signed an MOU with Viva Republica, which operates mobile financial service Toss to support financial and payment services for online businesses.
This strategic partnership includes Cafe24 and Toss community (Toss and subsidiaries)'s various interactions related to financial and payment services for online business growth. The two companies will collaborate to develop new financial products such as loans for Cafe24's online merchants and proceed with various marketing activities to attract new customers. They also plan to create convenient payment gateway service and simple contract system for online businesses.
In addition, Cafe24 and Toss will work together for platform integration to revitalize the creation of new online businesses. They will provide a service that allows anyone interested in creating online stores to easily use Cafe24's platform through Toss' app. Cafe24 plans to actively support API integration and other technical cooperation to provide these services without any difficulties.
Cafe24 expects to further accelerate online merchants' growth through various financial and payment services provided by Toss. Through its own platform operation experiences and know-how from 20 million users, Toss will be able to offer differentiated financial and payment services. From this, Toss expects to expand its business with Cafe24's online merchants significantly.
"Through a partnership with Toss, we expect to advance Cafe24's financial and payment services," said Lee Jaesuk, CEO of Cafe24. "We will continue to collaborate with various partners to help online businesses."
"This strategic partnership with Cafe24 is meaningful as it is our first collaboration to help online businesses' growth in the Toss community level," said Lee Seung-gun, CEO of Toss. "We are striving to make sure more companies can collaborate with Toss in the future."
Meanwhile, Cafe24 consistently works together with various payment and financial partners to support online businesses. In April, it collaborated with KB Kookmin Bank to showcase an unsecured loan service. In August, it hosted 'Global Commerce Entry and Sales Increase Strategies' webinar with global payment processing companies PayPal and Eximbay.
About Cafe24
Cafe24 is a global success platform that provides a one-stop business environment for e-commerce merchants so that they can achieve continued growth by focusing on their creativity.
Cafe24 has established an e-commerce ecosystem with Direct-to-Consumer (DTC) merchants and various global partners in areas like payment, shipping, and marketing. Cafe24 is poised for growth as more DTC brands and e-commerce participants continue to join the burgeoning industry.