Cafe24 and Shoplist help Korean biz expand to Japan
Press release
Biz strategies webinar with Shoplist, a Japanese fashion brand with 1.84M users
Japan expert says rising demand for K-fashion will help businesses succeed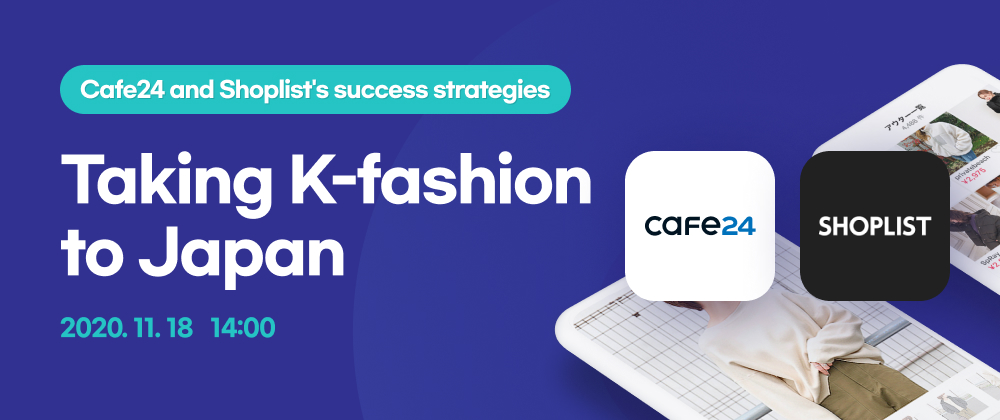 Global e-commerce platform Cafe24 will be holding a joint webinar with Japan's online fashion brand Shoplist on expanding Korean merchants' business to Japan. The webinar will take place on November 18, at 2 p.m. KST.
Shoplist is a fashion conglomerate that operates an online store listing 800 global fast fashion brands, including Giordano and Gap. Its popularity is evident from its 1.84 million users and more than 10 million app downloads. It is the second-largest online fashion brand in Japan by revenue. In April of last year, Shoplist signed a strategic partnership with Cafe24 for the vitalization of fashion e-commerce in Korea and Japan.
Kazuya Santo, Head of Global Business at Shoplist, will deliver the keynote on rising K-fashion trends and how businesses can strategize to succeed in Japan's online fashion market. His presentation aims to help Korean merchants expand into the local market with the most effective and localized strategies.
Cafe24 and Shoplist will also announce how merchants can make their overseas business expansion much quicker and easier with the two companies' system integration. Other webinar topics will include K-fashion brand best cases, spending patterns and culture of Japanese consumers, tips for expanding local sales channels, revenue-driving know-how, influencer marketing strategies, and listing on Shoplist's online store.
The upcoming webinar will be free to attend. Anyone interested in doing business in Japan can register on Cafe24's homepage.
Jaesuk Lee, CEO of Cafe24, said, "The increasing regard for K-fashion continues to fuel global demand." He added, "We will continue to hold more events like this to provide our merchants with good strategies and know-how for doing global business."
Meanwhile, the buzz for Korean products in Japan is growing by the day. According to Statistics Korea, it is the third biggest Direct-to-Consumer (DTC) export market in terms of sales volume, followed by China and the US. Younger consumers especially enjoy Korean fashion. Korean brands like 66 Girls and EnvyLook have harnessed that trend and made successful inroads into the local market.
About Cafe24
Cafe24 is a global success platform that provides a one-stop business environment for e-commerce merchants so that they can achieve continued growth by focusing on their creativity.
Cafe24 has established an e-commerce ecosystem with 1.8 million Direct-to-Consumer (DTC) merchants and various global partners in areas like payment, shipping, and marketing. Cafe24 is poised for growth as more DTC brands and e-commerce participants continue to join the burgeoning industry.