Cafe24 and Google share online sales strategies to increase conversion by 2.3 times
Press release
Google's Mike Romoff sets high expectations for Cafe24 and Google's partnership
Google Channel makes syncing products to Google Shopping and starting Search campaigns easier
Google's optimized machine learning doubles stores' product conversion rate and ROAS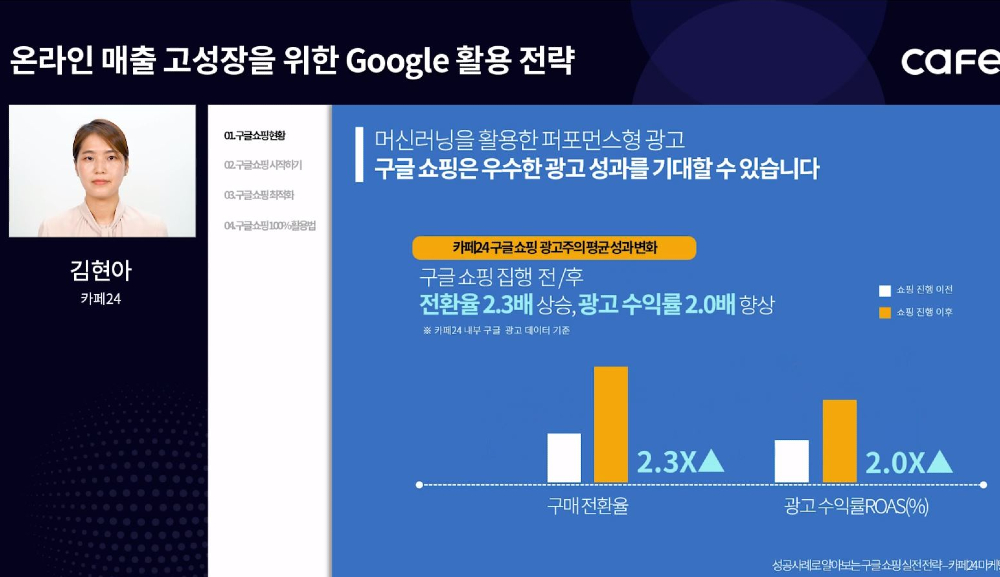 Strategies for online store merchants to draw more customers and sales within Google's commerce ecosystem have been revealed.
Global e-commerce platform Cafe24 hosted its 'Google online sales strategies' webinar on November 18. Following the launch of Cafe24 and Google's joint Google Channel marketing service in June, Cafe24 hosted a webinar to share efficient ad strategies and success stories.
At this webinar, Google Customer Solution Vice President Mike Romoff, who leads the Google Channel Partner department, attended as the keynote speaker.
"Thank you so much for spending time with us today in this session about our special partnership between Google and Cafe24," said Romoff. "We hope you spend this time with us today learning about Google's large ecosystem and how you can take advantage of it through our special partnership with Cafe24. Our hope is by spending this time with us; you can learn more about how we can help you grow your business."
The webinar held an in-depth session introducing the Google Channel service, which allows merchants to display products and run ads on Google easily. By using the Google Channel service, merchants can manage all the tasks from the store's admin page, all in one-stop. The service helps merchants increase their work efficiency by running a single ad campaign on Google's multiple channels such as Google Shopping, YouTube, Gmail, and Google Display Network.
According to Google, the online commerce market environment has changed significantly since the start of COVID-19. As online spending increased and product categories became broader, consumers' shopping behaviors got more complicated. Google's research showed that consumers surf through more online shopping platforms than before to gather product information and compare prices. More than 60% of consumers started shopping on more platforms, using more than 20 channels on average.
Online shopping sales increased by 25%, and the number of purchases increased by 40% since COVID-19. Spending increase can be attributed to more people from all generations participating in online shopping as well as products like fresh produce, which were traditionally sold offline, moving to online sales channels.
Google emphasized the three steps – recognition, consideration, action – merchants have to consider to reach consumers more efficiently. In the beginning, merchants have to raise brand recognition. They have to put a lot of effort into considering how to advertise their brand and products. Once brand awareness is established, merchants then need to take action by running a strong ad campaign that will immediately affect consumers' decision to purchase products.
According to Cafe24 Marketing, more merchants chose to advertise through Google Shopping Ads.
"Of the online stores using Google Ads, 85% of the users utilize Google Shopping Ads campaigns, which is very high," said Kim Hyuna, head of the Cafe24 Google Specialist Team. "Google Shopping Ads campaigns is efficient because it uses machine learning to automatically optimize ads and deliver results. Merchants who chose to use Google Shopping Ads saw their average purchase conversion rate go up by 2.3 times and ROAS (Return On Advertising Spend) double."
A women's apparel brand that conducted its Google Shopping marketing campaign with Cafe24 Marketing saw its ROAS increase by 103% in just a month. Another women's apparel brand ran its ad campaign on Google Shopping and Search. The brand saved 60% of the regular cost to draw a single consumer and doubled its ROAS.
"We hope more merchants will meet more customers around the world," said Lee Jaesuk, CEO Cafe24. "Moving forward, Cafe24 will continue to create a stepping stone through close partnership with global partners to help online merchants succeed."
About Cafe24
Cafe24 is a global success platform that provides a one-stop business environment for e-commerce merchants so that they can achieve continued growth by focusing on their creativity.
Cafe24 has established an e-commerce ecosystem with Direct-to-Consumer (DTC) merchants and various global partners in areas like payment, shipping, and marketing. Cafe24 is poised for growth as more DTC brands and e-commerce participants continue to join the burgeoning industry.