Cafe24-Kakao to reveal mobile ad strategies that drive 400% in revenue
Press release
Cafe24 Marketing shares big data insights drawn from 1.9 million online stores
Expert highlights ad strategies based on Kakao Talk's 46-million-user platform
Cafe24 Marketing case study shows 400% revenue and 250% customer increase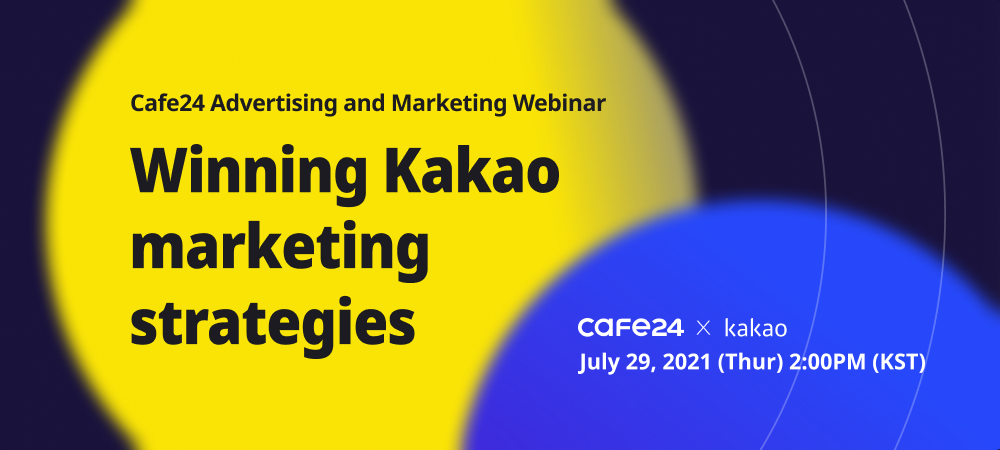 Global e-commerce platform Cafe24 announced that it will be hosting its 'Winning Kakao marketing strategies' webinar with Kakao on July 29, 2 p.m. KST.
The upcoming webinar will be spearheaded by Cafe24 Marketing, the company's marketing arm that expertly draws advertising strategies from Cafe24's big data of 1.9 million online stores. Presentations will be geared toward growing online brands and will discuss marketing strategies built on style trends, customer behavior patterns, and sales trends. Discussions will pinpoint effective ad management know-how and best-use cases for global ad platforms like Facebook, Instagram, and Google.
A Kakao expert will also share the best ways to use the company's advertising services based on Kakao Talk, its chat service with 46 million users. The session will explore how merchants can utilize Kakao's many tools like Kakao Sync, Talk Notification, Kakao Pixel & SDK (software developer suite) to create effective online campaigns.
The case study of an online brand that successfully pushed its advertising strategy to gain more revenue will also be shared. Clothing brand Kammi Apparel launched its Kakao advertising campaign via Cafe24 Marketing services last year. From September 2020 to June 2021, the brand's revenue rose 400% and customer numbers jumped 250%.
Going forward, Cafe24 will be hosting more strategic webinars with its advertising partners. The company hopes to help merchants apply advertising know-how to their online store operations and grow their business even faster.
The webinar is free to attend, and sign-ups are available on the Cafe24 homepage.
"Cafe24 Marketing's expertise is differentiated by the big data of our 1.9 million stores and is the key to guiding brand after brand to success," said Lee Jaesuk, CEO of Cafe24. "We will continue to provide systematic consulting and partner with various companies to help more merchants succeed in their marketing efforts."
Meanwhile, Cafe24 and Kakao signed an MOU for vitalizing e-commerce marketing in December 2019.
About Cafe24
Cafe24 is a global success platform that provides a one-stop business environment for e-commerce merchants so that they can achieve continued growth by focusing on their creativity.
Cafe24 has established an e-commerce ecosystem with Direct-to-Consumer (DTC) merchants and various global partners in areas like payment, shipping, and marketing. Cafe24 is poised for growth as more DTC brands and e-commerce participants continue to join the burgeoning industry.