Cafe24 and CJ ENM share content marketing strategies for DTC biz
Press release
DTC is the best strategy for creating content and going global
DADA Pick's content-based approach reaped 40X biz growth in less than two yrs
Direct-to-Consumer (DTC) and content are emerging as the key strategies to succeed in e-commerce in the post-COVID era.
Global e-commerce platform Cafe24's webinar with CJ ENM on "DTC Brand's Post-Pandemic Content Marketing Strategies" attracted more than 1,000 merchants and attendees.
The webinar focused on the DTC business model and content marketing. Cafe24 and CJ ENM experts shared insights that e-commerce merchants can use to increase their business competitiveness.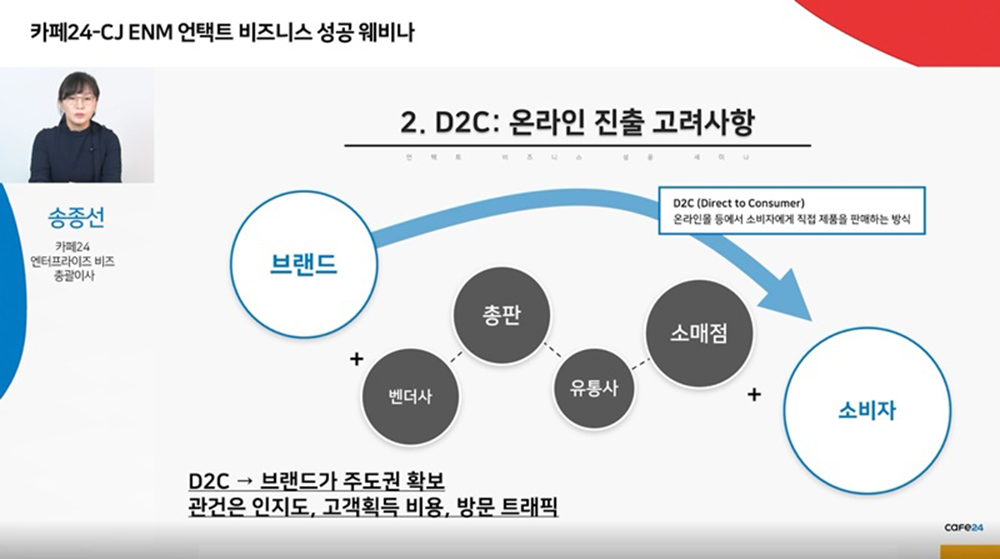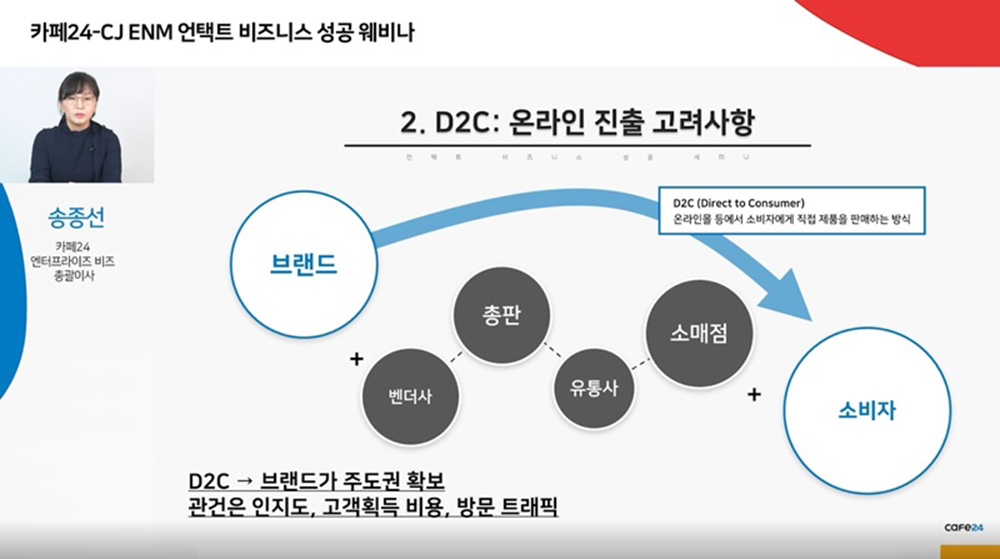 Jessica Song, Head of Cafe24's Enterprise Business, emphasized DTC in e-commerce and further explained its importance. DTC stores have the advantage of publishing plenty of image, text, and video content on their store website. Stores are also easily integrated with major social media channels like Facebook, Instagram, blogs, messengers, and online marketplaces in various countries. Such extended presence on multiple channels allows merchants to scale their contents' exposure to consumers worldwide.
"Merchants should view their DTC stores as a type of base camp through which they can center their globalization strategies," said Song. "The key to their success will be leveraging multiple channels like online marketplaces that have different customer targets." She added, "DTC should be the first game plan for brands wanting to maximize their competitiveness."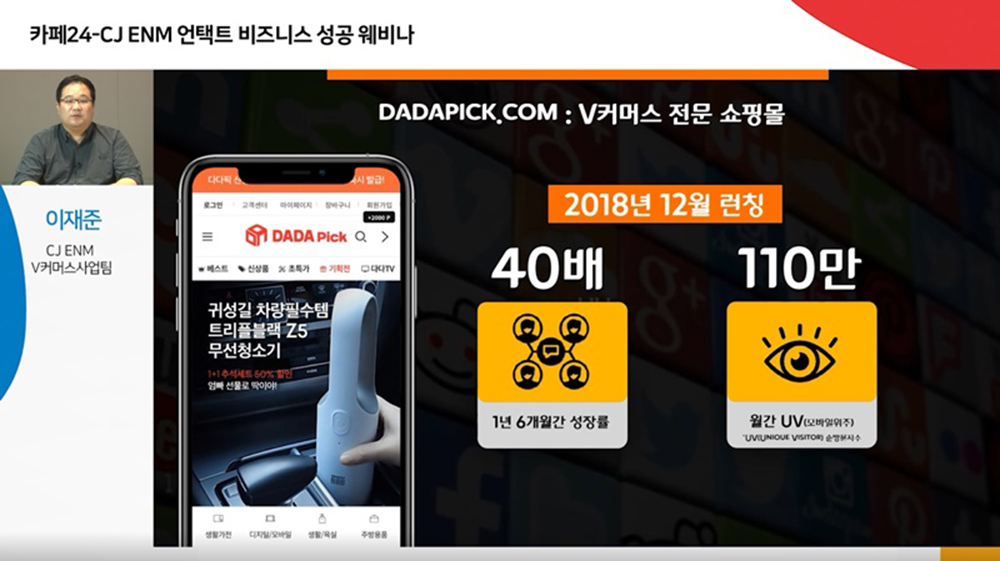 CJ ENM introduced its Media Commerce store, DADA Pick, as a DTC success case that utilized content marketing. The brand launched on Cafe24's platform in December 2018.
Jaejoon Lee, Head of CJ ENM's v-commerce business, said, "DADA Pick effectively uses media content to appeal product benefits and encourage consumer purchases." He said, "We specifically try to create content that highlights product strengths." As a result, the brand achieved more than 40-fold sales growth in just a year and a half since its launch. It's continuing on its growth trajectory with, more than 1.1 million monthly visitors to the store.
DADA Pick publishes image and video content introducing its products on its many store-linked social media channels, including Instagram and YouTube. This is leading to a rapid increase in brand searches and store visitors.
CJ ENM's session introduced other companies and brands that successfully employed content marketing methods. These content marketing strategies include utilizing television programs, K-dramas, influencer branded content, customized advertising, product placement, and virtual ads.
Attending merchants gained insights to implement their own content marketing strategies to differentiate their brand and achieve business growth. Cafe24 and CJ ENM will continue to work together to support merchants with effective content marketing strategies to gain more edge in the market.
Jaesuk Lee, CEO of Cafe24, said, "The spread of contactless culture will continue to drive online commerce forward." He added, "Cafe24 will continue to introduce best practice cases and know-how of distinguished brands to help anyone interested in starting a business launch their store and grow."
About Cafe24
Cafe24 is a global success platform that provides a one-stop business environment for e-commerce merchants so that they can achieve continued growth by focusing on their creativity. Cafe24 has established an e-commerce ecosystem with 1.7 million Direct-to-Consumer (DTC) merchants and various global partners in areas like payment, shipping, and marketing. Cafe24 is poised for growth as more DTC brands and e-commerce participants continue to join the burgeoning industry.